News to Use
Make a Difference this Clean Air and Bike Month
May 11, 2021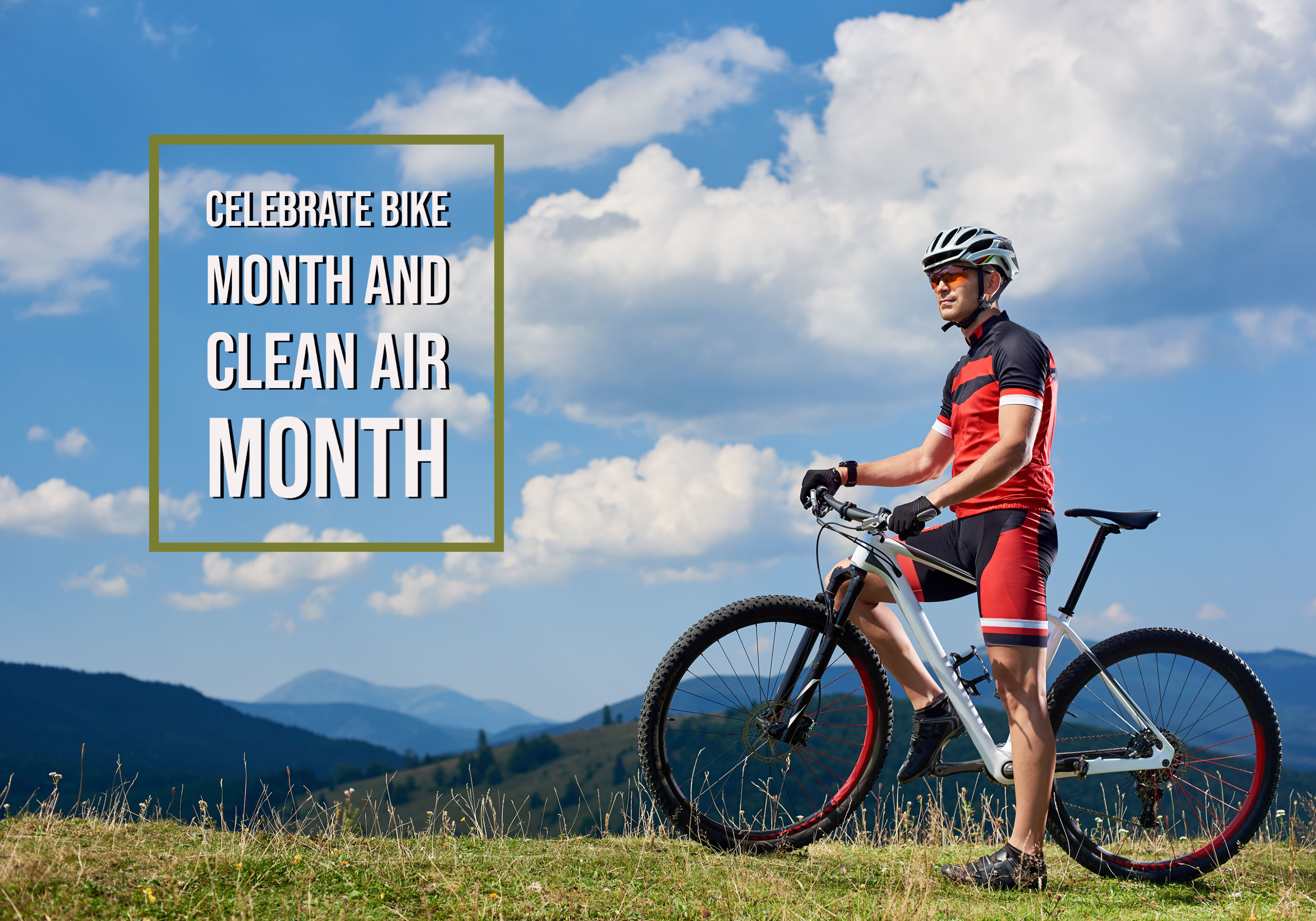 In May, we recognize Clean Air Month and National Bike Month, along with many other organizations across the country, and celebrate these observances to raise awareness and encourage others to take action and get involved! They go hand-in-hand and you can celebrate them both at the same time because when you ride your bike you do your part for a more breathable, healthy air!
Clean Air Month
Clean air is a fundamental right and as such, it's important to learn the impact of air pollution, as well as how we can all take action and make simple changes to improve our air quality.
How we travel is a key factor that contributes to the emissions in the air we breathe. Driving less and changing bad habits when we're behind the wheel can make a real difference to the quality of the air we breathe. You may be surprised to learn not only how often we drive but how we drive also plays a role in fuel consumption. According to our friends at the North Central Texas Council of Governments, speeding and aggressive and jerky driving can reduce gas mileage by as much as 33% on the highway and 5% on city streets.
We know not everyone can ditch their car forever, but we can consider whether we need to take the car when traveling short distances. If you can walk or cycle instead, you can reduce emissions. Another great option is using public transportation for your commute. If you're in Denton, Lewisville or Highland Village you can take advantage of our public transit services!
Clean air goes beyond travel. There are plenty of things you can do at home and in your daily life to support better air quality. Check out the list below!
Postpone mowing to a day that is not an Ozone Action Day
Consider an electric or other alternative fuel lawnmowers
Ride your bike for short trips
If home appliances need to be replaced, consider energy-efficient options
Conserve water and electricity
Avoid burning, including grilling and burning trash
Sign up for air pollution alerts
Want to celebrate Clean Air Month? Take action with these helpful resources from Air North Texas! There are many ways to do your part towards cleaner air: conserve water, monitor the air quality and ride your bike when you need to go somewhere.
National Bike Month
Ready. Set. Ride. In a time when cycling has increasingly become an essential part of many people's lives as a form of transportation, recreation or therapy, let's show our bike pride and celebrate louder than ever! And what better way to celebrate than to join the National Bike Challenge! Love to Ride and League of American Bicyclists will take you on this fun, friendly competition between individuals, businesses, and communities who will compete to see which can get the most friends, family and co-workers to ride a bike during May and win prizes! Learn more about the 2021 National Bike Challenge here.
And you know what's even better (at least in my opinion)? Taking on the challenge and logging your miles on our A-train Rail Trail! Check out our rail trail and its amenities in the map below!
We love bikes so much that we're giving away free rides on Bike to Work Day (Friday, May 21) if you bring your bike onboard a DCTA vehicle! Hop on our Denton and Lewisville Connect Bus, the A-train, DDTC Evening and Lewisville Lakeway On-Demand zones and the University of North Texas (UNT) Campus Shuttles with your bike to ride free. Visit BikeDCTA.net to learn more.
Last year for National Bike Month, we revamped our bike webpage. The new page includes bike safety tips, how to #BikeDCTA with ease, local organizations and resources and more. Watch our video to learn more about what the webpage has to offer.
It's important every cyclist ensures they're following safe cycling practices. Below are a few key tips to keep in mind:
Look both ways before you cross
Stop for flashing red lights
Always wear a helmet
Utilize official hand signs during your ride
Make sure bags and other items are securely fixed to you or your bike
Read our A-train Rail Trail safety blog to learn all the safe ways to #BikeDCTA.
How do you plan on celebrating National Bike Month and Clean Air Month? Let us know in the comment section below!
---
Sign up for Updates
"*" indicates required fields