Fun Things To Do
New Year, New Adventures: Fun Things to Do in January
January 2, 2019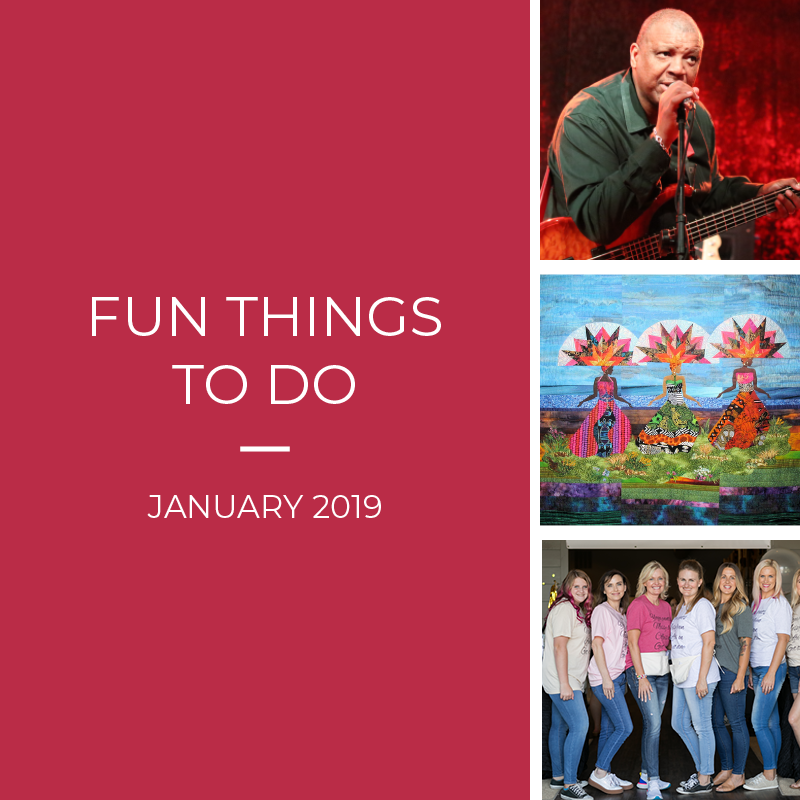 Let's think about New Year's resolutions for a second. There are so many possibilities for resolutions, ranging from trying to not eat as much junk food and spending less time sitting on the couch, to quitting a bad habit or trying something new. Out of all the resolutions and goals, however, there's one thing you should definitely try to do more of – adventure around Denton County!
DCTA can get you to events all around the area, and the simplicity of our service along with the vast array of things to do will definitely have you keeping this New Year's resolution all year long! Take a look at some events that DCTA can get you to for you to start your year out right:
VAST Exhibition: Quilt as Art in Denton
Some quilts are for cozying up in in the cold weather, but others aren't for wrapping yourself in at all – they're for looking at! Retired teacher and master quilter Barbara McCraw is a "master quilter" who has created beautiful quilts showcasing inspirational people and instances in history, and now they are on display for all to see! You can see this exhibition every Tuesday through Saturday from 11 a.m. to 5 p.m. (until February 15) at 400 E. Hickory Street for FREE by riding Denton Connect Route 7. For more information, visit quiltasart.com/index.asp.
Denton Bridal Show
Struggling to find your something old, something new, something borrowed and something blue? The Denton Bridal Show has you covered! Whether you are looking for someone to add an elegant touch to an old family heirloom for your wedding, trying to find the perfect shop to find your new wedding gown or are thinking about adding a touch of blue to custom invitations, you can find everything you need and more at the Denton Bridal Show! Join fellow bride-to-be's on Saturday, January 12, from 9 a.m. to 2 p.m. at Monroe Pearson (421 E. Oak Street) for only $10 per person to help create the wedding of your dreams! Ride Denton Connect Routes 5, 6 or 7 to get to the event. For more information, visit dentonbridalshow.com/.
Texas Tunes: Ruthie Foster in Lewisville
The time has come – Texas Tunes is back! Get ready to sit back, relax and listen to the beautiful tunes, intricate strums and high notes that come with the unforgettable Texas Tunes concert series every year. Come join Ruthie Foster as she kicks off the 2019 series with her soulful tunes and lively spirit. The series starts on Saturday, January 12, from 8 p.m. to 10 p.m. at the MCL Grand Theatre in Old Town Lewisville. Tier 1 tickets are $30, Tier 2 tickets are $20 and Lewisville resident tickets can be purchased in-person for $15, so make sure you ride our A-train to Old Town Station to get to the event early and purchase tickets! For more information, visit mclgrand.com/Home/Components/Calendar/Event/30410/1419?backlist=%2fTemplate%2fWidgetFrontendRefresh%3fwidgetInstanceID%3d177%26widgetPropertyID%3d2354%26pageID%3d2614%26curm%3d1%26cury%3d2019%26nav%3dhome%26_%3d1544478247852.
Game Night Date Night in Highland Village
Sometimes finding the time to do date night can be hard, expensive and a bit repetitive, but put this date in your calendar as your first date night of the year – Game Night Date Night at Doubletree Ranch Park! Bring out your dice and your game pieces and join other couples in a night you won't forget – especially if you win! Get your game face on Friday, January 18, from 7 p.m. to 9 p.m. and get ready to win! Tickets are only $35 per couple, and you can take your date night savings even further by using the Highland Village Lyft discount! For more information, visit highlandvillage.org/988/Date-Night-at-Doubletree (PLEASE NOTE: Highland Village Lyft service ends at 9 p.m., so please make sure to prepare your travel in advance).
Denton Black Film Festival
Denton is known for great festivals and its fun atmosphere, and one event really encompasses how unique the city is – the Denton Black Film Festival! This diverse and unique festival is back again to address under-representation in the media, film and more through showcasing stories that represent the Black community.  From January 23 through 27 at various times on the Denton Square, you can watch movies, listen in on panels, dance to music and more for tickets as low as $14 (tickets range from $14 to $189)! DCTA is providing free rides to the festival, so leave your car at home! For more information on schedules, details and tickets, visit dentonbff.com/about-us/ (PLEASE NOTE: DCTA does not run services on Sundays, so please make sure to prepare your travel in advance).
What event will you #RideDCTA to this month? Let us know in the comment section below!
---
Sign up for Updates
"*" indicates required fields