Rider Tips
What DCTA Riders Should Not to Do In 2019
January 8, 2019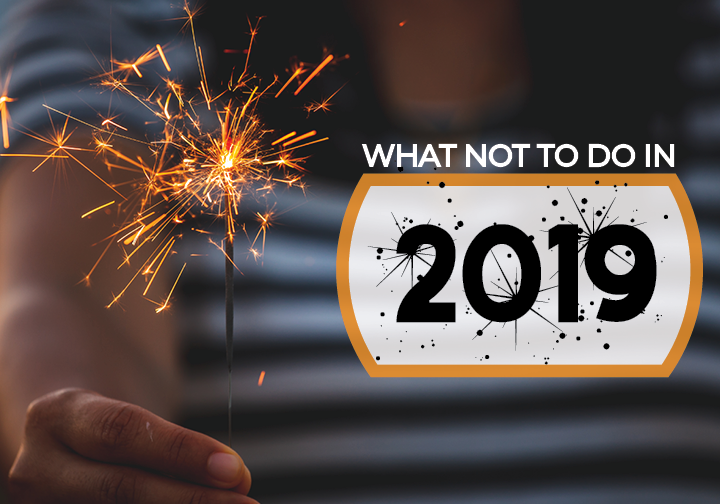 The New Year is in full swing which means it's time to break out the New Year's resolutions. Instead of telling you what you should do this year, we've made a list of what NOT to do. Check out our tips below on how to be the best DCTA rider in 2019 by leaving these bad habits behind!
Don't get caught in bad weather
Though it may not feel like it sometimes with the irregular weather, January through March can get pretty cold and unpredictable. We compiled a list of some of the best winter rider tips our passengers provided us with so you can be prepared for whatever winter weather Texas throws at you.
Don't be uninformed
Leave missing your bus or train in 2018! Sign up for our Rider Alerts so you always know when we have any service delays, updates to schedules, etc. Make sure to also follow us on Facebook and Twitter and check out our website to stay in the know about everything DCTA. Last but definitely not least, sign up to receive our monthly enRoute News digital newsletter which features DCTA news, agency project updates and more.
Don't be late
Did you know you can find your ride in real time with our Transit Tracker mobile app? You don't have to be left in the dark. Know exactly where your ride is and watch for updates for your route(s). You can also view schedules of routes around you on the mobile app (available in the Apple and Google Play store). But don't forget, we recommend you arrive at least five minutes early. Always keep this handy transit tip top-of-mind!
Don't be "that" person
Don't be the person annoying other passengers on the A-train or bus because you're talking on your phone too loud or playing music without your headphones. If you must take a phone call, do so at a low volume, and don't forget to bring headphones with you. These are just a few of the ways you can remember to follow our transit etiquette tips when you #RideDCTA! Make sure you check out all of our tips so you know the do's and don'ts.
Don't lose your ticket – go mobile
Don't be the person who holds up the attendant because you have to dig around in your coat pockets or purse to find your ticket. Download the GoPass℠ mobile app (available on the Apple and Google Play store) and keep your ticket on your mobile phone. You can also plan your trip and view bus and A-train schedules from the app. Never worry about losing your ticket again!
Make 2019 your year by following these simple guidelines. Which tip was your favorite? Comment below and tell us your New Year's resolution.
---
Sign up for Updates
"*" indicates required fields