Fun Things To Do
Spring has Sprung – Fun Things to do in April
March 30, 2018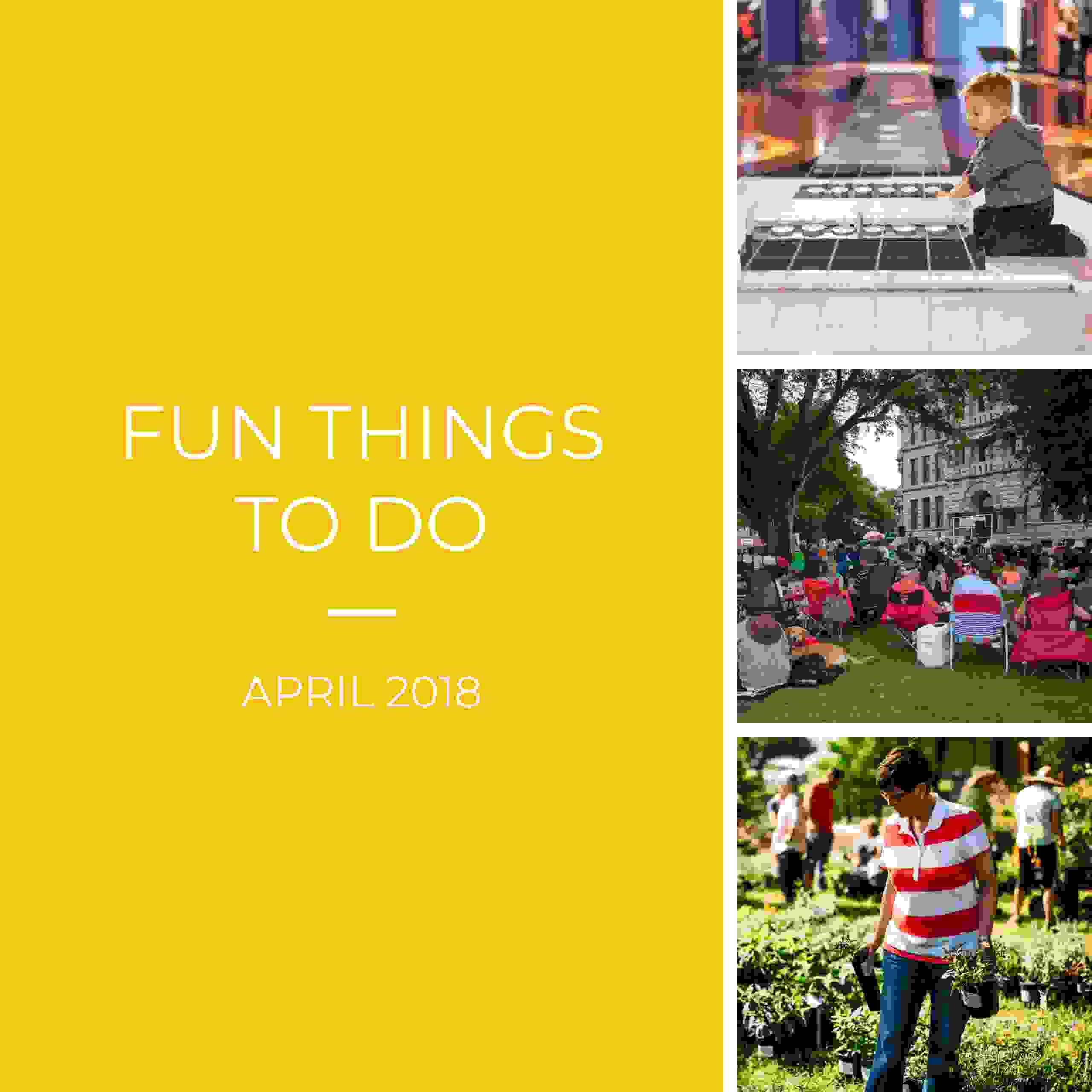 Spring is here – and fun events are springing up all this month! Whether you're looking to sit back and relax in the sun, shop for some new gardening equipment to get your spring flowers in tip-top shape or enjoy a night under the stars, there are so many fun things to do around North Texas in April!
Guitar: The Instrument that Rocked the World at the Ft. Worth Museum of Science and History
Who's ready to rock? Guitar: The Instrument that Rocked the World is an entertaining, engaging and educational experience that offers more than 70 guitars on display, interactive activities, a plethora of history and the world's largest playable guitar – for only a $15 museum ticket! While you're at the Fort Worth Museum of Science and History, walk around the museum to see all the interesting and exciting pieces of our past. Hop on the North Texas Xpress to get to the exhibit Monday through Friday from 10 a.m. to 4 p.m. For more information, visit fwmsh.org/guitar-instrument-rocked-world.
Denton Community Market
The Denton Community Market is back! From handmade art pieces to fresh produce, business owners throughout Denton and North Texas residents will once again be able to come together for FREE every Saturday from 9 a.m. to 1 p.m. to shop, sell and socialize. With new vendors every week and new opportunities to shop small and buy local, the Denton Community Market kicks off its new season on Saturday, April 7, at 317 W. Mulberry Street. Take Denton Connect Routes 7 and 8 to get to shopping! For more information, visit dentoncommunitymarket.com/.
ColorPalooza
Get into the spring spirit with Lewisville's ColorPalooza event! This FREE, colorful and artistic event will have various opportunities to showcase your artistic abilities while watching others showcase theirs. From 10 a.m. to 5 p.m. on Saturday, April 14, join hundreds of other families at this bright and colorful event fit for all! Take the A-train to Old Town Station or Lewisville Connect Route 22 – if you are local – to get to Wayne Ferguson Plaza. For more information, visit lewisvillecolorpalooza.com.
Thin Line Festival

Lights, camera, action! Thin Line Film Festival is a five-day festival filled with a variety of movies, photography and music meant to fascinate everyone. From fiction to documentaries and foreign films to Denton-based flicks, Thin Line showcases film makers', photographers' and musicians' talents. The film festival will run from Wednesday, April 18 to Sunday, April 22. Thin Line offers FREE entrance to the festival and events as well as additional packages ranging from $19 to $99. Event goers with general admission wristbands or VIP badges can ride our A-train and Connect Bus for FREE to get to the festival with our free ride promotion (no service on Sunday, April 22). Visit thinline.us/ for a list of movies, events and times!
Twilight Tunes
Block out some room on your calendar and make your way down to the Square on Thursday nights for Twilight Tunes! Starting on Thursday, April 19, this FREE weekly concert series offers music for all tastes – whether you like rockabilly and country or rock and soul, there's something for everyone! Feel free to bring blankets, chairs and food so you can sit back, relax and enjoy great music and a beautiful Texas sunset from 6:30 to 8 p.m. Take Denton Connect Routes 7 and 8 to get a perfect spot on the Courthouse Lawn. To see the 2018 artist lineup, visit discoverdenton.com/original-event/twilight-tunes-concert-series/.
Redbud Festival
The start of spring is the perfect time to celebrate the beauty of our community. Denton's Redbud Festival features dozens of vendors selling gardening supplies, plant sales and additional supplies to beautify the outdoors just in time for Arbor Day and spring! The festival takes place on Saturday, April 21, from 10 a.m. to 4 p.m. Take Denton Connect Routes 5 and 6 to get to the Denton Civic Center and celebrate everything beautiful about Denton! For more information, visit kdb.org/programs/beautification/denton-redbud-festival/.
Texas Tunes: Jimmy Webb
Texas Tunes is halfway done, but an amazing act is coming to the concert series in April! Jimmy Webb is making his way to Lewisville for an intimate solo performance full of piano playing and storytelling. The performance takes place on Saturday, April 21 at 8 p.m. at the MCL Grand Theatre. Tier 1 seats are $30 and Tier 2 seats are $20 with a special day-of rate of $15 for Lewisville residents (based on availability). You can take the A-train to Old Town Station or hop on Lewisville Connect Route 22 to get to the show. For more information, visit mclgrand.com/performances/mcl-grand-presents/texas-tunes.
Denton Arts and Jazz Festival
What's better than a day of smooth jazz, beautiful art and family fun? A full weekend of it! The Denton Arts and Jazz Festival will showcase art and music from talented people around Denton and the United States on Friday, April 27 (3 p.m. to 11 p.m.), Saturday, April 28 (from 10 a.m. to 11 p.m.) and Sunday, April 29 (from 11 a.m. to 9 p.m.) at Quakertown Park. Whether you want to listen to some jazz, look at handmade artwork, get your face painted or just sit back and relax, the festival will feature seven stages and over 20 acres of things to do such as create art projects, climb rock walls, try on handmade jewelry and more. Take our FREE shuttle service every day of the festival to get to and from the festivities. For more information, visit dentonjazzfest.com/.
What events are you most excited for? Let us know in the comments below!
---
Sign up for Updates
"*" indicates required fields