Rider Tips
5 Handy Tips to Spring Clean Your Commute
April 5, 2018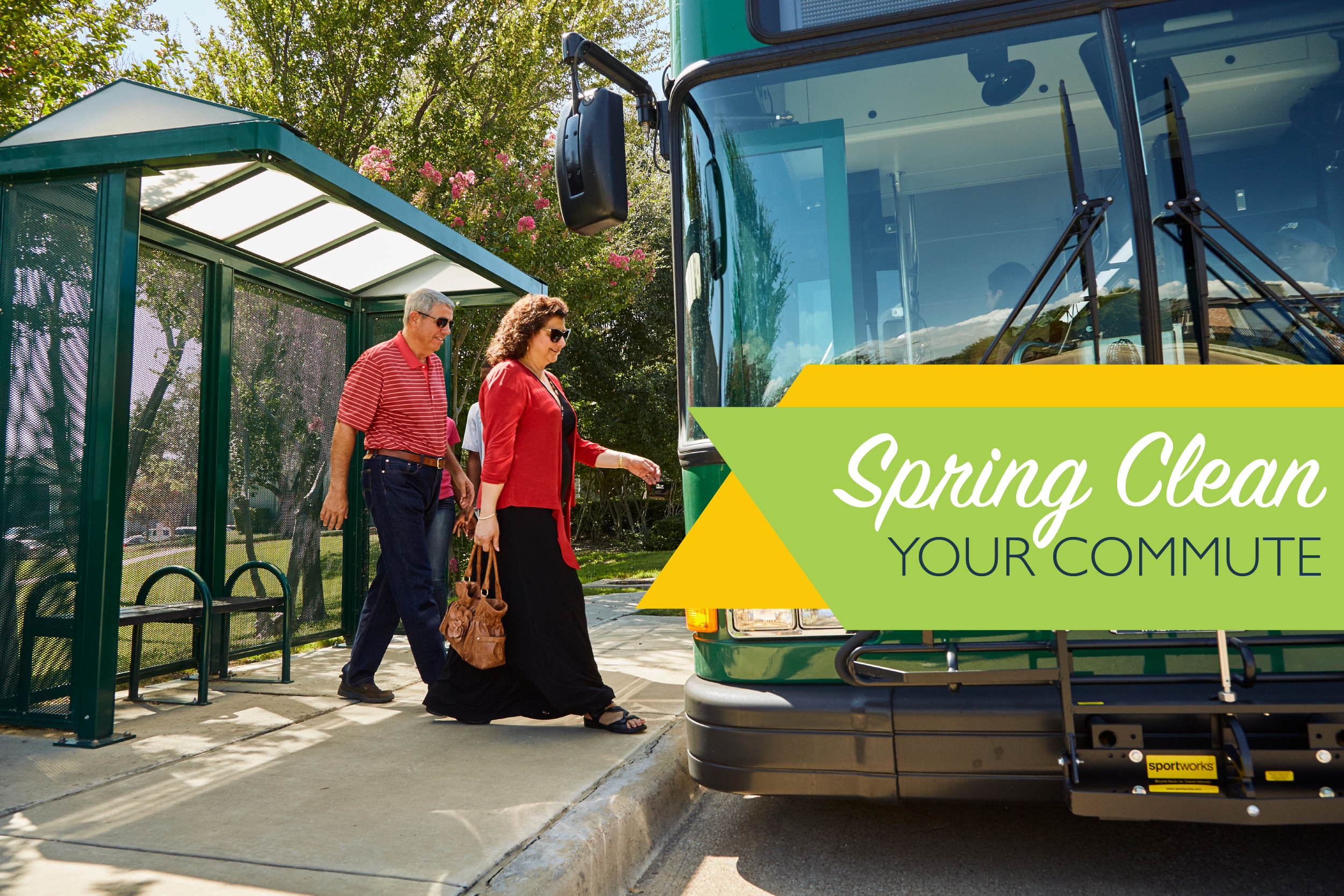 Spring is a time of renewal – the weather gets a little warmer, flowers bloom, leaves turn green, and we begin our spring cleaning. Over the winter, things around the house got a little dusty and stale, but I bet your habits did the same thing. Have you ever thought about spring cleaning your commute?
It's time to shake off the dust and start fresh on some new routines. Spring cleaning your commute is a great way to try environmentally-friendly options to and from your destination that can save you some cash, allow you to get more exercise in your day and spend more quality time with family and friends while on the road.
Below are FIVE tips on how to declutter your trips and make your life a little easier (and a little greener):
Start Your Day off Right – We all have alarms that wake us up in the morning, but have you ever thought about setting one to tell you to go to bed? We're all chronically under-rested, so creating a routine to get more sleep will make mornings easier. Getting up at the right time means you'll get out the door and on the road (hopefully fed and caffeinated) before traffic is at its worst.
Share Your Trip – Wouldn't it be nice relax or socialize your way to work instead of fighting traffic? Pick up a coworker on your way into the office (and split the cost of gas), join a carpool community on Waze or sign up for a one of our vanpool groups.
Ride a Bike – Catch that spring breeze by picking one day per week to ride your bike to work. It benefits your health, the environment, and you wallet! The League of American Bicyclists has a lot of helpful tips and tricks, whether you're starting from scratch or an old hat at cycling. Can't make it the whole way on just your bike? Our A-train and buses are equipped with bike racks! Check out our quick video on how to properly load and unload your bikes on our vehicles.
Maximize with Public Transit – Whether you're a regular rider or someone who keeps meaning to riding our system and has never really gotten there, you can spring clean your commute by changing things up a little bit. Pick which days you plan to ride the A-train or bus, then plan how you're going to spend the ride. Download some videos for offline viewing, pack up your laptop for a little extra work time, or bring along your favorite book!
Step It Up – Are you already riding DCTA every day? Maybe it's time to pull your sneakers out of the back of your closet and hop off the bus a stop or two before your destination. Adding more steps to your day improves your health – both mentally and physically. Show up to the office full of fresh air and invigorated to start your day!
Join us in making a commitment to spend this spring in a healthier and greener way. How are you planning to freshen up your commute?
---
Sign up for Updates
"*" indicates required fields