Fun Things To Do
Summer Days and Sun Rays – Fun Things to Do in June!
June 1, 2018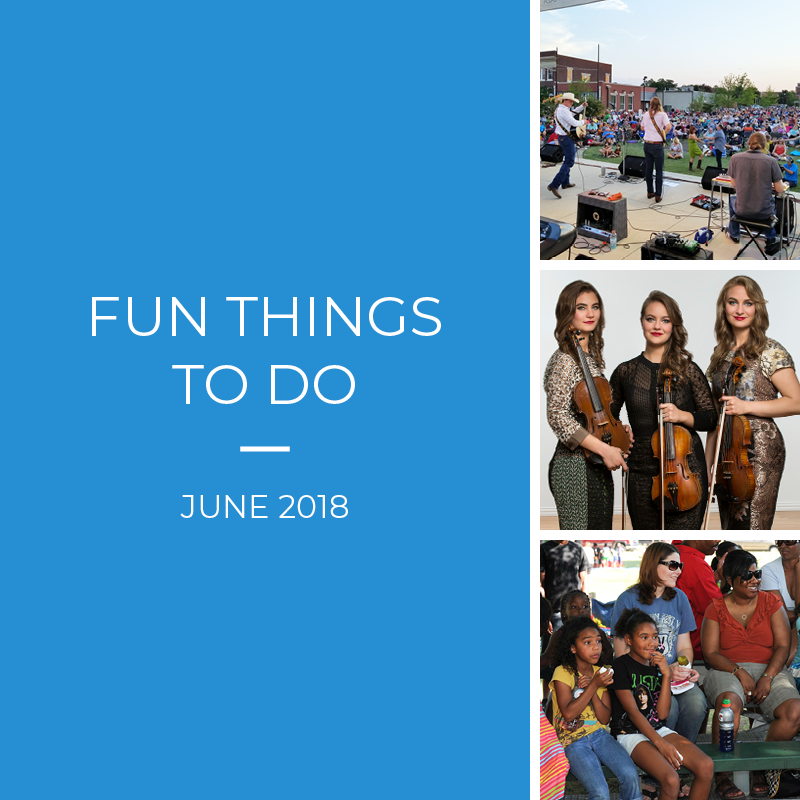 Summer's here, and it brings an abundance of concert series, festivals and community get-togethers with it! From cultural celebrations to weekly tunes, Denton County has a variety of events for music lovers, crafters, outdoorsy folks and more planned for June every single week – but don't worry! DCTA can get you to every one of these events (and others) throughout the month.
Denton Twilight Tunes
The best way to kick off summer is start new weekly traditions for your school-free weeks! Twilight Tunes is a FREE weekly concert series offers music for all tastes – whether you like rockabilly and country or rock and soul, there's something for everyone! Feel free to bring blankets, chairs and food so you can sit back, relax and enjoy great music and a beautiful Texas sunset from 6:30 to 8 p.m. Ride Denton Connect Routes 7 and 8 to get a perfect spot on the courthouse lawn. To see the 2018 artist lineup, visit discoverdenton.com/original-event/twilight-tunes-concert-series/.
Sounds of Summer Highland Village
There aren't many things that are better than listening to great bands play in the summer sun while browsing the Shops of Highland Village, and Sounds of Summer gives you the opportunity to do just that! Different bands will be taking the stage every Thursday in June from 7 to 9 p.m. to serenade shoppers and provide some great start of the summer entertainment. You're welcome to bring blankets, chairs and picnic baskets or order to-go food from one of the many delicious restaurants the shops has to offer. Ride our Highland Village Connect shuttle to get to this FREE, kid-friendly event. For more information, visit theshopsathighlandvillage.com/events/summer-concert-series-blaze-of-glory.
Sounds of Lewisville
The City of Lewisville doesn't want to miss out and plans to rock out this summer with its Sounds of Lewisville concert series. On Tuesdays throughout June and July, this FREE family-friendly concert series will resonate throughout Wayne Ferguson Plaza from 7 to 9:30 p.m. Whether it's a Pink tribute artist, a Beatles tribute band or some good ol' country tunes, this weekly concert series is a great event to ride the A-train down to Old Town Station to. For more information, visit www.soundsoflewisville.com/.
Denton Community Market
The Denton Community Market is back! From handmade art pieces to fresh produce, business owners throughout Denton and North Texas residents will once again be able to come together for FREE every Saturday from April to November from 9 a.m. to 1 p.m. to shop, sell and socialize. With different vendors every week and dozens of opportunities to shop small and buy local, the market always has something new. Ride Denton Connect Routes 7 and 8 to get to all the fun shopping! For more information, visit dentoncommunitymarket.com/.
Juneteenth Denton
Now in its 47th year, the FREE Juneteenth event is full of fun for the whole family, including a parade, music, games, delicious food, family time and more. Ride Denton Connect Route 2 to make your way to Fred Moore Park on Friday, June 15 (from 7 to 9 p.m.) and Saturday, June 16 (noon to 4 p.m.). For more information, visit www.juneteenthdentontx.org/new-events?view=calendar&month=May-2018.
Texas Tunes: The Quebe Sisters
Texas Tunes is closing with a bang – or the sound of a fiddle! The Quebe Sisters take the stage for this series' final performance, and the trio will be playing a melody of their authentic all-Americana music. The performance takes place on Saturday, June 16, at 8 p.m. at the MCL Grand Theatre. Tier 1 seats are $30 and Tier 2 seats are $20 with a special day-of rate of $15 for Lewisville residents (based on availability). Ride the A-train to Old Town Station to get to the show. For more information, visit .mclgrand.com/performances/mcl-grand-presents/texas-tunes.
Let us know in the comment section below which events you plan to #RideDCTA to this summer!
---
Sign up for Updates
"*" indicates required fields