Rider Tips
#AskDCTA: How Does DCTA Accommodate Bikes and Cyclists?
May 31, 2018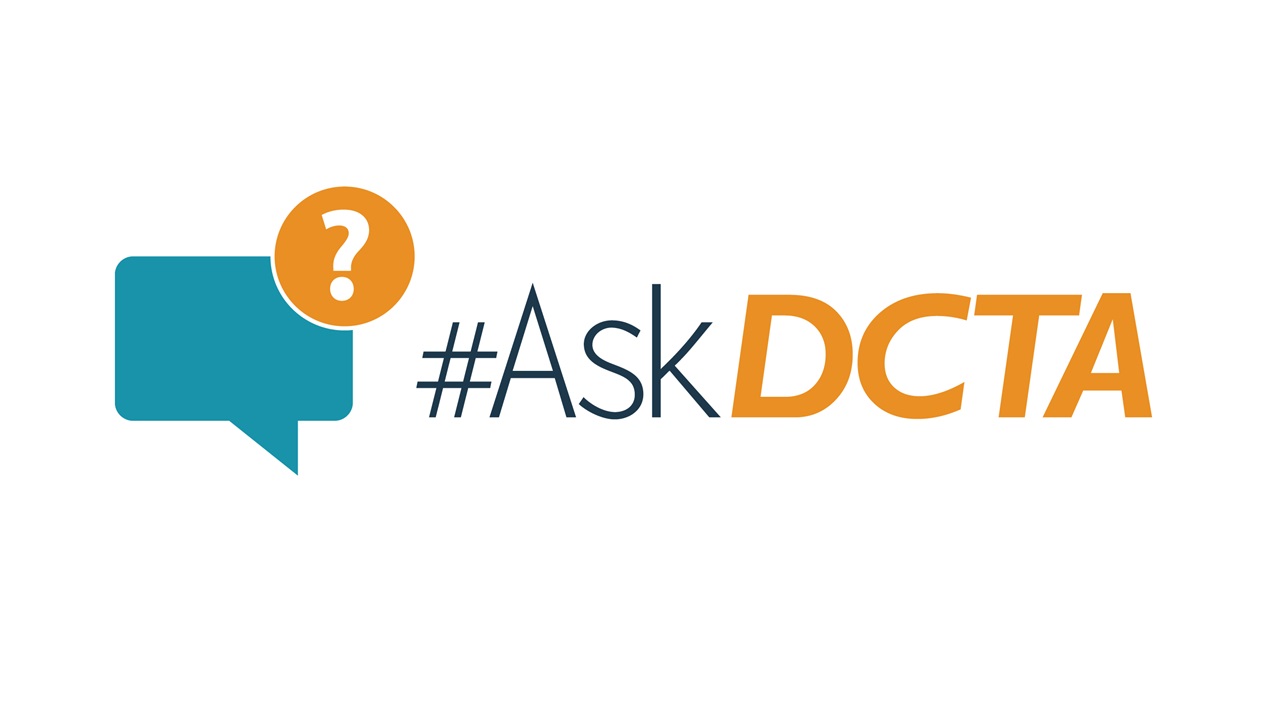 Have you ever wondered how DCTA operates in severe weather? Not sure how to plan your trip? Now you can #AskDCTA! In our monthly blog content series, our customer service team answers frequently-asked rider questions to better engage with our riders and improve their experience when riding DCTA.
For National Bike Month, Samantha Balderas – Customer Communications Specialist – gave us some insight on DCTA's bicycle and cyclist accommodations.
What Type of Bicycles are Allowed on DCTA Vehicles?
DCTA transports only single-seat, two-wheeled, non-fueled bicycles on its vehicles. Battery-powered bicycles and scooters are allowed on board as well. The following bicycles are not permitted on any of our buses or train:
Oversized, tandem (two-seated) bicycles
Fueled bicycles (including motorbikes and mopeds)
Bikes with solid wheels (not allowed in bike racks on DCTA buses)
Trailers
Bicycles may be loaded or unloaded from any DCTA bus stop, train station, or transfer point at any time. Limited bicycle storage is available on a first-come, first-serve basis on all vehicles.
How Can I #RideDCTA with My Bike?
Loading your bike on our vehicles is simple! Most of our buses are equipped with a bike rack. The bike rack is located on the front of the bus. The bike racks can only store two bicycles at a time. If the bike rack is full, passengers can bring their bike on board as long as it does not block the aisle or exits. When unloading your bike from the bike rack, make sure to alert the bus operator before exiting the bus.
Passengers can bring their bikes inside the A-train too. The bike hooks are located above the Americans with Disabilities Act (ADA) compliance seats. If the bike rack is full or the space is being used, ask the conductor for assistance. When unloading your bike from the A-train, make sure to wait until the train comes to a complete stop.
Check out this in-depth video on how to load your bike on our vehicles!
Can I Leave My Bike at the Train Station or Park and Ride Facility?
Bike racks are available at our facilities free of charge and on a first-come, first-serve basis. Make sure to bring your own lock to secure your bicycle. Bicycles may not be parked at our facilities for no more than 72 hours, after which they may be removed and stored for 30 days at our Downtown Denton Transit Center's (DDTC) lost and found.
Check out our blog post to learn more about our lost and found policy!
What Happens if I Leave My Bike on a DCTA Vehicle?
If you forget to unload your bike from the bike rack, contact DCTA customer service at 940.243.0077. Give our customer service representative a description of the bicycle as well as the bus route or train you were on. Our customer service staff will help track down your bike. As a reminder, the call center hours are:
Monday through Friday: 5 a.m. to 7 p.m.
Saturday: 8 a.m. to 4 p.m.
Sunday: Closed
Closed on New Year's Day, Memorial Day, Independence Day, Labor Day, Thanksgiving, and Christmas
We hope Samantha helped answer all of your questions about DCTA's bicycle accommodations!
Have another question you want our customer service team to answer? Here's how you can submit them:
Send your feedback via our GORequest online customer service tool and choose the menu option "#AskDCTA Series"
Drop a note in the comments section on our Hop on Board blog.
While we can't guarantee that every question submitted will be answered, we will consider all inquiries and will feature questions that will greatly benefit the majority of our riders!
---
Sign up for Updates
"*" indicates required fields