News to Use
The Five W's of the Upcoming August 2020 Service Changes
August 13, 2020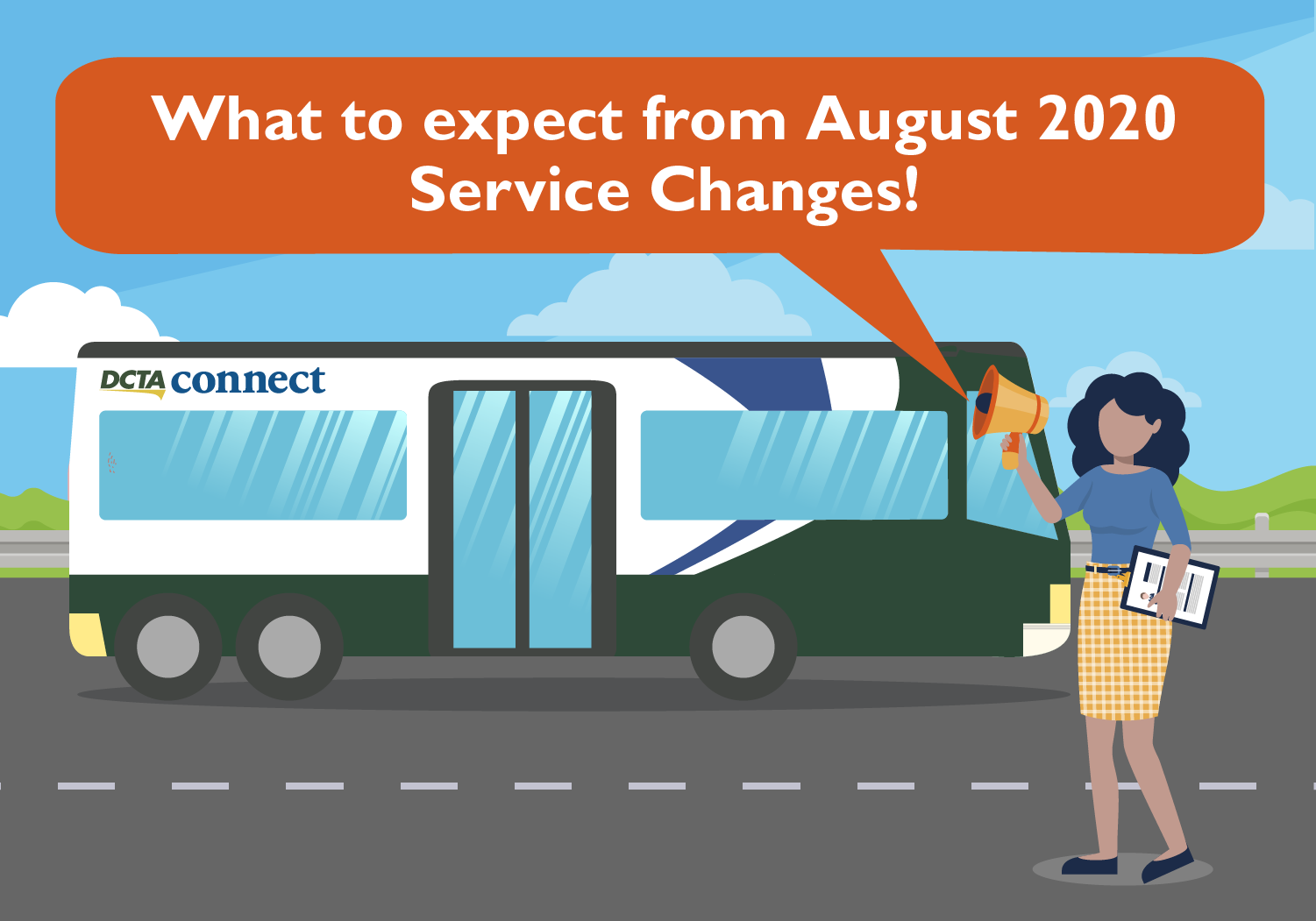 Service changes are coming soon! Do you ride our Denton and Lewisville Connect bus routes, University of North Texas (UNT) Campus Shuttles or the Downtown Denton Transit Center (DDTC) On-Demand Zone? Then our upcoming August 24 service changes will impact your trip!
Need help navigating all the service changes? We've got you covered! Below, we've outlined the five W's (who, what, where, when and why) you should know about the upcoming service changes to help you plan your essential travel in advance:
WHAT is happening?
DCTA will implement service changes aimed at maintaining the strongest areas of existing service, strengthening the weaker areas, filling existing service gaps and ensuring passengers are safe and well served. Once these changes go into effect, passengers can look forward to additional frequency in high-traffic areas and better connectivity between some routes.
WHO will be affected?
All of the current Denton and Lewisville Connect Bus routes and UNT students, faculty and staff will see some modifications. Passengers who ride Denton Connect will see the most dramatic changes, and passengers who ride Lewisville Connect will see the least amount of change to their routes. For complete details on the service changes, click here!
WHEN will it happen?
Service changes go into effect Monday, August 24, and new schedules and maps are on our service changes page here.
WHERE will it happen?
Key highlights of the August 2020 service changes where passengers will see significant changes include:
Denton Connect Bus: Denton Connect Routes 4 and 7 schedules will be updated to pre-COVID-19 service levels with a 30-minute headway during peak hours and 60-minute headway during off-peak hours. The schedules for Routes 3 and 6 were updated to enhance on-time performance. The schedules for Routes 1 and 2 will remain the same as they are currently. Routes 5 and 8 will no longer operate.
Lewisville Connect Bus: Lewisville Connect Route 21 and Route 22 schedules will be updated to pre-COVID service levels with a 30-minute headway during peak hours, 60-minute headway during off-peak hours and better A-train connectivity at the Hebron and Old Town stations.
University of North Texas Campus Shuttles: All UNT Campus Shuttle schedules will be updated for the Fall 2020 semester. Key modifications include:

Two new express routes will be added: one that will operate from Lot 20 to Victory Hall, and another that will operate from Lot 20 to the Union.

An extra vehicle will be added to the Discovery Park route during mid-day peak service.

The North Texan route will continue to provide service to The Retreat.
Downtown Denton Transit Center (DDTC) Evening On-Demand Zone: We will make our evening on-demand service from the Downtown Denton Transit Center (DDTC) permanent. This service operates Monday through Friday from 6:20 p.m. to 9:20 p.m. and will be provided from the DDTC to existing stops along Denton Connect Routes 1, 2, 3 and 6. The pickup location for this service is at the DDTC, and riders may be dropped off at any of the stops along these routes.
Monsignor King (MK101) Shuttle: Our MK101 Shuttle, which provides service from Monsignor King Outreach Center (MKOC) to Our Daily Bread (ODB) in Denton, will be back in operation. The service will run Monday through Wednesday starting at 8:30 a.m. Riders can temporarily use this service free of charge. DCTA will alert riders in advance of any future fare or schedule changes for this shuttle service.
But what about the A-train? Don't worry! The DCTA Board of Directors will review plans to increase the A-train schedule during the August board meeting. If approved, changes to the A-train schedule would be made in late September.
WHY is it happening?
DCTA is constantly monitoring the status of COVID-19, ridership trends, passenger feedback from GORequest, public meetings and social media to make changes and/or adjustments to our current service to better serve our riders. Our August service changes were made to increase frequency for riders' convenience, to strengthen current service and to make better use of existing resources.
DCTA is taking the necessary precautions to make sure agency vehicles are safe and clean for passengers so that when they are ready, they can ride safely. DCTA will keep riders informed of any updates to current information via Rider Alerts, website and social media sites. To learn more about DCTA's August 2020 service changes, visit RideDCTA.net.
Tell us in the comment section below how our service changes will make it easier for you to get to your essential destination(s)!
---
Sign up for Updates
"*" indicates required fields