News to Use
This Month in Mobility: August Public Transit Chatter
August 26, 2020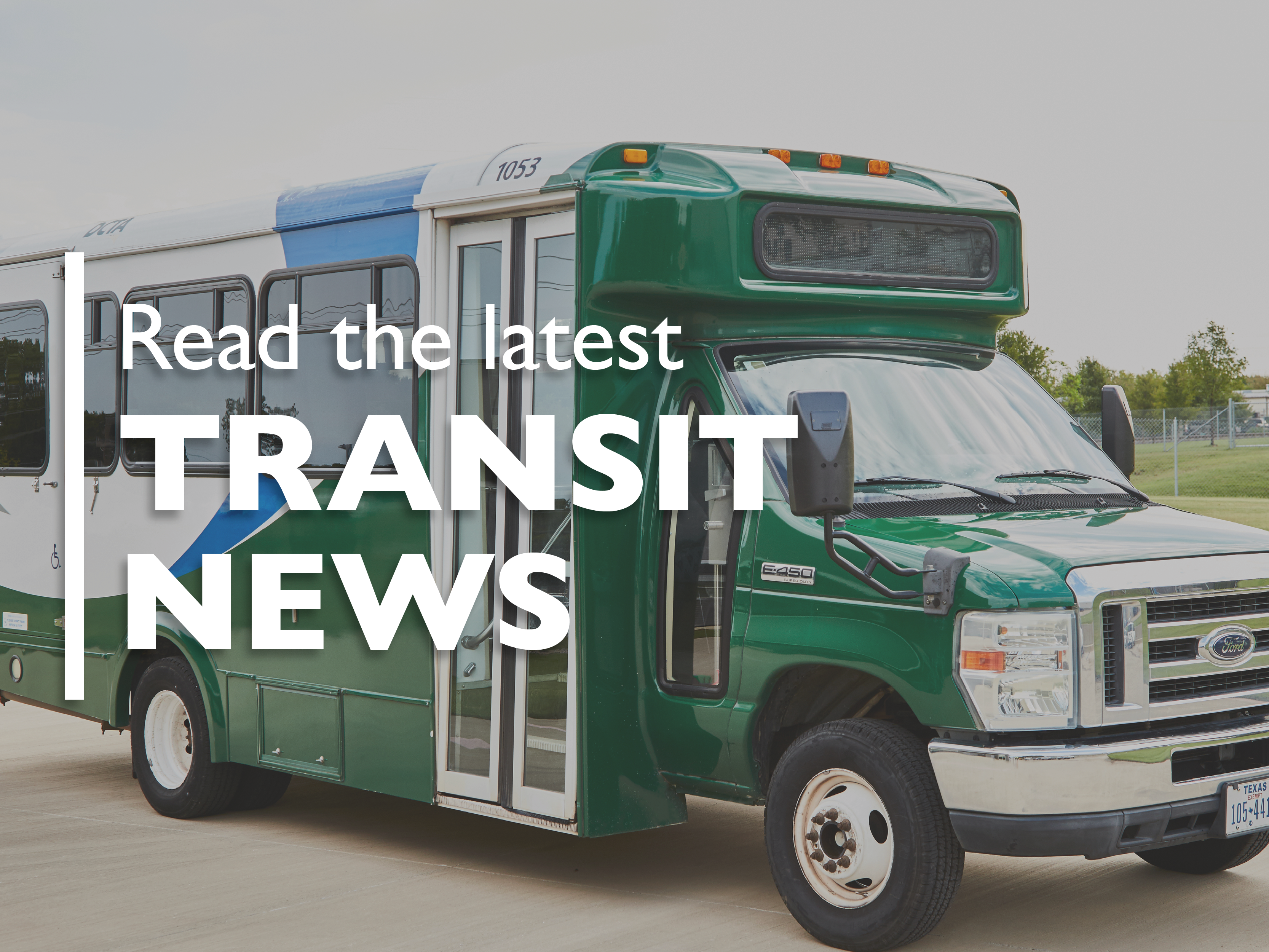 The heat is on! While the temperatures in North Texas continue to rise, the coronavirus (COVID-19) pandemic continues to affect the future of mobility. Even with some of the uncertainty COVID-19 has put in our way, the transit industry continues to roll on by looking to partnerships, technology and safety to build rider confidence and a smart path forward. Many of the articles we found this month highlight how mobility is forging ahead! Check out what we were able to find to learn more.
Real-time data could be the key to commuter confidence
During COVID-19, many of us have felt confident in our transit commute due to the visible evidence of safety protocols. However, according to recent surveys by Transport Focus and PwC (PricewaterhouseCoopers), commuters rank having a sense of control over their surroundings as more important than visible COVID-19 safety measures such as  encouraging mask-wearing, placing floor markings, installing hand sanitizers and directing people to less-crowded areas with signage.
With many unknown factors surrounding travel — different schedules, varying passenger numbers and changing behavior — riders want to know they can quickly move to a safer space or change their travel plans to minimize the risk of infection/illness. Measures that are proving effective include the combination of dynamic digital signage and mobile apps that allow people to access real-time journey information. This includes departure and arrival times, entrance congestion, platform and carriage density levels and recommendations for the best places to stand.
In addition, artificial intelligence and visualization tools are increasingly used to detect overcrowding and to monitor and encourage distancing. This technology can assess the operator's reaction to a set of circumstances and improves the response to similar scenarios in the future.
One of the conclusions of the survey is for transit agencies to be post-pandemic ready, the most robust option is to combine real-time crowd information with historical data and machine learning. What are your thoughts on real-time data and commuter confidence? Would these technology measures make you feel safer when riding transit?
Arlington city-wide transportation a possibility for the future
Currently, the city of Arlington has a mobility service through Via, a ride-hailing service provided through a partnership with the city. The service costs $3 and allows riders to have access through a service area that covers part of the city and the Centreport Trinity Railway Express (TRE) station. In the next couple of months, city council members will decide whether to renew Arlington's contract with Via and expand the service citywide in January 2021.
Surprisingly, city documents show VIA ridership has steadily increased during the COVID-19 pandemic since April following a two-month decline. Riders are returning to vans with plexiglass screens installed between drivers and passengers, personal protective equipment (PPE) and restrictions on the number of riders allowed in the vehicle.
Via in Arlington receives funding from the North Central Texas Council of Governments (NCTCOG) which allows Tarrant County College students to ride for free. Instead of offering a normal shuttle service for its students, the University of Texas (UT) Arlington also offers free rides for its students to use Via at no additional cost.
If the city council approves VIA's expansion, it would be the first city-wide mobility option available to serve residents, tourists and visitors of all kinds. Do you think Arlington should expand its VIA mobility option city-wide?
Technology creating new solutions for COVID-19 city management
It's no secret COVID-19 has had a tremendous impact on cities and urban mobility across the U.S. The government-mandated stay-at-home orders put into place significantly reduced passenger transport demand across many of the world's major cities.
Now with lockdown restrictions easing up, cities have implemented people-friendly street initiatives like dedicated bike lanes and walkways to practice social distancing. As a result, urban mobility will likely see an uptake in shared micro-mobility with residents choosing when to ride public transportation. For cities to manage these upcoming changes, transit authorities will need to leverage technology to enable them to implement three essential solutions to help increase safety and sustainability of micro-mobility services, deploy efficient on-demand mass transit and optimize urban mobility solutions.
Increase the safety and sustainability of micro-mobility services – biking, scooters and walking are becoming a major mode of transportation during COVID-19. However, one area that can improve safety for these micro-mobility services is self-sanitizing technology in their bikes and scooters. This can enhance safety measures and potentially safeguard consumers from potential infections.
Deploy efficient on-demand mass transit solutions – the sudden drop in demand has led to many public transit agencies facing significant financial deficits. The need to enhance safety protocols and incorporate social distancing measures has also limited the number of people using public transit. For this reason, many industry experts and urban planners recommend that transit agencies look into using on-demand solutions with their existing fleets and stop networks as a way to deploy their services more efficiently and improve the passenger experience.
Optimize mobility solutions through public-private partnerships – a recent report by the McKinsey Center for Future Mobility found that consumers have started to prioritize health over time-to-destination following the COVID-19 pandemic. As a result, consumers have started to prefer private cars, biking and walking as their primary mode of transportation, with a declining perception and usage for shared mobility services (SMS). However, McKinsey is projecting a strong recovery for SMS in and the report foresees that enhanced safety measures and support from cities to promote SMS as an alternative to private car ownership will drive growth after the COVID-19 crisis.
By integrating technology into their transportation networks, cities will not only be able to provide customized mobility solutions for residents but also redesign a more sustainable urban transportation system to manage COVID-19.
Have a question or comment about one of the stories we featured, or is there a big headline you think we should have included? Leave your comment below. We'd love to hear from you!
---
Sign up for Updates
"*" indicates required fields