Rider Tips
#AskDCTA: What Should We Know About August Service Changes?
August 28, 2018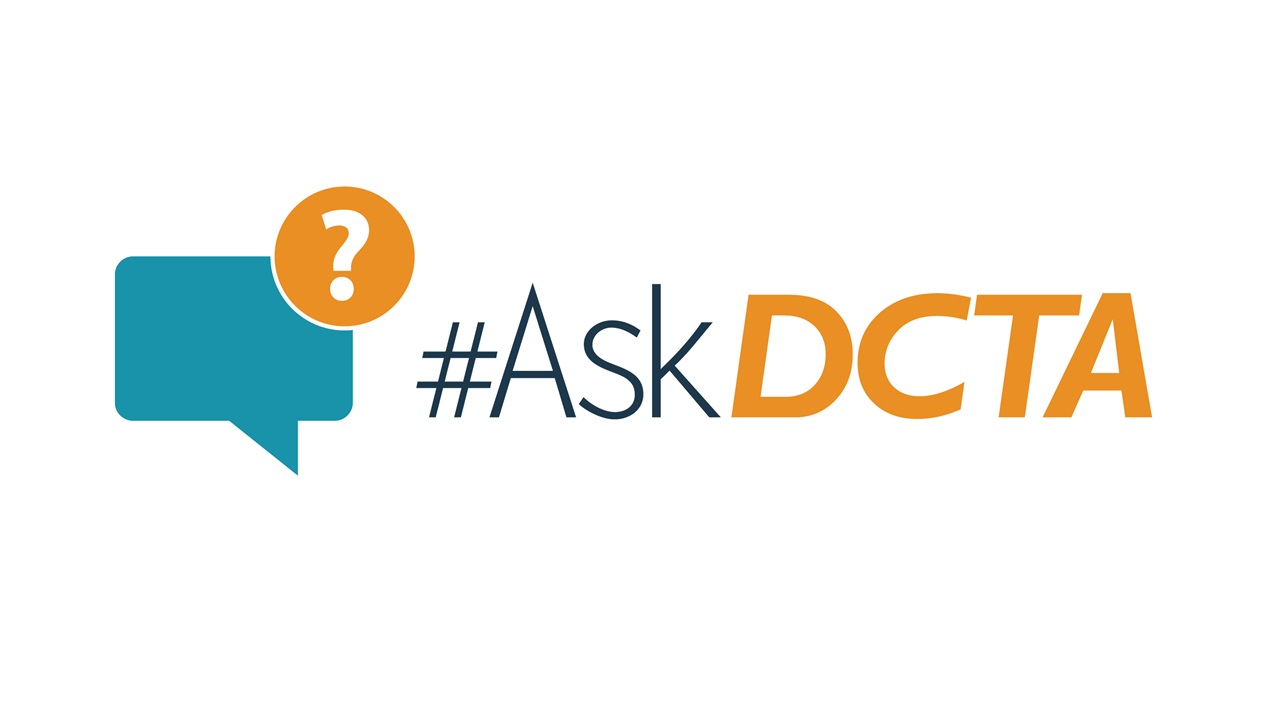 Want to know the best way to travel with kids? Not sure which fare you need? Now you can #AskDCTA! In our monthly blog content series, our customer service team answers frequently-asked rider questions to better engage with our riders and improve their experience when riding DCTA.
For the month of August, Samantha Balderas – Customer Communications Specialist – shares what you should know about the recent service changes!
What are the Key Service Changes We Should Know About?
As of Monday, August 27, bus service enhancements went into effect. These changes improve connectivity and accessibility within Denton County. We also launched two fare promotions focused on increasing accessibility and ridership. Be in the know of the following service enhancements:
Denton Connect Bus
We recently implemented a significant service change to Route 8. Route 8 will now serve the southern portion of the University of North Texas (UNT) campus as well as areas on Eagle Drive. Passengers will see minor schedule tweaks to Routes 1, 6, and 7. Visit RideDCTA.net to view updated maps and schedules.
UNT Campus Shuttles
The North Texan and Eagle Point routes will be expanded. North Texan will be rerouted to provide more frequent service to Victory Hall and serve new parking spaces at Apogee Stadium. The Eagle Point route will now serve Maple, Kerr, Honors and Victory Halls. This added service will provide additional capacity for the campus circulator as well as providing a one-seat ride for students who reside at Victory Hall to the General Academic Building and UNT Union. Visit UNT Transportation's website to view updated maps and schedules for fall 2018.
North Texas Xpress
Route 64 (North Texas Xpress) has been rerouted to give UNT students, faculty, and staff a seamless connection to the North Texas Xpress service. We've removed sections of the route that previously served University Drive and added service to UNT's Fouts Field. View the updated Route 64 map and schedule on RideDCTA.net!
Highland Village Services
We have discontinued our Highland Village Community On-Demand service and expand our Lyft discount program to serve this area. Riders who used our Highland Village Community On-Demand service will now be able to utilize our Lyft discount program. We will provide up to a $10 sponsored discount for each trip! See below for key program details:
Operating Monday through Friday from 5:30 a.m. to 9:00 p.m. (excluding major holidays)
The existing Highland Village Lyft Zone service area will remain the same for service operations
The Highland Village Connect Shuttle will now operate on a 30-minute frequency for more efficient operations. View the updated schedule on RideDCTA.net!
What Other Changes are happening during this Time?
In conjunction with service changes, we've rolled out two new promotions to help increase ridership with reduced and free fare options!
Starting Monday, August 27, we are providing UNT, Texas Woman's University (TWU) and North Central Texas College (NCTC) students, faculty, and staff with free A-train rides between the Trinity Mills Station and the Downtown Denton Transit Center (DDTC). This promotion will be valid until January 14, 2019.
We have also launched a local fare promotion effective August 27, 2018 through January 14, 2019. This promotion consists of reduced ticket prices across all DCTA local fares. Passengers can purchase two local passes vs one regional pass. For more information, visit RideDCTA.net!
Why Are These Service Changes Being Implemented?
These service changes will provide enhanced mobility options and improved connectivity within DCTA's service area. More specifically, schedule changes will allow better connections to our A-train and improve efficiency between other DCTA services.
How Can I Submit My Feedback on Service Changes?
 Your input is important to us and it helps us with future service changes! Submit passenger feedback to our GORequest system at any time. Your submissions will go directly to DCTA staff.
Join DCTA's Citizens' Advisory Team (CAT) if you are interested in improving the public transportation options in our community. Check out the CAT meeting calendar for more information on upcoming meetings.
Attend DCTA's open house meetings next month to hear about major agency projects and initiatives. This is a great opportunity to speak with DCTA staff and share your feedback. Sign up for our Rider Alerts to receive updates about upcoming meeting dates.
We hope Samantha helped answer all your questions about August service changes! Have another question you want our customer service team to answer? Here's how you can submit them:
Send your feedback via our GORequest online customer service tool and choose the menu option "#AskDCTA Series"
Drop a note in the comments section on our Hop on Board.
While we can't guarantee that every question submitted will be answered, we will consider all inquiries and will feature questions that will greatly benefit most of our riders!
---
Sign up for Updates
"*" indicates required fields