Rider Tips
Top Things to Know about DCTA Travel During the Winter Holiday Season
November 15, 2018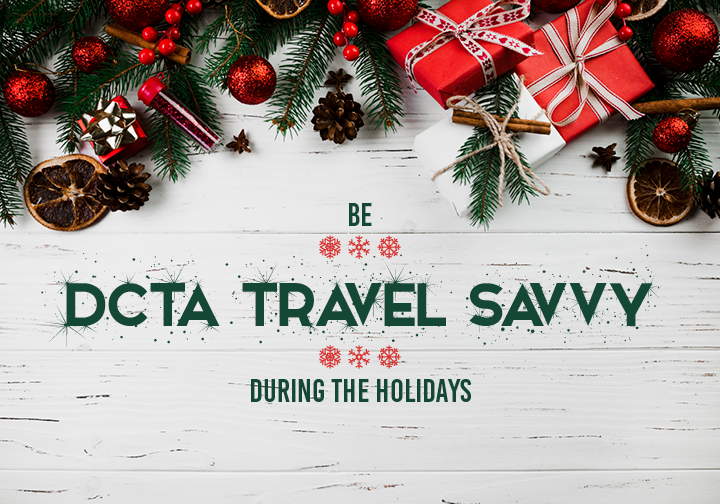 Turkeys, Christmas lights and noisemakers – these are signs that the winter holiday season is officially upon us! With so much excitement surrounding this special time of the year, it's understandable that you may be preoccupied with planning events, hanging out with friends and family and holiday shopping; and may not be aware of things you should know about riding DCTA during the winter to ensure you get where you need to go this holiday season.
No worries, because we've got you covered! Check out some of our key tips and tricks below (and keep them handy) so you have a fun-filled and safe time riding DCTA:
Be Aware of Our Modified Holiday Schedule
During the winter holiday season, we usually run a modified schedule in conjunction with Thanksgiving, Christmas and New Year's. Important dates to note for when we will not run service are:
Thanksgiving Day (Thursday, November 22, 2018)
Christmas Day (Tuesday, December 25, 2018)
New Year's Day (Tuesday, January 1, 2019)
Make sure to view our entire 2018-2019 holiday service schedule to plan your DCTA travel in advance!
How to Connect to Other Transit Networks in DFW
Need to travel outside of the Dallas Fort-Worth metroplex this holiday season? Leave your car at home and hop on board DCTA to get to your loved ones. Listed below are major airports and transit networks we can connect you to (with connection instructions):
Dallas Fort Worth International Airport
Love Field Airport
Amtrak
Click here for more DCTA transit connections!
Safety Riding Tips to Keep in Mind
We get that the winter is a joyous occasion, but we want to ensure you remember some key safety tips when riding our system this holiday season. We've gathered up some of our best winter holiday tips for you to remember for a safe and fun-filled holiday season riding DCTA!
Did we miss something in our tips that you're burning to know! Leave us a note in our comment section below.
---
Sign up for Updates
"*" indicates required fields