News to Use
Transit Tracker vs. Where's My Ride – What's the Difference?
October 19, 2017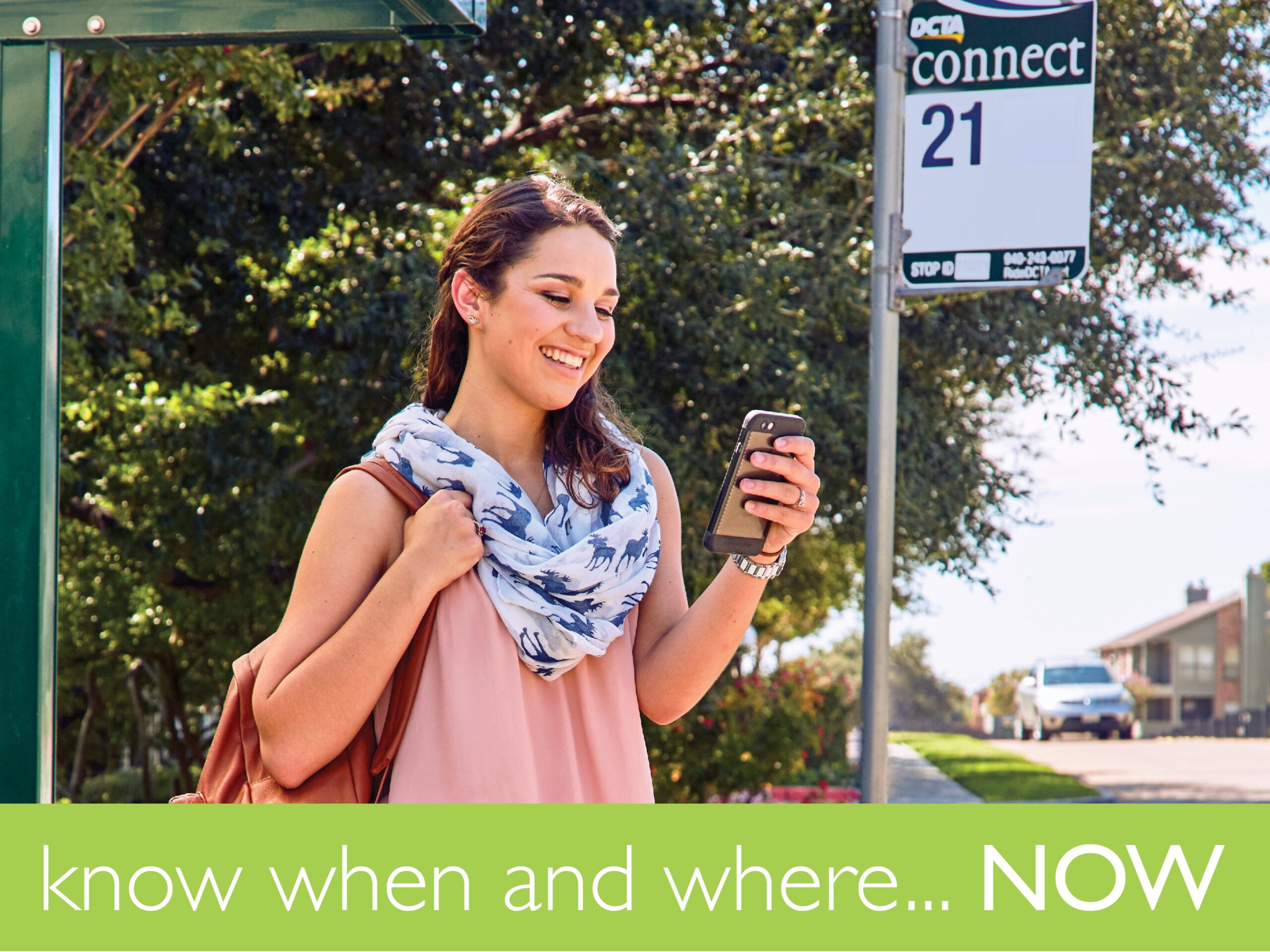 We're excited for the recent launch or our new Transit Tracker system which provides passengers with access to real-time information for the DCTA A-train, fixed-route bus and shuttle services. Passengers can track vehicles via phone, online, text and free mobile application. The real-time information in DCTA's Transit Tracker system is powered by Swiftly who generates schedule data in General Transit Feed Specification R package (GTFSR) format and real-time Automatic Vehicle Location (AVL) data (GPS trackers installed on agency vehicles). The Transit Tracker mobile app, web portal and homepage widget are provided by Transit.
Our new system replaced our previous Where's My Ride tracking system. Don't get us wrong – we liked Where's My Ride and many of our riders did as well! However, launching the new Transit Tracker system allowed us to enhance key areas of our real-time vehicle tracking capabilities to improve the passenger experience.
See the key features our updated tracking system provides:
Free Mobile Application to Track Your Ride
Transit Tracker has a free mobile app feature in which passengers can access real-time vehicle information. Where's My Ride didn't have a mobile app component for that system. Real-time information for DCTA vehicles is available through the free Transit mobile application that can be downloaded from Google Play and Apple iTunes. Passengers can see vehicle locations in real time, find nearby stops, and get step-by-step transit directions and notifications about when to leave for their next trip.
With many riders commuting to and from their desired destinations and many with a mobile phone, it's a great enhancement to add a mobile app feature to travel tools passengers can use to track their ride. Also, you can use the Transit mobile app on the Dallas Area Rapid Transit (DART) and Trinity Railway Express (TRE).
More Frequent Data Feed
Our new Transit Tracker system utilizes General Transit Feed Specification R package (GTFSR) format data that updates our schedule data more frequently than standard GTFS feeds that Where's My Ride utilized. GTFS
For more information on the differences between GTSFR and GTFS, go here or here.
Capability to Track More DCTA Services
Passengers can access real-time info with our new Transit Tracker system for more DCTA vehicles than Where's My Ride including the following services:
A-train commuter rail
Connect Bus system in Denton and Lewisville
University of North Texas and North Central Texas College Campus Shuttles
Highland Village Connect Shuttle
With Where's My Ride, passengers could only access real-time information for the A-train and Connect Bus system in Denton and Lewisville. We're glad to provide more real-time tracking capabilities for more of our services which we're sure riders appreciate.
Are you currently using our new Transit Tracker to track your DCTA ride? Let us know in the comments section below your favorite feature of the new system and how it helps you during your commute!
---
Sign up for Updates
"*" indicates required fields