News to Use
Why We Slowed Down Our Trains
October 23, 2019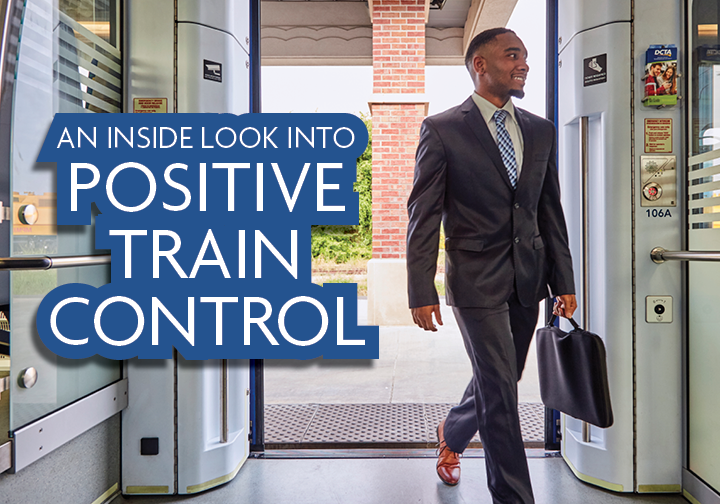 With our recent August service and schedule changes now in effect, you may be wondering why our A-train schedule changed and why our trains are operating at a slower pace. There's been a lot of chatter about Positive Train Control (PTC) and the process of its implementation, but what does it really mean for the daily safety of passengers and their commute? Read on to get an inside look as to how the new federally-mandated PTC safety technology safety system has changed our A-train schedule for the better!
What is PTC?
PTC is a complex computer and cab signal-based system that helps prevent train incidents due to human error. The technology can prevent train-to-train collisions, derailments triggered by excessive speeding, unauthorized train movement onto sections of track and movement of a train through a track switch left in the wrong position. PTC technology does not prevent the following:
Incidents due to trespassing on railroads
Train-vehicle collisions on railroad crossings
DCTA PTC Technology System Type
DCTA has installed Enhanced Automatic Train Control (E-ATC) which is a type of PTC system that uses an underlying automatic train control (ATC) system in conjunction with other "enhanced" features or systems to achieve core required functionalities of PTC. E-ATC also allows DCTA to leverage its fiber networks that enhance its existing signal system.
Why is PTC Required?
In 2008, Congress passed the Rail Safety Improvement Act to prevent railroad injuries, fatalities and hazardous material releases that may occur due to a train accident. The Federal deadline to implement the technology initially was December 31, 2015, but has since been extended to December 31, 2020.
The purpose of PTC is to make rail transportation safer by automatically stopping a train before an accident occurs. To accomplish this, FRA has approved several technologies including the E-ATC system which DCTA has adopted.
What is DCTA's PTC Implementation Status?
As of Monday, August 26, PTC safety technology is now aboard all regularly-scheduled DCTA A-train passenger trains! Along with adding PTC to all trains, we also announced a new A-train schedule which added midday service.
Many of our passengers transfer from our A-train to the Dallas Area Rapid Transit's (DART) Green Line at Trinity Mills station. So why isn't DART's light rail system undergoing PTC implementation too? Well, that's because DART's rail system runs on its own track and does not fall under the PTC requirements. But their shared line with the Trinity Metro – the Trinity Railway Express (TRE) –  does! Check out our recent blog post to learn more about the difference between light rail and commuter rail systems.
Why Does PTC Technology Slow Trains Down?
PTC safety technology is designed to keep braking distances of signals and permanent speed restrictions in mind. The system calculates distance and time required to safely bring the train to a stop or bringing the train to the correct speed before a permanent speed restriction begins on a section of the track.
The system also considers safety factors and worst-case scenario calculations. With PTC technology onboard, the engineer operating the train must slow the train down as per the onboard computer's instructions. If the engineer doesn't comply, the PTC system would bring the train to a complete stop. A little delay is induced by the system because the system slows the train down much in advance of the stop signal or speed restriction that the train would encounter in its forward path; keeping in mind the braking distance required to bring the train down to a stop or control the speed to the desired speed that the track structure dictates. (Curves etc.).
Because of these monitoring factors, the total trip from our Downtown Denton Transit Center (DDTC) to the Trinity Mills station increased by 12 minutes, making the entire trip 42 minutes. Twelve minutes isn't a bad price to pay for safety! With the new train schedule, there is now also improved A-train frequency all day (30-minute frequency). There is a short break between 1 p.m. and 2 p.m. while trains are prepped and staffed for the remainder of A-train service schedule.
Where Can I Find More Information About PTC?
The American Public Transportation Association (APTA) website is a great resource for PTC information as well as the Federal Railroad Administration's website. Sign up for Rider Alerts to stay up to date with A-train service modification and our PTC testing progress report.
We hope this blog helped explain the benefits of PTC. Let us know your favorite fact and if there's anything else you'd like us to address on this subject in the comment section below!
---
Sign up for Updates
"*" indicates required fields