Rider Tips
3 Healthy Ways to Enjoy the Outdoors During COVID-19
September 22, 2020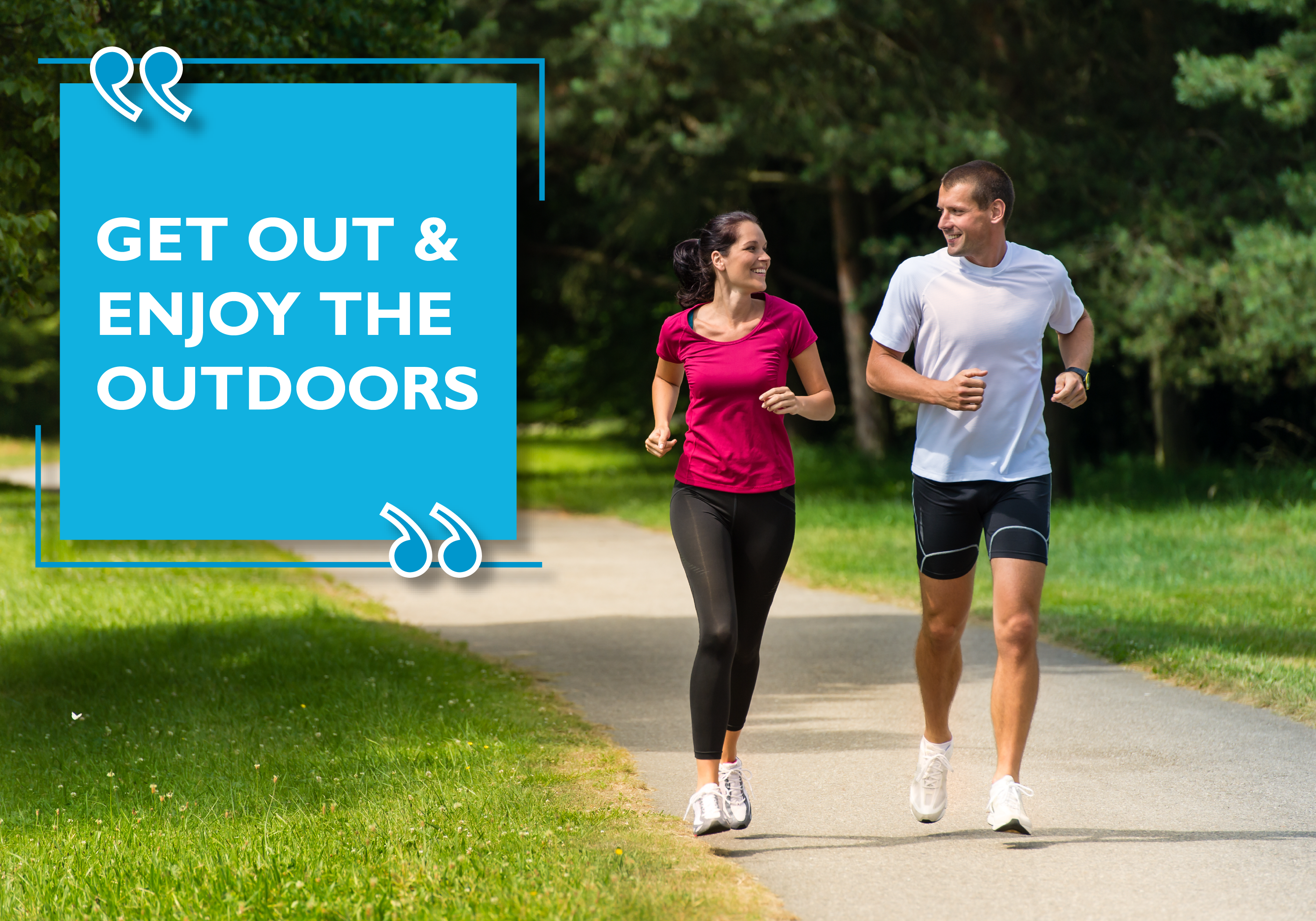 As the weather flips back and forth between Summer or Fall, now is the chance to get outside and get active before it gets too cold! There are so many ways to enjoy the outdoors while social distancing and staying safe. Read our blog below to learn some fun ways to enjoy the outdoors while the weather is still nice.
Take a Trip on a Local Trail
A-train Rail Trail
We might be a little biased, but we love our A-train Rail Trail! The rail trail is 19 miles and goes from Denton to Lewisville, making it easy to walk, bike or run to your favorite destination. There are many amenities, scenic views, connecting city trails and easy transfers to our A-train commuter rail line.
We updated our A-train Rail Trail map to include connecting trails, rest stops and more. Download the pocket guide below to make your journey that much easier!
Staying safe while enjoying the outdoors doesn't just mean wearing a mask and social distancing, you also need to practice trail safety. Read the below blog from our archives to learn how to stay safe on our A-train Rail Trail.
Denton
Not only does our A-train Rail Trail start in the city of Denton (or end depending on the way you look at it), Denton also has many other trails connecting you to downtown Denton, many parks and more. Denton's trails range from .29 miles to 4.01 miles and everywhere in between. The Denton Katy Trail turns into our rail trail, making it easy to travel from Denton, across the Lake Lewisville bridge to our Hebron station in Lewisville.
Check out the video below to get a look into our rail trail
Highland Village
Our A-train Rail Trail isn't the only trail in Denton County. In fact, there are tons of trails throughout our member cities and beyond. The city of Highland Village has eight trails to enjoy ranging from .45 miles to 2.73 miles. It even connects to our rail trail!
From the trails in Highland Village, you have access to parks, shops, restaurants and more! Don't feel like walking back? You can take advantage of our Highland Village Lyft Discount Program. We offer a $13 sponsored discount for rides taken within the Highland Village Lyft Zone. Learn more about our program by watching the short video below.
Lewisville
The city of Lewisville also has many great trails to choose from – they have more than 15! Ranging from .25 miles to 2.25 miles, you're bound to find a trail that fits your needs. From the Lewisville trails, you can connect to downtown Lewisville to enjoy some shopping and dining, Lewisville Lake Environmental Learning Area (LLELA) to enjoy a picnic and go bird watching and more!
Find Treasure While Geocaching
Geocaching is a fun way to get outside, get moving and find hidden treasure. What is geocaching? Geocaching is an outdoor treasure hunting game where you use your phone's GPS to find containers, called "geocaches" at specific locations marked by coordinates all over the world.
You start by downloading the Geocaching app on your phone, creating an account and then use the app to find locations nearby. Once you find a location near you, your journey begins! Each treasure contains different items and allows you to learn about the area or just put a smile on your face. When you find a geocache, sign and date the logbook, put the treasure back and share your experience online with other treasure-seekers.
Drive up to a Drive-in Movie
This one may be a stretch for a "healthy" activity (popcorn comes from a vegetable so that counts, right?) but it's outdoors, nostalgic and entertaining! There are quite a few drive-ins to choose from including the Galaxy Drive-In Theatre in Ennis to Coyote Drive-In in Fort Worth. Check out this Dallas Observer article listing drive-ins in North Texas to get a full list of locations. So pull into your spot, tune your radio to the correct channel and enjoy a socially-distant film with all the other movie-goers!
We hope our list inspired you to get out an enjoy the outdoors. What is your favorite outdoor activity during COVID-19? Let us know in the comment section below!
---
Sign up for Updates
"*" indicates required fields