Rider Tips
3 Reasons University Students Should #RideDCTA
August 15, 2019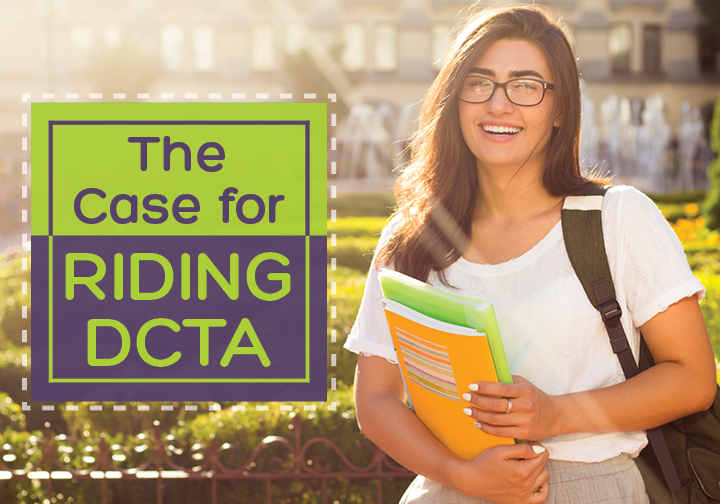 It's common knowledge that as a university student, you might make choices based on saving money, studying and having a social life. We want to help you have it all! When you #RideDCTA, you're making the choice to save money, have fun and have accessible transportation to get where you need to go! Check out our blog below to read more about why you should ride.
1. Balance Responsibilities and Fun
Our A-train can take you from Denton to Highland Village, Lewisville and Carrollton. You can use the A-train and connect buses to get to shops, restaurants, movie theaters and ride the A-train all the way to Trinity Mills station and hop on the Dallas Area Rapid Transit (DART) to go to other great places in the Dallas metroplex! This gives you the option to visit Dallas for concerts, athletic events and more without worrying about driving, directions and parking.
Riding our A-train also gives you plenty of time to study for tests or finish homework, so you don't have to feel guilty while you're out on the town! No matter if your first stop is in Denton or Carrollton, you have access to great food and entertainment with every city in between. Check out our video below to see how much time you can save when you ride DCTA stress-free!
2. Save Money
University of North Texas (UNT), Texas Women's University (TWU) and North Central Texas College (NCTC) students, faculty and staff all have access to our University Pass program that offers you a chance to save money on either local or regional passes, making it easier and cheaper to get where you want to go! We recently changed the structure and pricing of the University Pass Program to align with our existing reduced fare discount. Now, there is no longer a difference in fare pricing for university students vs. faculty and staff.

And don't forget, UNT and NCTC students, faculty and staff can ride the campus shuttles and Connect busses free with a valid university ID.
3. Use your Resources
It's now easier than ever to #RideDCTA to school and other places you need to access. We offer apps to help you navigate your trip and other useful tools to keep your trip simple.
Transit Tracker
This handy apps gives real-time information for how far the A-train and busses are to their next stop. There are posted schedules for the A-train and busses at certain stations and stops, but this app allows you to plan your trip more efficiently. The Transit Tracker will also plan your route when you enter your starting location and your destination. This allows you to plan your trip to school easier so that you're never late to class or that movie. It even sends you notifications for when you need to leave!
GORequest
This is our awesome customer service app! Did you have an issue with our service that needs to be addressed or maybe you want to give a shout out to one of our awesome drivers? Once you submit your comment on GORequest, your comment will be sent to a DCTA staff member who can best address your feedback. At DCTA, we're always trying to find new ways to keep our customers happy and what better way than to hear straight from the customer?
GoPass℠
You can go paperless! If you have a smartphone, you never have to carry around physical tickets again. GoPass℠ allows you to access electronic tickets so that you don't have to worry about losing your ticket at the bottom of your school bag. Nothing is worse than digging around in your backpack trying to find one small item. Check out our recent #AskDCTA blog for more tips on how to prevent your passes from getting lost or stolen.
Online Trip Planning
We offer a wide variety of routes in Denton, Lewisville and Highland Village. This can sometimes make it overwhelming when trying to plan your route, so let us do the work! We offer the Plan My Trip feature on our website where all you need to do is enter your starting location and destination and we show all possible routes to take!
Riding with DCTA is easy, saves students time and money, all while offering fun experiences! While you're traveling on our services, it's easy to get some extra studying in or finish up that last-minute homework before you get to class. Let DCTA help ease the stress of student life by saving money with us today! Which tip is your favorite? Let us know in the comment section below!
---
Sign up for Updates
"*" indicates required fields