Rider Tips
#AskDCTA: What are DCTA's guidelines for bringing animals on vehicles?
July 25, 2017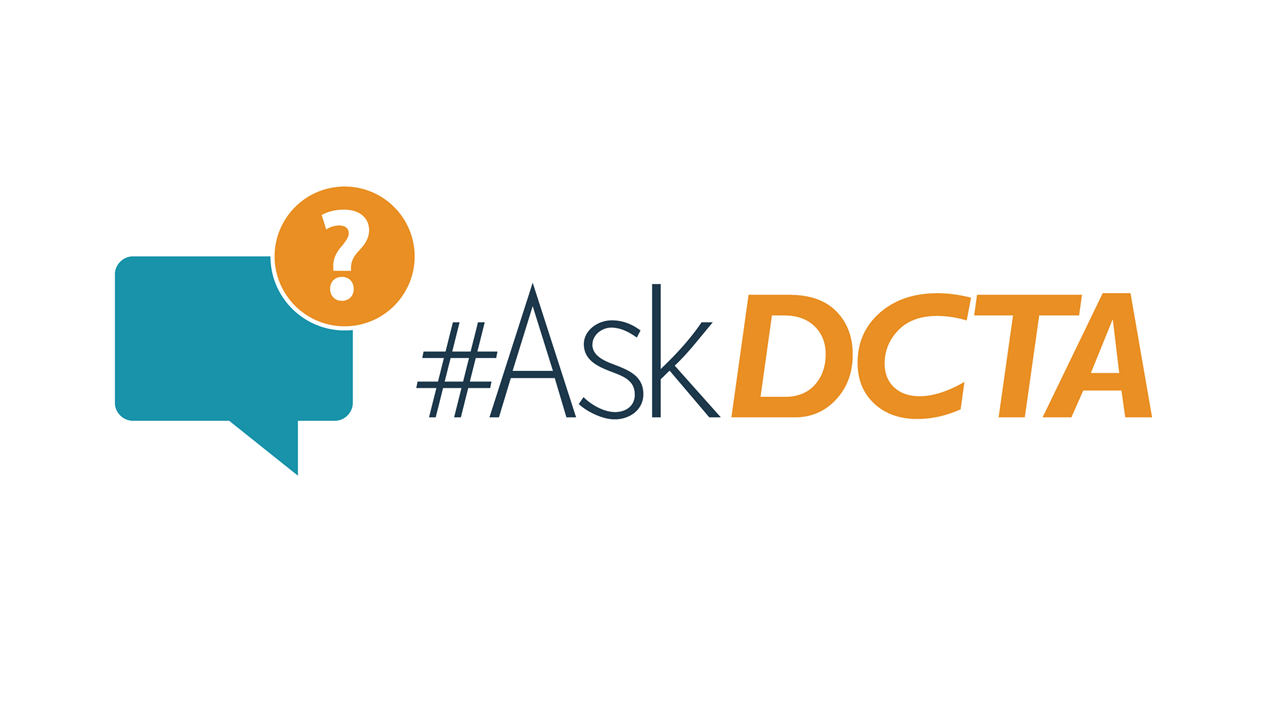 Have you ever wondered about whether you can bring your pet on the A-train? Have you ever needed to know about long-term parking options at the DDTC? Now you can #AskDCTA! In our new monthly blog series, our customer service team will be answering frequently-asked rider questions to better engage with our riders and improve their experience when riding DCTA.
For the month of July, Samantha Balderas – Customer Communications Specialist – gave us some insight on the types of animals that are allowed on DCTA vehicles, and guidelines riders should abide when they bring their animals on board DCTA.
What type of service animals are allowed on DCTA vehicles?
Service animals are working animals and have protected rights under the American with Disabilities Act (ADA) law. The type of service dogs covered under the ADA include:
Guide dogs – assist persons with visual impairments.
Assistance or mobility dogs – assist persons using wheelchairs and others who have mobility limitations. These dogs may pull a wheelchair, fetch dropped items, carry bags, or open doors.
Hearing or signal dogs – assist persons with hearing impairments by alerting them to sounds such as alarms, horns, and telephones.
Seizure-response/alert dogs – assist persons with epilepsy or other seizure disorders. They alert the person to an oncoming seizure, provide assistance during or after the seizure and seek help.
Service animals are welcome on all DCTA vehicles and services including:
A-train
Connect Shuttle
Campus Shuttle
North Texas Xpress
Frisco Demand Response Service
DCTA Access
Commuter Vanpools
Remember, not all service animals look alike. Assistance dogs come in many different breeds such as Golden Retrievers, Labrador Retrievers, and even Pembroke Welsh Corgis! Miniature horses can also be trained to become service animals, so don't be surprised if you see one on your next ride with DCTA!
Are Emotional Support animals or Therapy animals allowed on DCTA vehicles?
Emotional support animals, comfort animals, and therapy dogs are not considered service animals under the ADA law. The ADA defines a service animal as having been specifically trained to perform a task for the person with a disability. Therefore, emotional support animals and therapy dogs are not allowed to ride DCTA vehicles.
What are my responsibilities for my service animal while riding DCTA?
The ADA law requires the handler to be responsible for the care and supervision of the service animal at all times. This means that the animal must be on a leash, harness, or in a crate. If the handler cannot hold the leash due to a disability, then the service animal must be able to respond to the handler's voice.
Please keep in mind that DCTA Operators can refuse service if the behavior of the animal poses a threat to the health and safety of passengers. Some examples of unacceptable behavior include:
Uncontrolled barking
Jumping on passengers or the Operator
Running away from the handler
Growling
Service animals should also be house broken. Don't leave any surprises behind! Cleaning up after the animal is the handler's responsibility, not DCTA Operators.  The animal should also be up-to-date on all vaccines in accordance with state and local laws.
If I have my non-service animal in a crate can I still bring them on a DCTA vehicle?
Only service animals are allowed on DCTA vehicles. All other animals are not allowed even if they are in a crate. Service animals are required to be on a leash, harness, or carrier and under the handler's control at all times.
How do I get my animal certified as a service animal?
Training may be done by a training school or independent trainer. Training can take anywhere from several months to several years to complete. Some service animal schools provide a certificate upon successful completion of training.
How can I make sure my animal is identified as a service animal?
Some, but not all, service animals are given identification tags upon completing training. Service animals may also wear a backpack or cape with the name and logo of the training school. To purchase your service animal ID, leash, or vest, visit the National Service Animal Registry website.
Are there certain identification criteria that DCTA looks for on service animals?
Under the ADA, public and private transportation operators may not require proof that an animal is a service animal. Some training programs may provide photo ID tags, training certificates, or equipment with logos. Identification tags and capes help our operators easily identify service animals. Under the ADA, operators may ask a passenger if the dog is a service animal or ask what tasks the animal is trained to perform. DCTA operators cannot require a special ID for the animal or ask about the passenger's disability.
We hope Samantha helped answer all of your questions about DCTA's animal policy!
Have another question you want our customer service team to answer? Here's how you can submit them:
Send your feedback via our GORequest online customer service tool and choose the menu option "#AskDCTA Series"
Drop a note in the comments section on our Hop on Board
While we can't guarantee that every question submitted will be answered, we will consider all inquiries and will feature questions that will greatly benefit the majority of our riders.
---
Sign up for Updates
"*" indicates required fields