Rider Tips
#AskDCTA: What Are the Top Five Things New DCTA Riders Should Know?
October 31, 2017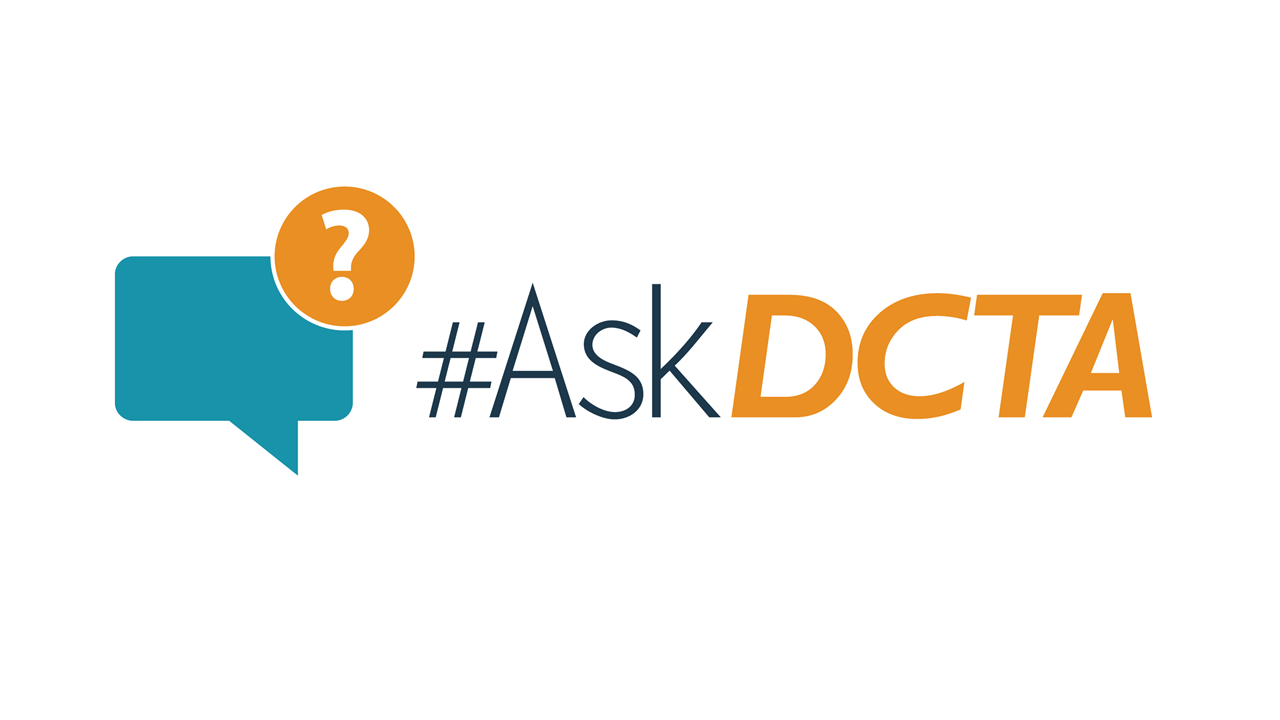 Have you ever wondered how to use our GORequest tool to get your questions answered? Not sure what type of fare you need for your next trip? Now you can #AskDCTA! In our monthly blog content series, our customer service team will be answering frequently-asked rider questions to better engage with our riders and improve their experience when riding DCTA.
For the month of October, Samantha Balderas – Customer Communications Specialist – shared some tips and things to know for first time DCTA riders!
What type of fare do I need when I ride DCTA and where can I purchase my ticket?
There are various fare options for DCTA services. The most common fare types include:
Connect Fare – Valid on Denton and Lewisville Connect Buses, Highland Village Connect Shuttle and University of North Texas (UNT) Campus Shuttles.
Local System Fare – Valid on the A-train, Connect Bus, Highland Village Connect Shuttle, Highland Village Community On-Demand, North Texas Xpress (between Denton and Alliance), UNT Campus Shuttle, and NCTC Campus Shuttle. Excludes Access and Frisco Demand-Response services.
Regional Fare – Valid on the A-train, Connect Bus, Highland Village Connect Shuttle, Highland Village Community On-Demand, North Texas Xpress (between Denton and Alliance), UNT Campus Shuttle, and NCTC Campus Shuttle. Required for trips taken outside of the DCTA service area. Includes access to fixed-route bus and rail services operated by the Dallas Area Rapid Transit (DART), Trinity Railway Express (TRE) and Fort Worth Transportation Authority (FWTA). Excludes Access service, Frisco Demand-Response service as well as DART and FWTA's paratransit services.
We've put together a fare table that features our services with accompanying valid fare for each one. This is a great resource to help passengers choose the right fare type for their travels!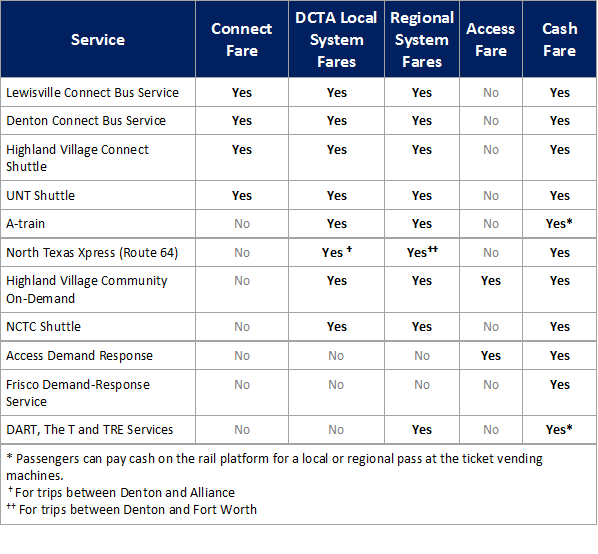 Not sure how to purchase your fare ticket? Passengers can purchase fare at the following locations:
Online Ticket Store – purchase your fare on DCTA's online store
Go Pass℠ App – purchase your fare on your mobile phone
Ticket Outlet Locations – purchase your fare at the following locations:
Downtown Denton Transit Center (604 E Hickory St, Denton, TX 76205)
Lewisville City Hall (151 W Church St, Lewisville, TX 75057)
Highland Village City Hall (1000 Highland Village Road, Highland Village, TX 75077)
Onboard select DCTA Connect buses (exact fare only)
Ticket Vending Machines at any A-train station
For more fare information, check out this #AskDCTA blog post where we discuss everything you need to know about DCTA fare!
Where can I get routes and schedule information?
All route information and schedules are available online at RideDCTA.net. Passengers can also pick up maps and schedule information at the DDTC.
Another great way to view routes is on the Transit mobile app available through our new Transit Tracker system. Passengers can view A-train and Connect bus routes as well as real-time vehicle information.
Can I park my car at any of the A-train stations?
Yes! There is 24-hour parking available at all DCTA train stations, however parking is limited at DDTC. If the DDTC parking lot is full, you can park at the south lot at Exposition and Hickory which is just a hop away from our Transit Center!
Our largest parking lot is at the MedPark Station in Denton. The best part of parking at MedPark is that passengers get to ride to the DDTC for free with our free fare zone promotion!
There is also parking available at Old Town and Hebron station in Lewisville and additional parking at Highland Village/Lewisville Lake Station at the City of Lewisville Recreation parking lot across the street.
If you need to leave your car parked at the station for more than 24 hours then make sure to fill out the long-term parking form and print your permit. Our A-train station parking lots are monitored by a Denton County sheriff. However, riders should be aware that DCTA assumes no responsibility for vehicles left overnight.
Looking for more parking tips? Check out our #AskDCTA blog post about our parking guidelines.
Are there any tools or resources DCTA riders should know about?
DCTA offers several helpful tools for passengers such as:
What are some common transit tips every DCTA rider show know?
We want to ensure that our passengers arrive to their destination safely and on-time. Here are some easy-to-follow tips to remember for your next trip:
Follow Rail Safety Protocol
Always stand away from the edge of the platform. Allow passengers to exit the train before you board. Be aware of your surroundings when boarding or exiting the train. Never run alongside the train to get it to stop. Cross railroad tracks ONLY at designated pedestrian or roadway crossings and obey all warning signs and signals. Smoking is not allowed on DCTA platforms, at DCTA bus stops or inside DCTA vehicles or facilities. Visit Operation Lifesaver for more rail safety tips!
Arrive Early to the Station or Bus Stop
Get to your bus stop or A-train station at least ten minutes before your scheduled departure. We encourage passengers to purchase their pass prior to arriving at the train station to avoid missing the A-train or DART departure. Passes can easily be purchased on the GoPass℠ app.
Understand Connectivity Between the A-train and DART
Please keep in mind that not every A-train meets the DART Green Line train. Passengers can visit RideDCTA.net to plan ahead. Use our Travel Tools such as the Trip Planner or the DCTA Transit Tracker to plan your trip!
Practice Transit Etiquette with Seating Arrangements
Choose one seat in which to sit. Non-ADA passengers should not sit in the designated ADA seating. Be considerate of other passengers boarding the train or bus. Make room for seniors and passengers with disabilities and offer seats to those who need one.
Have Correct Fare Ready
Always have your fare ready before boarding the bus. Appropriate fare or pass is required prior to boarding the A-train and must be shown upon request.  Failure to do so is subject to an administrative penalty or a Class C misdemeanor.
Keep DCTA Vehicles Clean
No food or drinks are allowed on DCTA vehicles unless in closed or spill-proof containers. Alcoholic drinks must be sealed and should not be open during the ride. Before exiting the vehicle, make sure no trash is left behind.
Know Our Policy When Riding with Service Animals
Only service animals are permitted on all DCTA vehicles. The passenger is responsible for the care and supervision of the service animal while on board. For more information, visit our #AskDCTA blog post about guidelines for bringing animals on vehicles.
We hope Samantha helped answer all of your questions about riding DCTA for the first time!
Have another question you want our customer service team to answer? Here's how you can submit them:
Send your feedback via our GORequest online customer service tool and choose the menu option "#AskDCTA Series"
Drop a note in the comments section on our Hop on Board blog.
While we can't guarantee that every question submitted will be answered, we will consider all inquiries and will feature questions that will greatly benefit the majority of our riders!
---
Sign up for Updates
"*" indicates required fields