Fun Things To Do
Fun Things to Do in November!
November 1, 2017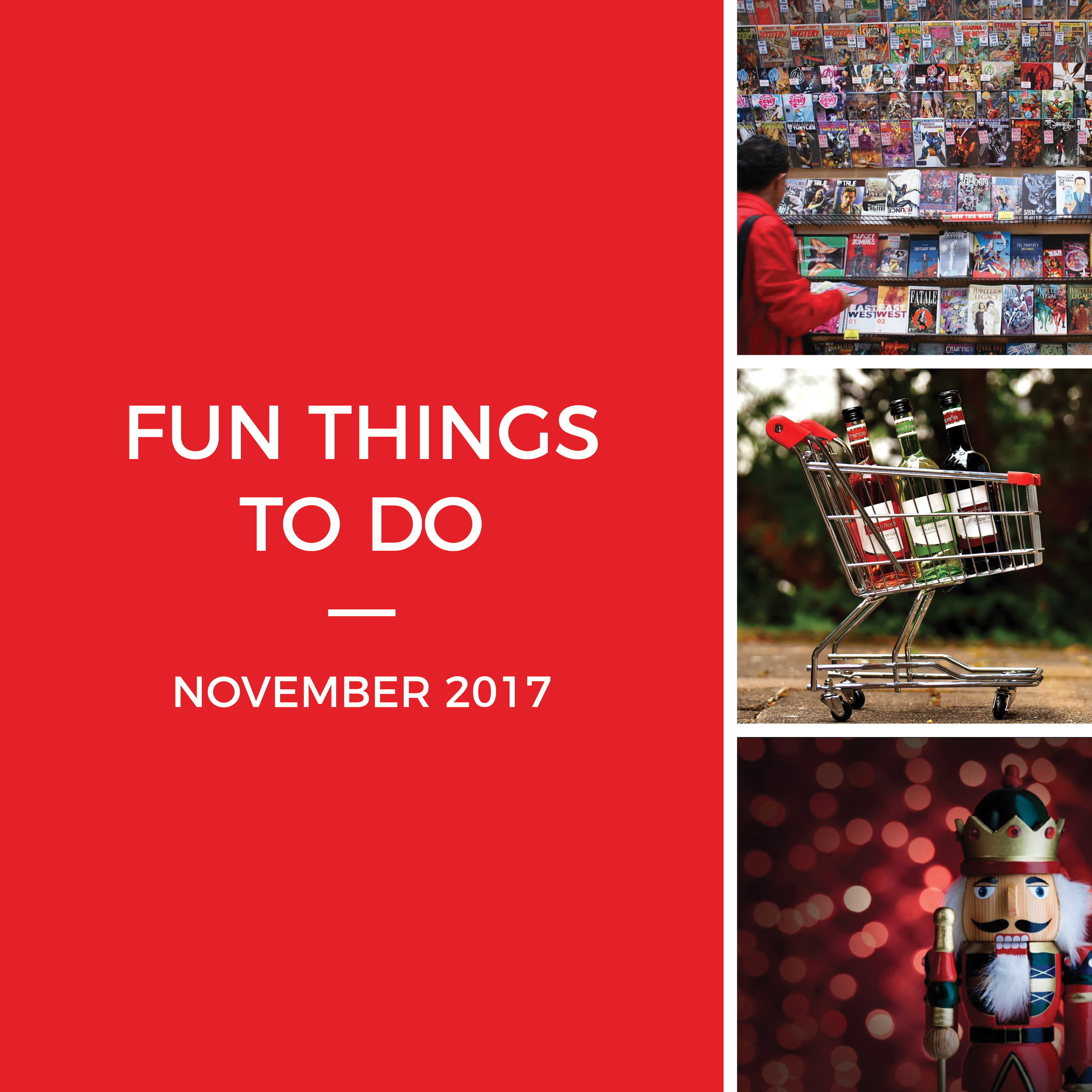 The holiday season in North Texas brings everything from parades and music festivals to comic books and movies under the stars. November is the perfect opportunity to dust off your cardigans and scarves and make your way to the many events happening this month. We're here to help you get there:
Highland Village Sip and Stroll
With holiday shopping right around the corner, the Shops at Highland Village has the perfect night for you to shop, stroll and sip your way through your gift lists. Sip and Stroll will be held from 6:30 p.m. to 9 p.m. on Thursday, November 9, at various stores around the Shops. A $10 donation gets you a goodie bag, wine glass and access to seven wine stations throughout the property.  The stations will have food pairings provided by Whole Foods to sample as well. You can get there and back easily and safely with our Highland Village Connect Shuttle. For more information, visit theshopsathighlandvillage.com/.
University of North Texas Homecoming Parade
On Saturday, November 11, UNT will be holding their annual Homecoming Parade! Starting at 11 a.m., parade participants will be making their way from UNT to the downtown Denton Square and back; eventually ending up at Apogee Stadium for the homecoming tailgate and football game. If you're in the parade or if you just want to watch from the street, you can use Routes 7 and 8 to find your ideal spot. For more information, visit studentaffairs.unt.edu/student-activities-center/programs/homecoming.
Denton's BackYard Block Party
Music is a staple in Denton, and BackYard on Bell is celebrating one of the things that makes all the people come together! At 3 p.m. on November 16, 17 and 18, the BackYard Block Party will feature a music festival with more than 20 bands across three days. Whether you're wanting to sit back and enjoy the music or experience different food trucks on the property, the festival will last throughout the night! It costs $15 for the two-day pass, which lets you attend the Thursday night (November 16) pre show for free. Ride Denton Connect Routes 5 and 6 to get to BackYard on Bell. For more information, visit facebook.com/events/347712765675181/.
Comic Shop Day in Denton
Regardless if you're a Marvel fan or a DC fan, pop culture fans will be able to come together to celebrate all things superhero, comic book and more at Madness Comics and Games' Local Comic Shop Day on Saturday, November 18, from 10 a.m. to 5 p.m. Madness Comics and Games' has everything from comic books and storybooks to figurines and buttons, so come celebrate this free event with fellow fans. You can take Denton Connect Routes 4 or 7 to get to the shop. For more information, visit facebook.com/MadnessComicsandGames/.
Lewisville Old Town Holiday Stroll
What better way to get in the holiday spirit than with a fun, festive holiday stroll? Old Town Lewisville's Holiday Stroll will be held at Wayne Ferguson Plaza from 12 p.m. to 9 p.m. on Saturday, November 18. This free event offers winter-themed activities, tree lighting, performances and movies under the stars for North Texas Families. Ride Lewisville Connect Route 22 to get to all the holiday fun! For more information, visit cityoflewisville.com/Home/Components/Calendar/.
Majestic Ballet's "The Nutcracker"
This month, a classic holiday tale will be coming to life onstage once again. The Majestic Ballet's 25th production of the "The Nutcracker" will be held at the Medical City Lewisville Grand Theatre on Saturday, November 25, at 3 p.m. and 6 p.m. The performers and dancers will be bringing the story to life in exciting and beautiful ways. Tickets cost $15 a person, and you can ride Lewisville Connect Route 22 to get to the theater. For more information, visit mclgrand.com/Home/Components/Calendar/Event/20684/1419?curdate=11-25-2017&curm=11&cury=2017.
Let us know in the comments section below which events you plan on attending!
---
Sign up for Updates
"*" indicates required fields