Rider Tips
#AskDCTA: What Should I know about DCTA's Local Fare Promotion?
September 25, 2018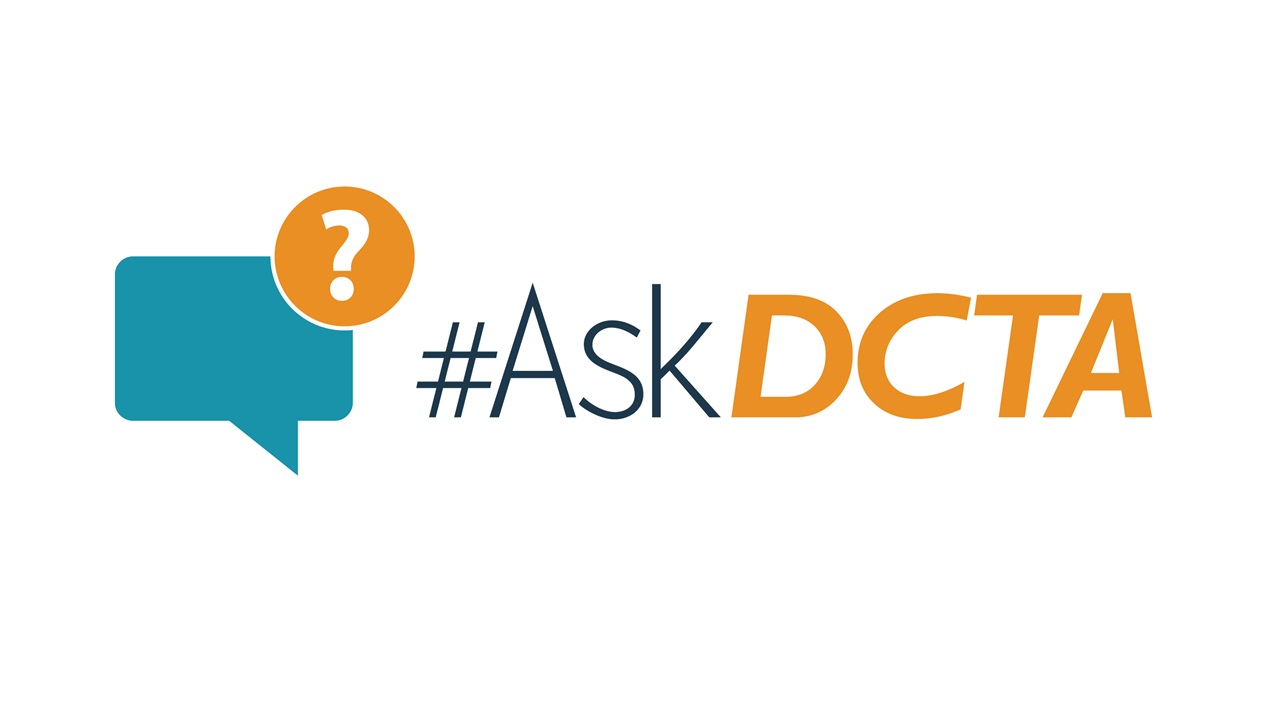 Not sure what the new service changes are? Need to know the 411 on positive train control? Now you can #AskDCTA! In our new monthly blog series, our customer service team will be answering frequently-asked rider questions to better engage with our riders and improve their experience when riding DCTA.
For the month of September, Samantha Balderas – Customer Communications Specialist – gives us insight on the new regional fare pricing and how to save money with our new local fare promotion!
Why did DCTA launch a Local Fare Promotion?
In order to offset regional fare increases, we launched our Local Fare Promotion to keep fares affordable for our riders! All local fares are currently discounted to help DCTA riders save on their overall travel cost.
The local fare promotion offers riders the option of purchasing one DCTA local pass and one DART or Trinity Metro local pass for less than the current cost of a regional pass. The local fare promotion ends January 14, 2019.
Below are some ways you can save money with the new local fare promotion:
Local Day Pass
Current Local Day Pass = $6
Promotional Local Day Pass = $3
Local 10-Pack of Day Passes
Current Local 10-Pack of Day Passes = $40
Promotional Local 10-Pack of Day Passes = $20
Regional Day Pass
Increased Regional Day Pass = $12
With the DCTA Local Fare Promotion, you could purchase a DCTA Local Day Pass for $3 and a DART Local Day Pass for $6, for a total of $9 (compared to the current $12).
Regional Monthly Pass
Increased Regional Monthly Pass = $192
With the DCTA Local Fare Promotion, you could purchase a DCTA Local 31-Day Pass for $48 and a DART Local Monthly Pass for $96, for a total of $144 (compared to the current $192).
For riders to best utilize our new local fare promotion, we've developed a cheat sheet guide with updated prices for the most commonly used and purchased fares.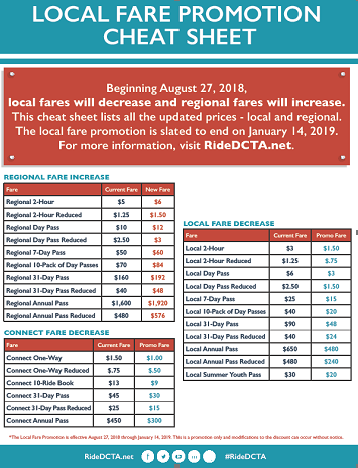 Why did regional fare increase?
Regional fare increased by 20 percent across North Texas which affects regional pass tickets sold by DART, DCTA, and Trinity Metro. DCTA charges the same regional price to remain in partnership with DART and Trinity Metro. This will allow DCTA to continue to provide riders with the option to purchase a single regional ticket for seamless transit connections throughout North Texas.
Are there other ways I can save money on fare?
Of course! Free transportation is available for those who meet at least one of the following criteria:
Sworn peace officer in uniform or with a visible badge
Children under five with a fare-paying adult
Denton County active jurors with a valid juror summons or current juror badge
ADA-certified riders with valid IDs (excluding Access service)
We're also providing University of North Texas (UNT), Texas Woman's University (TWU) and North Central Texas College (NCTC) students, faculty, and staff with free A-train rides between the Trinity Mills Station and the Downtown Denton Transit Center (DDTC). This promotion will be valid until January 14, 2019.
Riders can also take advantage of our A-train Free Fare zones. The rail line between the DDTC and the MedPark Station, as well as between the Hebron Station and the Trinity Mills Station, will no longer require a paid fare. The area between the MedPark Station and the Hebron Station will be the new DCTA fare enforcement zone where passengers will need to have a local or regional pass to ride.
If I purchase a DCTA Local Annual Pass at the end of the year, will I be able to use it next year?
Yes! You can utilize our Local Fare Promotion and purchase a discounted annual pass any time before the promotion ends on January 14, 2019. DCTA local annual passes are valid 12 months after the date of purchase. If you buy a pass in December 2018, it will expire in December 2019.
To purchase your fare, visit RideDCTA.net!
We hope Samantha helped answer all of your questions about the new fare changes! Have another question you want our customer service team to answer? Here's how you can submit them:
Send your feedback via our GORequest online customer service tool and choose the menu option "#AskDCTA Series"
Drop a note in the comments section on our Hop on Board blog.
While we can't guarantee that every question submitted will be answered, we will consider all inquiries and will feature questions that will greatly benefit the majority of our riders!
---
Sign up for Updates
"*" indicates required fields