Features and Profiles
#WhyIRideDCTA: Alfonso Barajas
September 26, 2018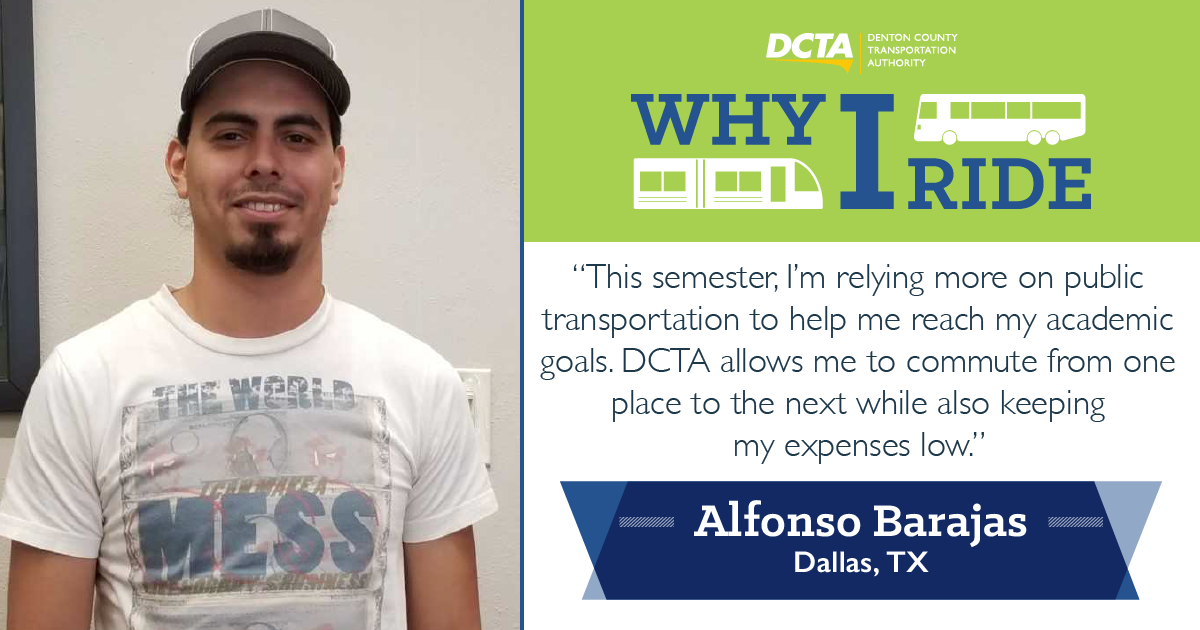 Living in Dallas but going to school in Denton might be a problem for some people, but Dallas resident Alfonso Barajas overcomes that obstacle by riding DCTA! As a student in his last year of college at the University of North Texas (UNT), saving time and money is crucial – and we're helping him move forward to graduation one day at a time.
Here are a few reasons why Alfonso relies on us to get to where he needs to go.
Q: What are some of your favorite things to do while riding DCTA?
A: I dont' have to worry about driving, so while I ride, I like to work on homework, look out the window and really see the places and towns passing by. Since I like projects, I like to think about my next building plan or idea.
Q: Do you have any advice to offer about riding DCTA to passengers and non-passengers?
A: Ride. Ride. Ride! I think people choose not to ride DCTA because they're afraid of strangers or they don't know how to work the system, but it's a lot easier than you might think. There are really nice people that are helpful that ride DCTA, especially if you become lost.
Q: What do you enjoy the most about riding DCTA?
A: As a college student, my finances are very limited when it comes to transportation costs. Currently, with the price of gas and broken A/C unit in my car, traveling from Dallas to UNT and back has been quite costly for me. This semester, I'm relying more on public transportation to help me reach my academic goals. DCTA allows me to commute from one place to the next while also keeping my expenses low. Also, as I learn more about environmentalism, riding DCTA and DART systems [allows me to] feel like I am doing my small part to help out our environment.
Thanks for sharing with us, Alfonso!
Make sure to tell us why you #RideDCTA here for a chance to win 10-pack of regional day passes!
---
Sign up for Updates
"*" indicates required fields