Rider Tips
Best of Series — The Inside Scoop on Local Ice Cream Shops
July 3, 2019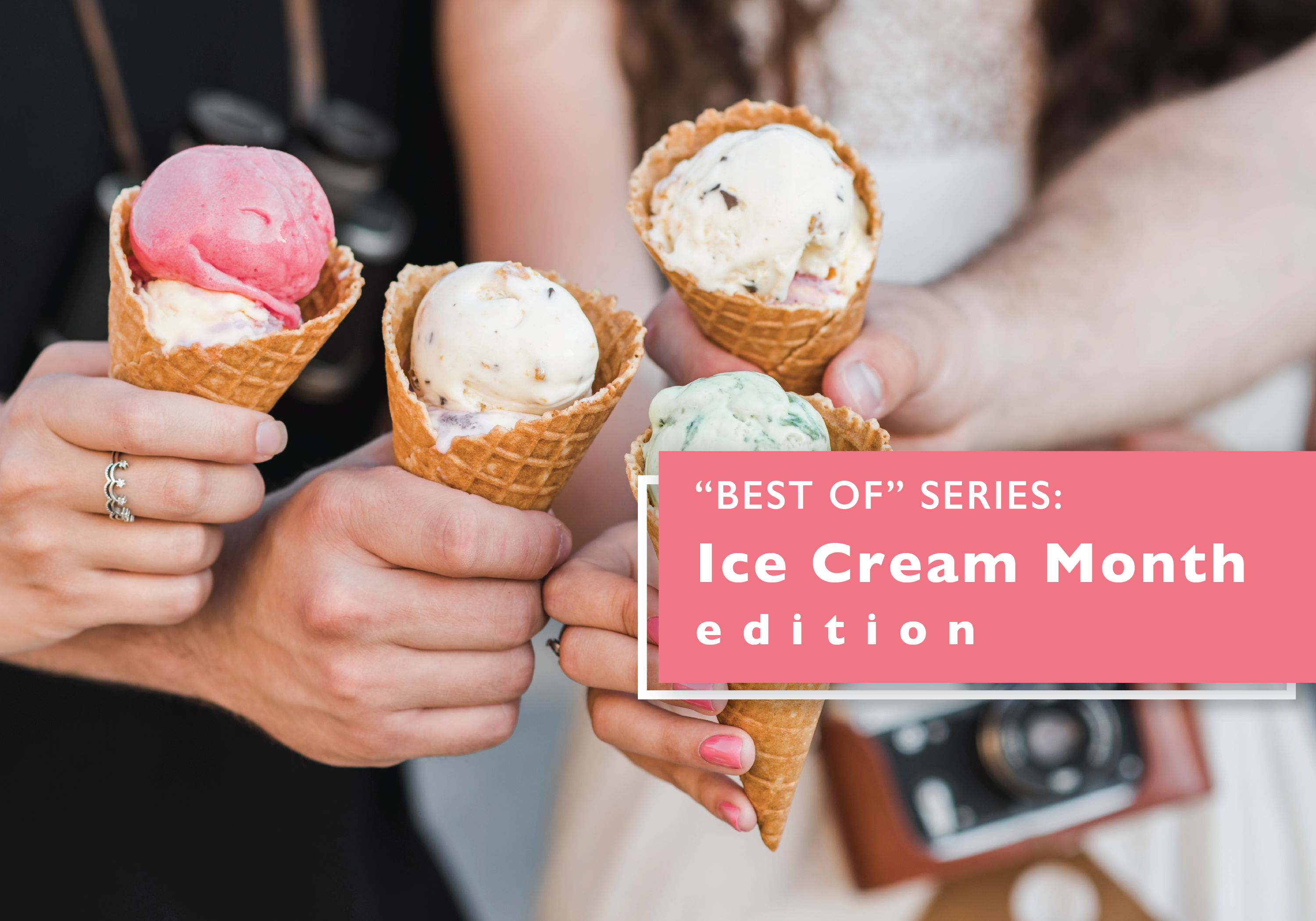 I scream, you scream, we all scream for ice cream!
No need to make a (banana) split decision — in honor of National Ice Cream Month, we've scooped up a variety of fun and delicious ice cream spots that are sure to cool you off in this Texas summer heat and be the cherry on top of your day! Whether you prefer a simple waffle cone or an extravagant milkshake topped with cupcakes, cotton candy and roasted marshmallows, there are many ways you can #RideDCTA to this sweet treat!
DENTON
Beth Marie's (Route 1, Route 4 and Route 7)
If you make the trip to Denton, you can't leave without stopping at Beth Marie's! The moment you walk by the door, you're hit with the smell of fresh waffle cone – making even the fullest person hungry for some dessert! With over 120 flavors of ice cream available (and new ones being added all the time), every ice cream cone is made and served with care — they don't even serve it until every batch is made from scratch and chilled for 48 hours! Ice cream cones start at $0.67 per ounce.
Frios Frozen Pops (Route 4)
Not everyone wants their ice cream in a cone! Whether you're craving a fresh fruit pops or a delicious ice cream bar, Frios Frozen Pops has exactly what you're looking for! With crazy flavors like Fruity Pebbles and Nutter Butter pops to the classics of Birthday Cake and Chocolate, Frios has a variety of flavors and pops for everyone to enjoy. These pops start at $3.55.
LEWISVILLE
Sukoon Coffee & Ice Cream (Route 21)
If you're looking for an ice cream shop with an easygoing atmosphere, Sukoon provides just that. The word "Sukoon" is Arabic for "relief, relaxation or peace," and that is just what you'll feel when you adventure inside this coffee and ice cream shop! Sit back with a warm cup of coffee and the cool taste of their homemade ice cream – it's the perfect duo for any time of the day. Ice cream starts at $2.
10 Degree F Rolling Ice Cream (Route 22)
Everyone loves a good trend and rolled ice cream is one that seems to be sticking around! Between shopping breaks at Music City Mall, stop by 10 Degree F Rolling Ice Cream in the food court for an afternoon treat of rolled ice cream! With a variety of flavors, creams and delicious treats available to make your one-of-a-kind ice cream creation, you could spend hours trying all the different combinations they have to offer. Ice cream starts at $6.
HIGHLAND VILLAGE
Ben & Jerry's (HV Connect Shuttle)
Beat the heat at the outdoor Shops of Highland Village by stopping by Ben & Jerry's and getting one of their famous and funky ice cream flavors! From Nutty Caramel Swirl and Toffee Break to Chocolate Therapy and Cinndoughrella, you won't leave without an ice cream that has all of your favorites in it! Ice cream starts at $4.
Sub Zero Nitrogen Ice Cream (HV Connect Shuttle)
Who knew that ice cream and liquid nitrogen had anything in common? Don't be scared — the process of making your ice cream here might look like an experiment gone wrong, but it's really just a fancy and scientific way to make your ice cream taste even better! With a variety of combinations and an entertaining process, Sub Zero Nitrogen Ice Cream is definitely something you won't forget! Ice cream starts at $2.50.
Looking for more fun things to do this summer? Check out some of our other blog posts to learn where you can #RideDCTA. We have it all, from historical locations to your summeradventure guide!
What ice cream shop would you be willing to get a brain freeze for? Let us know in the comments section down below!
---
Sign up for Updates
"*" indicates required fields