Features and Profiles
#WhyIRideDCTA: Shambrica Harris
May 29, 2019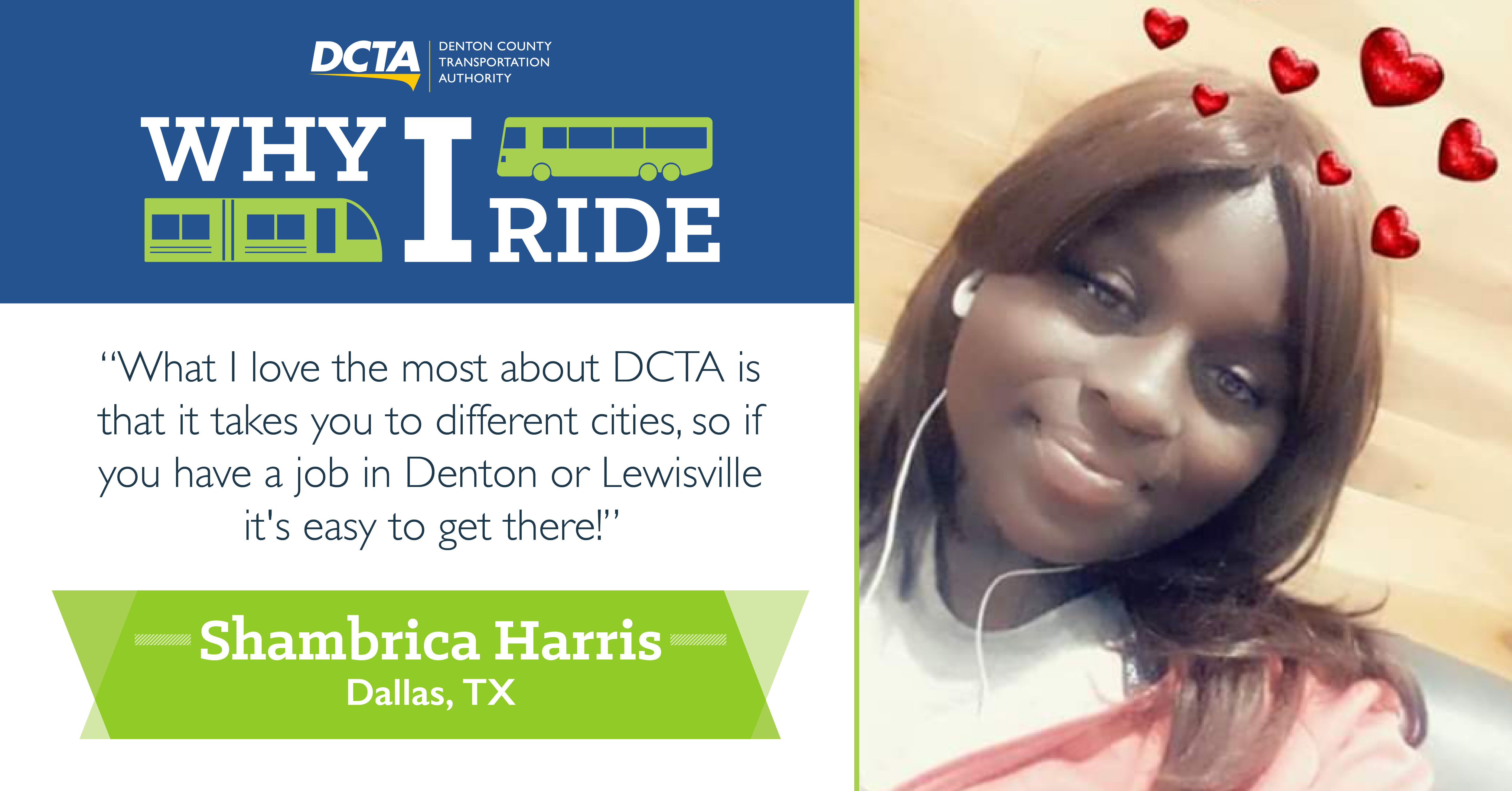 There is lots to do while you #RideDCTA! Dallas resident Shambrica Harris enjoys talking to other passengers and DCTA employees, listening to music and watching the scenery go by while she rides.
Here are some other reasons why Shambrica likes to #RideDCTA:
Q: What do you enjoy the most about riding DCTA?
A: What I love the most about DCTA is that it takes you to different cities, so if you have a job in Denton or Lewisville it's easy to get there! Every employee is nice and respectful as well as the other passengers that ride DCTA.
Q: What are some of your favorite things to do while riding DCTA?
A: I like having conversations with the employees, listening to music and sightseeing!
Q: What DCTA service(s) do you use most often?
A: I ride Denton and Lewisville Connect routes.
Q: Is there anything you'd like to share about yourself?
A: I love to dance, write, watch dance choreography and chill with family members and friends.
Q: Do you have any advice for other passengers and non-passengers?
A: Always make sure you have all your belongings when entering and exiting DCTA vehicles.
Thanks for sharing with us, Shambrica!
Make sure to tell us why you #RideDCTA here for a chance to win 10-pack of regional day passes (valued at $84 and valid on DCTA, Dallas Area Rapid Transit (DART) and Trinity Metro! Click here to submit your story.
---
Sign up for Updates
"*" indicates required fields