Fun Things To Do
Coffin, Candy and Culture: Fun Things to Do in October
October 1, 2018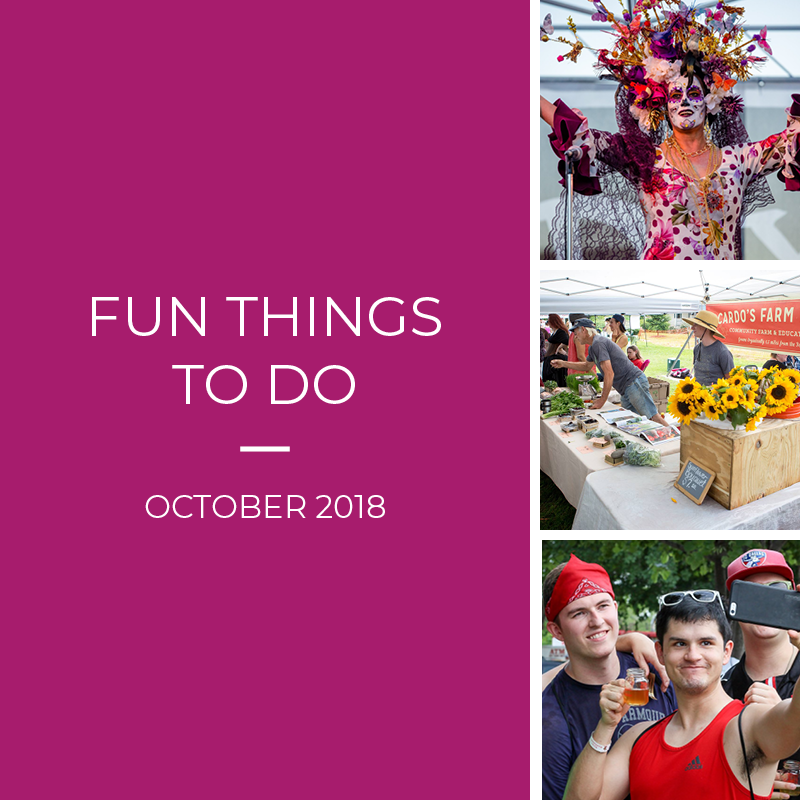 Even though fall in Texas might not mean much change in weather, it does bring brand new events and festivities in Denton County! Whether you want to keep attending weekly events that have been happening throughout the summer, like the Denton Community Market or Yoga on the Plaza or try something completely new (did someone say coffin races and Halloween concerts), October is not short of thrilling and SPOOKtacular events!
Lewisville's Rocktober Concert Series
The City of Lewisville is continuing music festivals into the fall with Rocktober, a concert series featuring rockin' bands every Tuesday night. Whether you are a fan of funky tunes or hard rock, the Rocktober lineup will bring the sounds and music every week! Ride our A-train to the Old Town Station every Tuesday in October from 7 to 8:30 p.m. to dance, sing along and have a blast in Wayne Ferguson Plaza! Tickets are FREE before 7 p.m. and $10 after the show starts. For more information on the bands playing and the special October 30 Halloween Bash, visit cityoflewisville.com/about-us/city-departments/community-relations-tourism/special-events-festivals.
Yoga on the Plaza in Old Town Lewisville
Are you really wanting a way to relax and unwind, but you don't want to pay outrageous monthly fees or spend hundreds of dollars on a new hobby? Well you're in luck! Attending the FREE yoga session at Wayne Ferguson Plaza every Wednesday will give you a much-needed break to unwind and relax. From 6 to 7 p.m. every Wednesday in October, bring your mat and take part in Blue Anjou Studio's weekly teacher-led yoga class for the community. You don't need to be an expert to participate — just ride Lewisville Connect Route 22 to get in on the fun! For more information, visit blueanjou.com.
Denton Community Market
The vendors may change every week, but the fun times never stop at the Denton Community Market! From handmade art pieces and intricate knick knacks to adorable treats (for humans and pets) and farm-fresh veggies, North Texas residents can come together for FREE every Saturday in October from 9 a.m. to 1 p.m. to shop, sell and socialize. With dozens of opportunities to shop small and buy local, the market always has something new. Ride Denton Connect Routes 7 and 8 to get to all the goodies! For more information, visit dentoncommunitymarket.com.
Hispanic Heritage Festival in Denton
What better way to celebrate National Hispanic Heritage Month than taking part in the celebrations and culture of Denton County residents whose ancestors came from Spain, Mexico, South America and more! The Hispanic Heritage festival will have food, music, crafts and more to celebrate the contributions and history of Hispanic culture. From 9 a.m. to 1 p.m. on Saturday, October 6, in conjunction with the Denton Community Market, ride Denton Connect Route 7 to take part in this FREE celebration. For more information, visit facebook.com/events/518652518577487/.
Best Little Brewfest
Make plans to go to the Best Little Brewfest to kick back, relax and try some brand-new brews before the craziness of the holidays start! With over 80 breweries present, over 300 beers to sample and live bands, food trucks, vendors and more, the Best Little Brewfest gives you the opportunity to have fun, and you can #RideDCTA to get home safely! For just $40 (or $70 for VIP Early Entry), you can join in on the festival from 3 to 7 p.m. on Saturday, October 20. Ride our A-train to Old Town Station to safely get to and from the festival. For more information on about the festival, visit bestlittlebrewfestintexas.com.
Denton Day of the Dead Festival
Halloween means something different to everyone – whether you're into creepy costumes and coffins or buckets filled with candy and picking pumpkins, Denton Day of the Dead has all that…and more! The Denton Day of the Dead festival celebrates fall, Dia de los Muertos and all things Halloween in a fun and activity-filled way. This FREE event takes place on Saturday, October 27, from 11 a.m. to 9 p.m., so make sure you take the A-train to the Downtown Denton Transit Center (DDTC) to get to and from the intersection of East Hickory and Industrial Streets during the day! For more information on events and the spooky fun, visit dentondayofthedeadfestival.com/.
What event will you #RideDCTA to get to this month? Let us know in the comment section below!
---
Sign up for Updates
"*" indicates required fields