Rider Tips
Community Partner Spotlight: Keep Denton Beautiful
January 18, 2016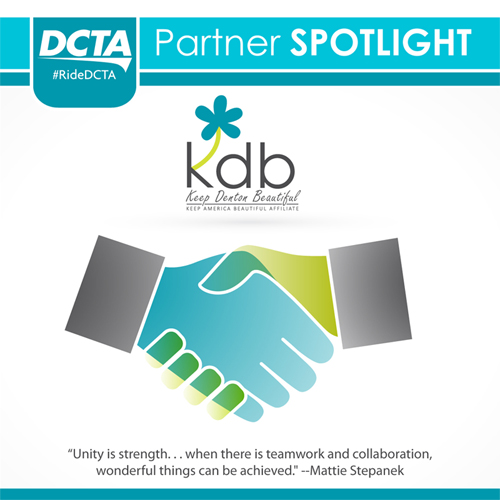 As a public transit agency, we are committed to incorporating green, sustainable practices and solutions. We love the communities we serve and use our resources to make them better places to live, work, and play. Another organization that is also working hard to improve the environment is Keep Denton Beautiful (KDB). We applaud our friends at KDB. Here are just a few of the great things they are doing for our community:
Clean-Up Programs: Every year, KDB hosts Denton's Great American Clean Up. Last year, their volunteers removed more than six tons of litter from our community. This year's event is on Saturday, March 19, but if you can't make it, KDB has many other initiatives to reduce litter, clean up the community, and prevent pollution.
Denton Tree Initiative: KDB provides free trees to individuals, neighborhoods, schools, and businesses through various programs to help increase Denton's urban forest. Along with ecological benefits, these efforts make Denton a prettier place to live.
Beautification: KDB maintains three public gardens in Denton, administers beautification grants to neighborhoods, and hosts the annual Redbud Festival in April.
Student Education: KDB works with local schools to help educate students on urban forestry and natural resources stewardship.
We are excited about the work they are doing to make Denton a clean, beautiful and vibrant city. Together, we can help improve our community! For more information about Keep Denton Beautiful, please visit www.kdb.org.
---
Sign up for Updates
"*" indicates required fields