News to Use
Time to Celebrate: DCTA Officially Turns 18!
November 5, 2020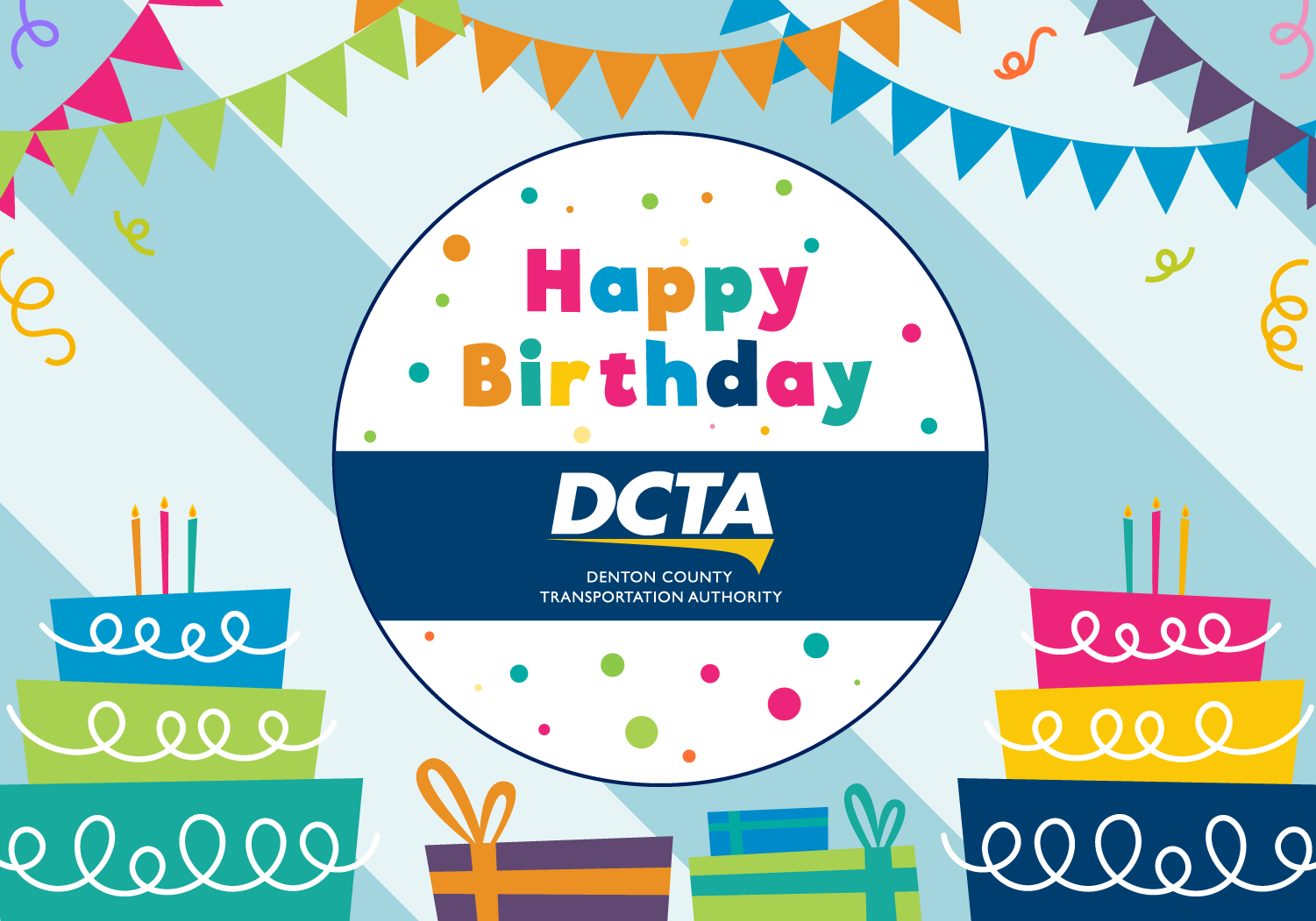 It's time to blow out the candles because we're turning 18 years old this year! Now that we're officially an "adult" in the public transit industry, we can't think of a better time to reflect on the many things we've accomplished that have provided countless benefits to Denton County and surrounding areas.
It's no secret Denton County continues to be one of the fastest-growing counties in the country with nearly 800,000 residents, according to the U.S. Census Bureau. For the past 18 years, we at DCTA have implemented innovative mobility solutions that have been critical to enhancing air quality, contributing to sustainable growth and economic development and improving the quality of life for all Denton County residents.
Great Memories Throughout the Years
The agency has achieved many major milestones including:
2002: Denton County voters approve the confirmation of DCTA by 73%
2003: Denton, Highland Village and Lewisville join DCTA and levy a half-cent sales tax to finance the system
2005: The University of North Texas (UNT) and DCTA sign an agreement for a new shuttle system
2011: DCTA's 21-mile A-train commuter rail line officially launches to the public
2012: The Federal Railroad Administration (FRA) approves first integrated use of Stadler GTW Rail vehicle for DCTA (the first of its kind in the U.S.)
2013: The A-train surpasses one million passengers
2016: DCTA launches North Texas Xpress commuter bus service in partnership with Trinity Metro
2018: DCTA becomes the first transit agency in Texas to begin testing federally mandated Positive Train Control (PTC) and launches its new Highland Village Lyft Discount program
2019: DCTA expands transit offerings with the new Mobility as a Service (MaaS) contract model (one of the first of its kind in the U.S.)
2020: DCTA launches its new Downtown Denton Transit Center (DDTC) Evening On-Demand zone service
Where DCTA is Heading Next
Despite the uncertainty with COVID-19, we will continue to forge ahead to ensure our system is safe and prepared for future demands and changes to mobility and public transit. In the era of MaaS – a trending business model in the transit industry that utilizes on-demand, real-time platform-based services that can include any combination of various mobility options – and increased public-private partnerships, we plan to be a "broker of services" by going beyond traditional transit solutions and strategically moving towards a "suite of mobility offerings" for our riders.
We'll continue to focus on strengthening our relationships and aligning our priorities with our stakeholders, riders and partners so we can continue our mission of improving air quality, mobility, economic development and livability for all the communities we serve.
As we continue to provide innovative, mobility services; don't hesitate to let us know how we can continue to enhance your community. Also, we love birthday wishes and hope you leave us one in the comment section below!
---
Sign up for Updates
"*" indicates required fields