Rider Tips
DCTA's Top Five State Fair of Texas Travel Tips
September 28, 2017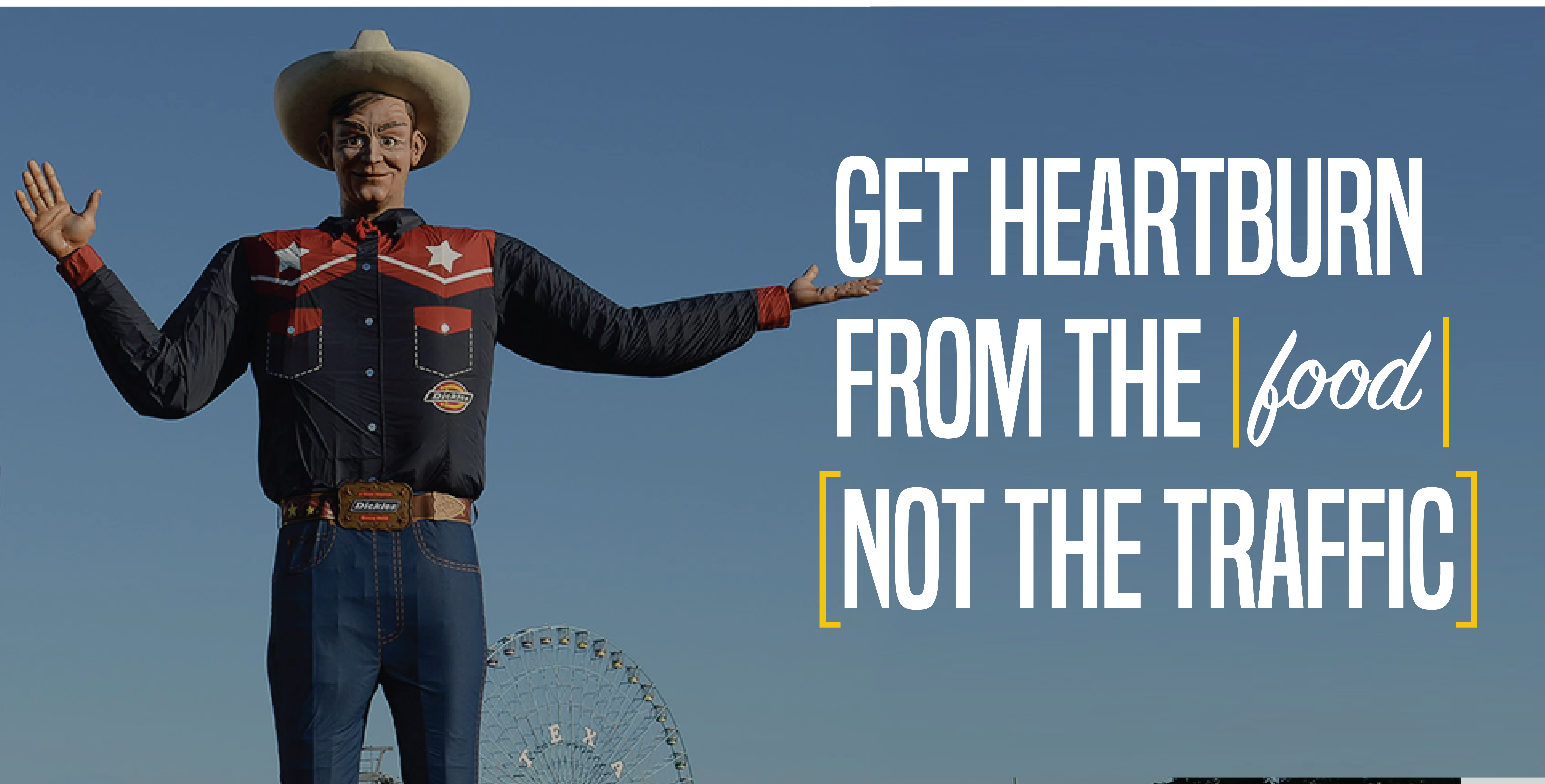 Who's ready for corn dogs, funnel cakes, and Ferris Wheels? That's right, it's that time of year again, when we all head down to Fair Park and spend time with our old pal Big Tex! To make the most of your time and wring every last drop of fun out of the day, don't forget our helpful tips below:
Save Money: Riding transit saves you the heartburn of traffic and the $15 parking fee. You can save even more cash with the DCTA/State Fair Ticket Combo. Purchase your State Fair of Texas admission ticket from DCTA and get 25 percent off of your regional transit pass. Don't wait too long though, because you can only purchase the ticket combo online through Saturday, October 14, and at the DDTC through Saturday, October 21.
Be In The Know: DCTA is running regular train service during the fair, but DART has additional trains running, so be sure to check our website and DART.org for the most accurate schedules. Please remember that our A-train does not meet every DART Green Line train, so make sure you check the connections for a seamless trip.
Plan Ahead: Pay special attention to the ride home from the fair – the Green Line runs later than the A-train, and many of the last trains fill to capacity. Choose an earlier train or make sure that you're on the platform in plenty of time to board. You might even want to wear your tennis shoes, since there's a possibility you'll end up standing for part or all of the ride, which is over an hour long. Also, remember there are no bathrooms at the train stations, so make a pit stop before you start your trip. Need more help? Use our Online Planning Toolkit to start your day off right.
Know Your Fare: To ride DCTA and DART in same trip, you need a regional day pass. Children under five years of age ride free (with a fare paying adult), and kids under 18 can ride on a reduced pass. Reduced passes are also available for seniors (over 65 years old), persons with disabilities, and Medicare cardholders. If you're traveling to the fair from Hebron Station, don't forget that you can utilize our new A-train free fare zones.
Find Your Ride: Want to know when your vehicle will arrive? Use our new Transit Tracker to get real-time arrival information for our fixed-route, shuttle and train services. You can call or text for updates, check our web portal, look at the widget on the homepage of our website, or use the Transit App to make sure you know exactly when your vehicle will arrive.
The most important thing of all, though, is that you don't forget to have fun! Ride all the rides and eat your favorite fair treats. Just make sure that if you're going to get heartburn, you get it from the food and not from the traffic!
Have any tips or trick you've learned over the years of riding DCTA to the State Fair of Texas? Share them in the comments below.
---
Sign up for Updates
"*" indicates required fields