Fun Things To Do
Fun Things to Do in October!
October 2, 2017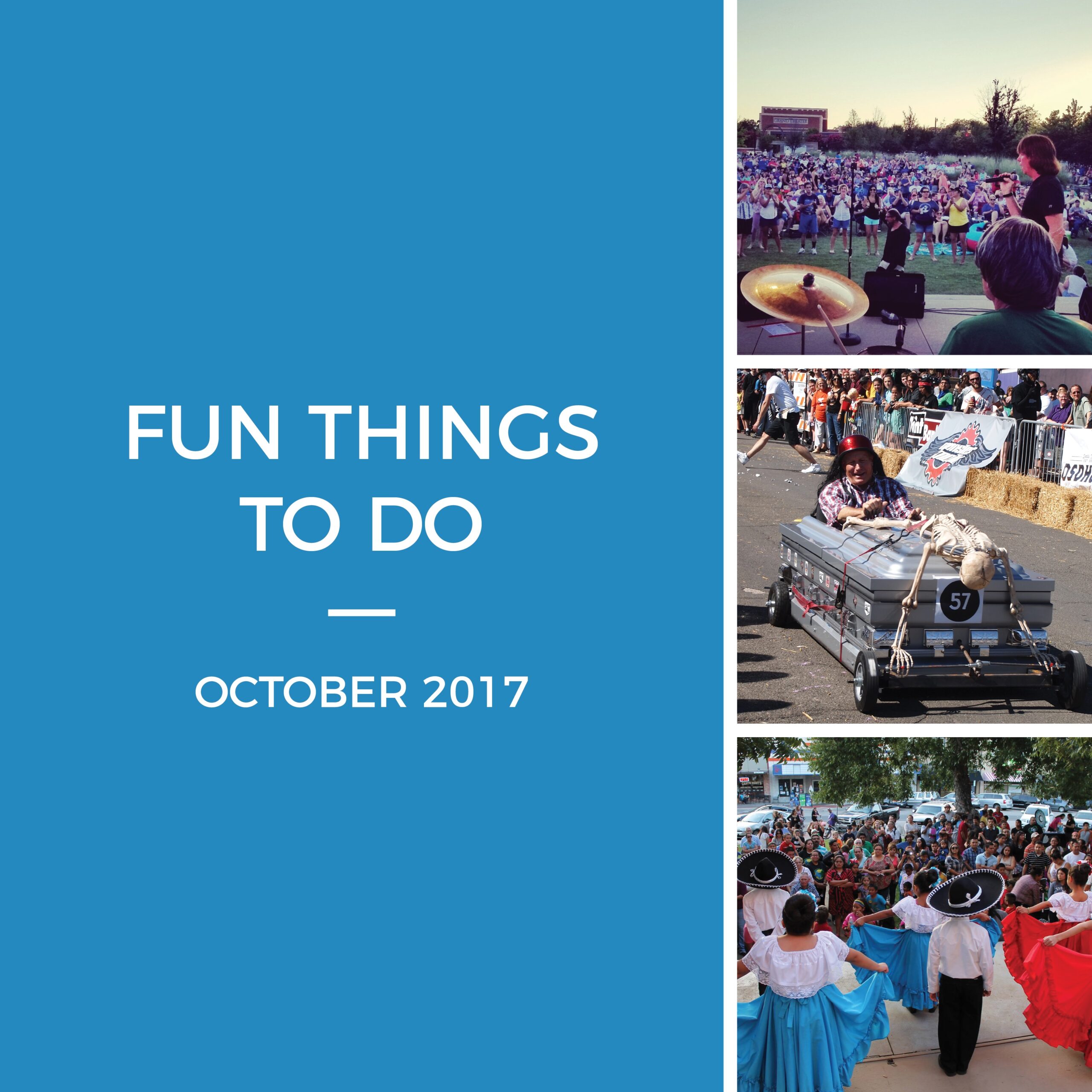 October is packed with fun and festive fall events throughout Denton, Highland Village and Lewisville! Whether you want to dress up in your Halloween costume or (trick and) treat yourself to some great music, here's a list of local events that DCTA can get you to!
Hispanic Heritage Festival
October is Hispanic Heritage month, and Denton is celebrating culture and heritage in a fun, exciting way. Join the Denton Community Market on Saturday, October 7, from 9 a.m. to 1 p.m. to learn more about the history and contributions of Denton residents whose ancestors came from Mexico, Spain and Central and South America. There will also be food, vendor booths, music and more! You can get to the festival by taking Denton Connect Routes 7 and 8. For more information, visit facebook.com/events/540411723017077/.
Rocktober Concert Series in Lewisville
Don't miss the City of Lewisville's weekly concert series that will occur Tuesday nights in October (10, 17, 24, and 31) from 6:30 p.m. to 8 p.m. at Wayne Ferguson Plaza! Event attendees are encouraged to bring blankets and lawn chairs. Outside food and drink is discouraged as food trucks will be on site. Ride Lewisville Connect Route 22 to hear all the awesome music. For more information, visit cityoflewisville.com.
Harvest Day at Denton Community Market
What's better than visiting booths and vendors at the Denton Community Market? Going to the market and celebrating Denton's local agricultural producers! This bi-annual celebration features fall crops and activities to keep off the fall season. Harvest Day will be held on Saturday, October 14, from 9 a.m. to 1 p.m., and you can get there riding Denton Connect Routes 7 and 8. For more information, visit dentoncommunitymarket.com/event/harvest-day-market-9-1-pm/.
UNT Make a Difference Day
Are you ready to help make a difference in Denton County? Join UNT students and faculty at "Make a Difference Day," — a day full of community service, from 8 a.m. to 8 p.m. on Saturday, October 21, at UNT. This yearly event brings more than 6,000 hours of community service to various areas of Denton County. Participants can ride Denton Connect Routes 7 and 8 to the event. To register, please visit studentaffairs.unt.edu/center-for-leadership-and-service/programs/big-event-make-a-difference-day.
Denton's Day of the Dead Festival
Denton's Day of the Dead Festival is a free, family-friendly event that will be held outside on East Hickory and Industrial Street on Saturday, October 28, from 11 a.m. to 9 p.m.  Don't miss your chance to celebrate the fall season by paying homage to the goodness of the harvest, Dia de los Muertos and all things Halloween. Festival goers can take Denton Connect Routes 7 and 8 to get all the Halloween fun. For more information, visit dentondayofthedeadfestival.com.
Highland Village Halloween Party
Get ready for a spook-tacular and family-friendly Halloween party hosted by the Senior All-Stars! Put on your costumes and get your pumpkin baskets ready for candy for this midday Halloween party. The party will be held at 12 p.m. on Tuesday, October 31, at the Robert & Lee DuVall Center, so you can use the Highland Village Community On-Demand service or utilize our Uber-DCTA services to get there. For more information and to sign up (which is required), visit http://www.highlandvillage.org/Calendar.aspx?EID=1160&month=10&year=2017&day=31&calType=0.
Let us know which events you plan to attend in the comment section below!
---
Sign up for Updates
"*" indicates required fields