Fun Things To Do
Fun Things to Do in May!
April 28, 2017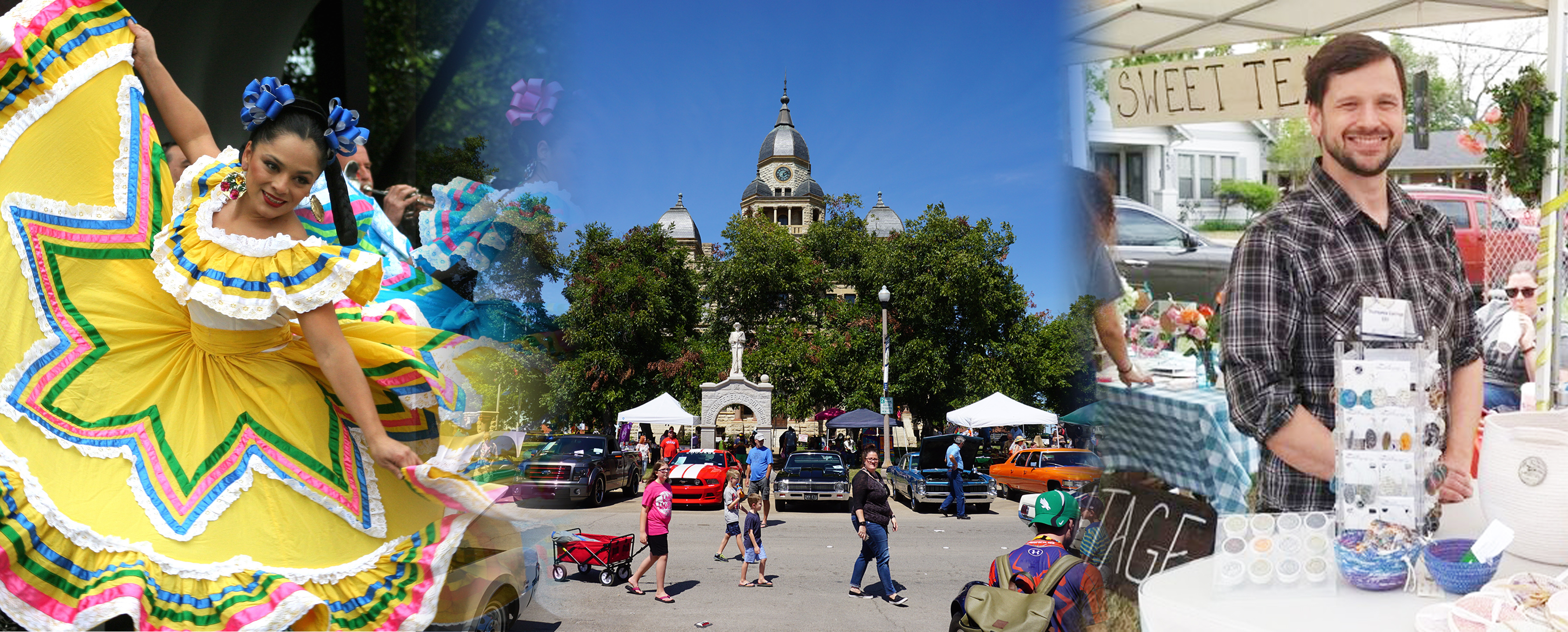 There are so many fun things to do in Denton County this month. Check out our top event picks that we can get you to, so there's no excuse not to go out and have fun!
Denton Twilight Tunes (Every Thursday until June 22)
The Denton Main Street Association's Twilight Tunes is a free, award-winning concert series in downtown Denton each Thursday evening from 6:30 p.m. to 8 p.m. starting April 20, 2017, and running through June 22, 2017. Come down to the Denton courthouse lawn every Thursday to enjoy live, local music. Ride Denton Connect Routes 7 and 8 to the Denton square to enjoy great music. For more information, visit dentonmainstreet.org.
Denton Community Market (Every Saturday until November)
The Denton Community Market is a producer-only farmer's and art market that takes place at the Denton County Historical Park. The market features live music, kid's activities, local farmers, local artists, food trucks, and more! The Denton Community Market will occur every Saturday from April to November 2017 from 9 a.m. to 1 p.m. Ride Denton Connect Routes 7 and 8 to experience the freshest foods from Denton. For more information, visit dentonmarket.org.
Keeping Tradition Alive Jam Session (May 5)
Keeping Tradition Alive is one of the premier training events for firefighter bagpipe and drum corps members across the country. This annual event takes place on Friday, May 5 from 6 p.m. to 10 p.m. at the Wayne Ferguson Plaza in Lewisville. This free event will showcase more than 300 bagpipers, drummers and honor guard members. Food and drink vendors will also be onsite. Ride the A-train and connect to Lewisville Connect Route 22 to get to this jam session. For more information, visit cityoflewisville.com.
Denton Cinco de Mayo Celebration (May 6)
Denton's annual Cinco de Mayo Celebration will be held on Saturday, May 6, from 10 a.m. to 10 p.m. and will feature a parade and various festivities at Denton Quakertown Park. This free event celebrates the diversity in the Denton community and will include activities for the entire family such as children's arts and crafts, piñatas and musical entertainment. Event goers can ride Denton Connect Routes 5 and 6 to get to all the family fun. For more information, visit dentoncinco.org.
Joe Ely – Texas Tunes Series (May 13)
Texas Tunes presents Grammy Award winner, Joe Ealy on Saturday, May 13 at Medical City Lewisville Grand Theater. This 8 p.m. concert is a part of The Texas Tunes series which features performers from music halls and festivals throughout the state who present great music in a variety of genres, but all with that unique Texas flair that fans enjoy hearing live. Tickets are $20 general admission, $15 for seniors age 60 and older, $10 for children ages 12 and younger, and can be purchased online at MCLGrand.tix.com. Ride the A-train to the Old Town station and the MCL Grand Theater is just a quick walk from there. For more information, visit MCLGrand.tix.com.
Don't forget to share with us which events you plan to attend in the comments section below!
---
Sign up for Updates
"*" indicates required fields