Fun Things To Do
Fun Things to Do in November – Gobble Your Way to a Good Time
October 31, 2019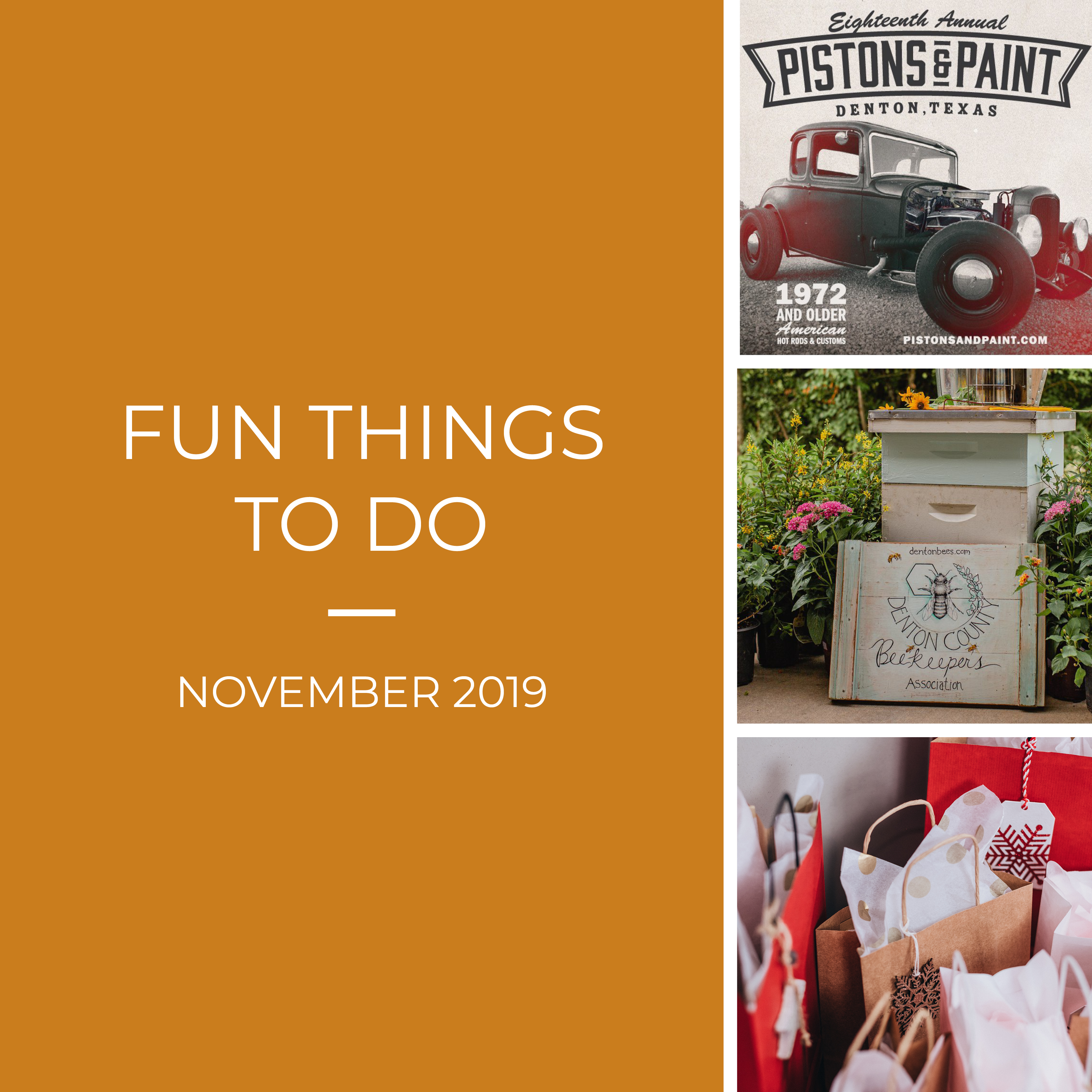 The holiday season has begun, which means November is here! As the air gets chillier and holiday decorations start going up, enjoy the Thanksgiving holiday with family and friends. From beekeeping to holiday open houses, it's easy to #RideDCTA to this month's festivities!
Denton's 18th Annual Pistons & Paint Car Show
Celebrate 1972, Hot Rods, classic and custom cars at Denton's 18th Annual Pistons & Paint Car Show at the North Texas Fair & Rodeo. Join the car show from 8 a.m. to 6 p.m. on Saturday, November 9, to see cool cars, hear live music, eat great food and check out specialty vendors. Admission is $10 for individuals 11 years and older and FREE for children 10 and under. To get to the car show ride Denton Connect Route 4. For more information, visit discoverdenton.com/event/18th-annual-pistons-paint-car-show/?instance_id=236575
Introduction to Beekeeping in Denton
Mark your calendars for outdoorsy fun and learning at the Denton Public Library South Branch this year. Join the Introduction to Beekeeping workshop from 11:30 a.m. to 1:30 p.m. on Saturday, November 16 to learn how to start beekeeping in urban and suburban environments. Admission is FREE. To get to the workshop ride Denton Connect Route 1. For more information, visit denton.bibliocommons.com/events/search/local_start=2019-11-01%20TO/event/5d66e1ad0f2e854500998b83
Denton Holiday Open House
Celebrate the holidays and grab your shopping passport on the Downtown Denton Square this year. Join the Holiday Open House from 10 a.m. to 5 p.m. on Saturday, November 16 for holiday shopping, a shopping passport and drawing, music and over 40 stores and restaurants. Admission is FREE and shopping passports are first come first serve. To get to the open house ride Denton Connect Route 7 and Route 8. Please note: DCTA does not offer Sunday service during the last day of the Open House. For more information, visit dentonmainstreet.org/holiday-open-house/
Yoga in the Plaza with Blue Anjou Studio
Grab your yoga mat and relax at Wayne Ferguson Plaza in Lewisville. Join Blue Anjou Studio every Wednesday from 6 p.m. to 7 p.m. for a FREE yoga class designed for all levels and is completely family-friendly. To get to the yoga classes ride Lewisville Connect Route 21 and Route 22. For more information, visit facebook.com/events/351006285533533/?event_time_id=422815218352639
Planning to head to one of these awesome events? Check out our Transit Tracker to see where your ride is in real-time!
Which event are you most excited about this November? Comment below!
---
Sign up for Updates
"*" indicates required fields