Features and Profiles
#WhyIRideDCTA: Daniel Ray Williams
October 30, 2019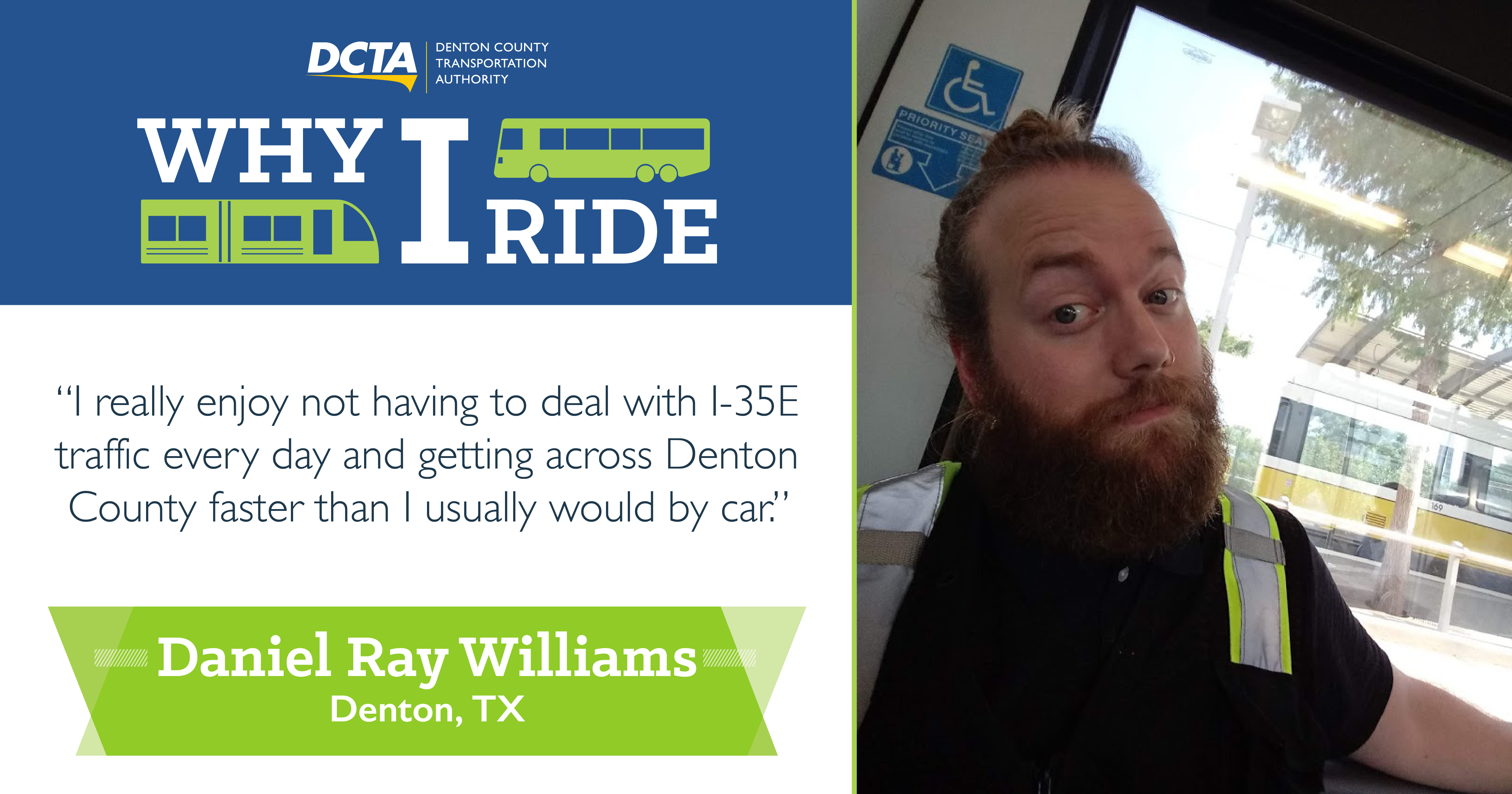 We love hearing from our riders about why they #RideDCTA! Denton resident Daniel Ray Williams likes to work on his laptop as he rides by all the traffic on Interstate 35E. Read below to learn some other reasons why Daniel likes to #RideDCTA:
Q: What do you enjoy the most about riding DCTA?
A: I really enjoy not having to deal with I-35E traffic every day and getting across Denton County faster than I usually would by car. Denton traffic is infuriating, so riding DCTA has probably given me back about 10 points on my blood pressure.
Q: What are some of your favorite things to do while riding DCTA?
A: I usually ride the A-train, so I have time to pull out my laptop and work from Denton to the Trinity Mills station in Carrollton. Both ways, I get back about an hour of time working that I usually lose in traffic. I can just hook up my computer to my phone's hotspot and get to it.
Q: Is there anything you'd like to share about yourself?
A: I'm currently the analytics manager for one of the largest HVAC companies in the world. I ride my bike from the Dallas Area Rapid Transit (DART) Downtown Carrollton station to my job every day. So, riding DCTA gives me a great workout, saves me time to work every day and reduces my carbon footprint.
Q: Do you have any advice to offer about riding DCTA to passengers and non-passengers?
A: Don't put your feet on the seats, mind the conductors' instructions and pay attention to the stops! My first few times riding, I wound up missing my stop because I wasn't minding my surroundings.
Thanks for sharing with us, Daniel!
Make sure to tell us why you #RideDCTA here for a chance to win 10-pack of regional day passes (valued at $84 and valid on DCTA, Dallas Area Rapid Transit (DART) and Trinity Metro! Click here to submit your story.
---
Sign up for Updates
"*" indicates required fields