Rider Tips
Happy Birthday to Us: Celebration of the 'Father' of DCTA
November 5, 2019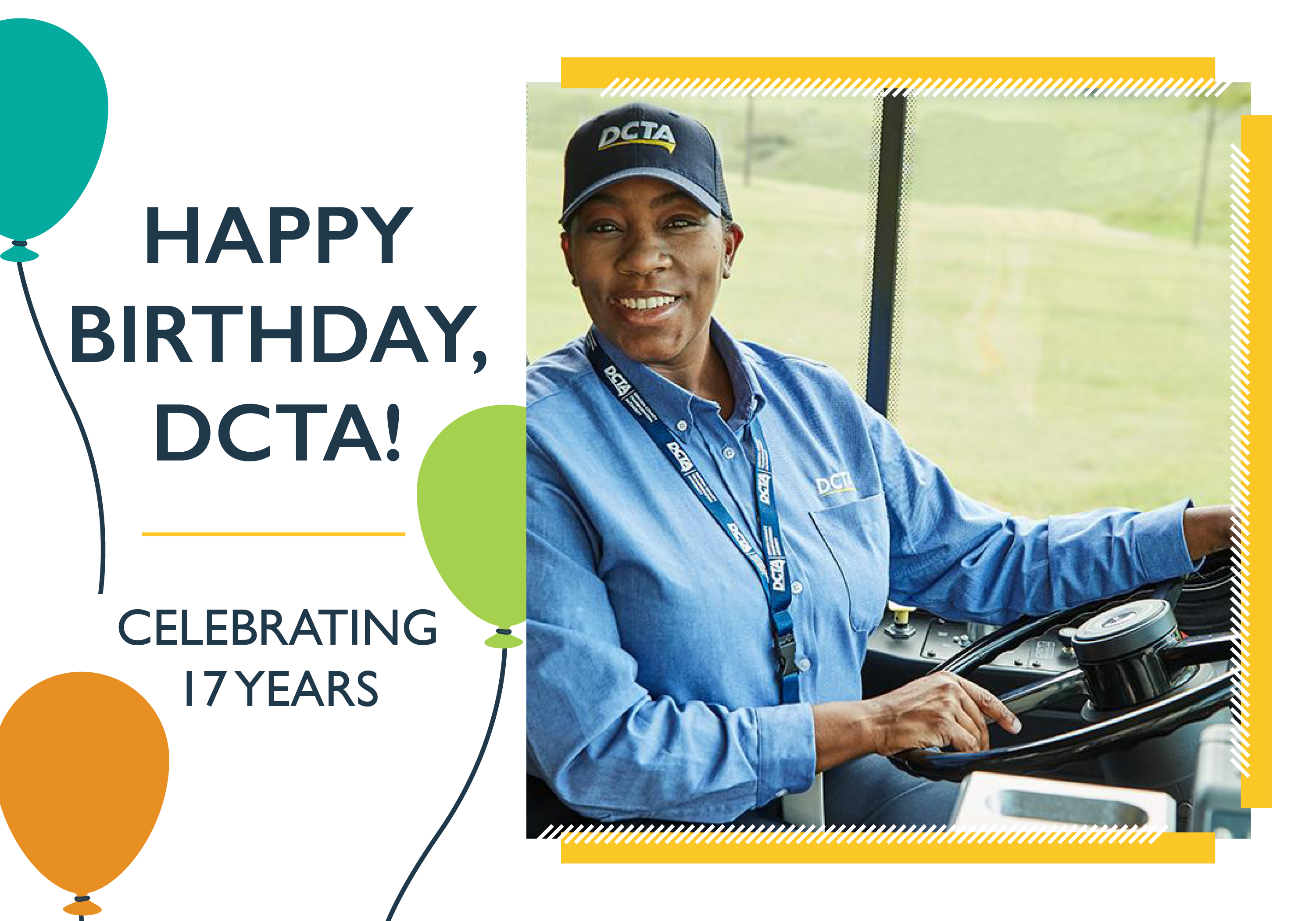 It's our birthday, and we can write a blog about it if we want to! This year, DCTA turns 17, marking the anniversary of Denton County voters approving the confirmation of our agency by 73 percent on November 5, 2002.
A lot happened in the past year here at DCTA, from conducting our bi-annual passenger satisfaction survey and signing a suite of $2.4 million on-call Mobility as a Service (MaaS) contracts to implementing PositiveTrain Control (PTC) safety technology on all passenger trains and expanding our Denton Enterprise Airport On-Demand zone. More recently, we renamed our Lewisville Old Town station to honor our longtime board chairman Charles Emery. Read more about Charles and his impact on DCTA in the blog below!
Charles chaired our board from its inception in 2001 until May 2019 when he retired and has had a hand in shaping the agency throughout the years including the expansion of DCTA's footprint to include a commuter rail with the 2011 opening of our 21-mile A-train, which his wife, Elaine Emery, actually named!
Other of his major accomplishments included:
Launching DCTA's Mobility as a Service (MaaS) contract model which is one of the first in the U.S. that is available to other public agencies that utilizes on-demand, real-time platform-based services that can include any combination of various mobility options
Signing one of the largest contract agreements in agency history with First Transit, Inc.
Being the first in the county to use Stadler rail vehicles
Implementing innovative mobility services with the city of Frisco (autonomous vehicles), city of Highland Village (Lyft program), city of Lewisville (microstransit service), the city of Denton (microstransit service) and Collin County (taxi voucher program).
Along with renaming the station the "Charles Emery Old Town Station", we also installed a plaque honoring Charles and his wife Elaine so passengers can read about his impact.
To celebrate the renaming of the station, we hosted a renaming ceremony at the Medical City Lewisville Grand Theater in Lewisville last month. Our CEO Raymond Suarez, board chairwoman Dianne Costa, Denton County Commissioner Bobbie Mitchell and Denton County Judge Andy Eads were among some of the speakers at the event.
Check out our video below to see Charles throughout the years in his work at DCTA!
Charles' History and Background
Charles is a sixth-generation Denton County resident. He conducted his undergraduate studies in Engineering, Finance and Accounting at Texas A&M and University of Texas at Arlington (formerly in the Texas A&M System) with graduate work at Southern Methodist University. Charles served in the United States Air Force and Air National Guard during the Vietnam era.
In his professional career, he owned an engineering firm, Forest and Cotton, where he spent 18 years and held the titles of Vice President and Chief Operating Officer and was the National Marketing Director. Emery was also named Senior Vice President of Lomas Realty USA and served as Executive Vice President and Chief Operating Officer for Vista Properties, Inc., and Centex Development Company.
We were honored to dedicate our Old Town station to Charles and his many accomplishments that have shaped innovative mobility in Denton County and throughout North Texas.
Thank you, Charles and Elaine, for all you have done for DCTA! Comment below and tell us your favorite memory with Charles and Elaine over the years!
---
Sign up for Updates
"*" indicates required fields