Rider Tips
Fashion Tips for Each Season Riding DCTA
October 5, 2017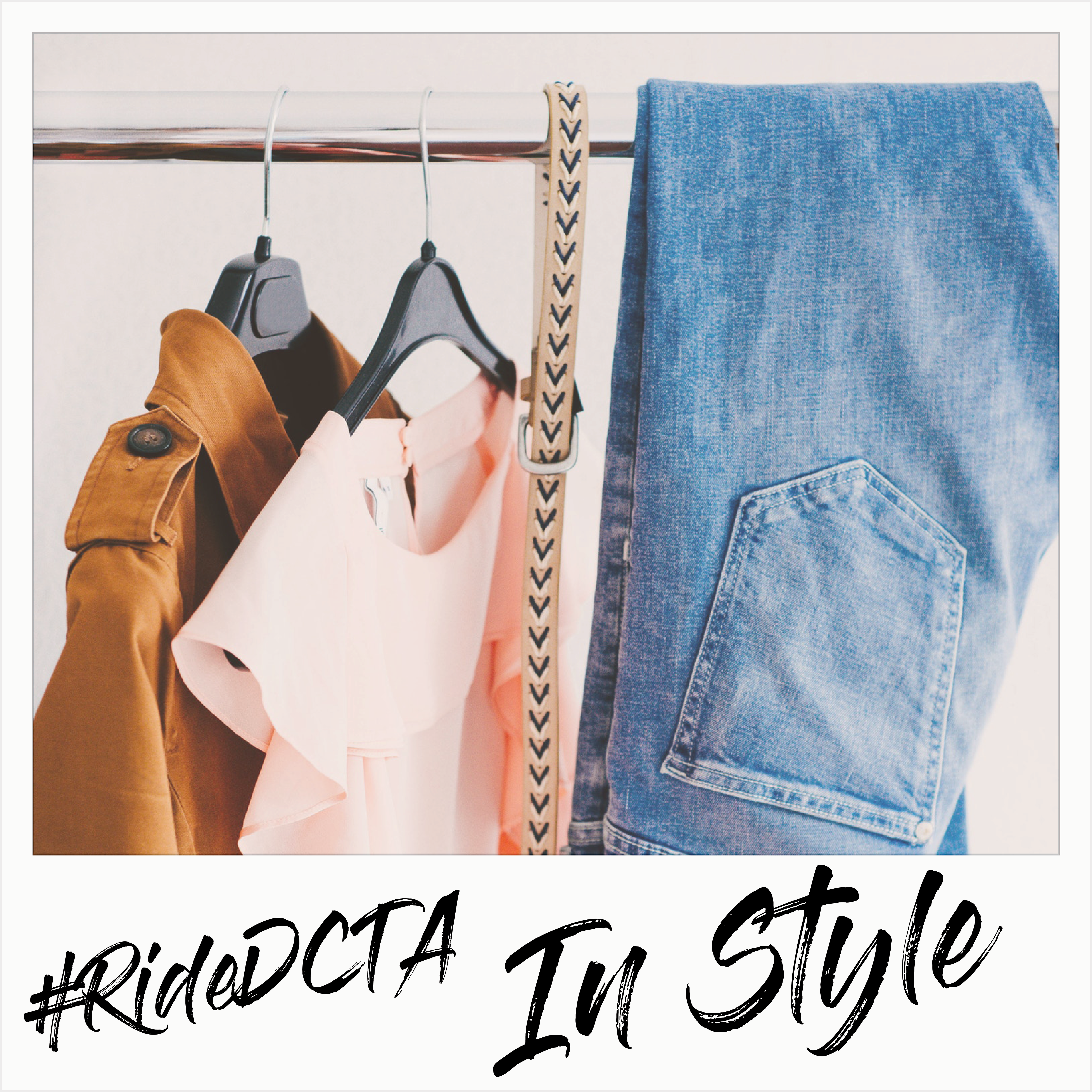 When living in North Texas, you always need to be prepared with essentials such as a compact umbrella and sunglasses because the weather can change in a blink of an eye. Sometimes you may even experience all four seasons in one week! But what about the consecutive days of scorching 100-degree weather or the constant worry in the winter if the roads will freeze or not?
To better prepare you for each season, we've broken down must-have clothing items for women and men that are suitable for when you're riding DCTA.
Fall
Fall is a transitional season where the warmer weather begins to fade and cooler temperatures sneak in or as Game of Thrones puts it, "Winter is coming!" This can be difficult for travelers to plan outfits accordingly, especially when you could hop on DCTA at 80 degrees in the morning and head home around the 60's in the evening.
Flannel shirts are a great option for both women and men, as they are softer and thicker than regular button-down shirts. They are easy to layer with a lighter long sleeve underneath for cooler evenings or keep unbuttoned with an undershirt during the day.
Have you seen the influx of women and men wearing quilted vests throughout the fall? It's a great and trendy addition to any closet to throw over a shirt to keep your chest warm. This is also an easy option to throw on when you are waiting for the A-train or bus  to arrive, but just as easy to take off when you arrive at your destination.
There is no need for a heavy jacket just yet, but a light one can come in handy with temperatures beginning to drop or even to throw on when the air conditioning hasn't slowed down yet. Women can add a jean jacket to any outfit and men can throw on a sweatshirt when heading an outside activity.
TOP PICKS:
Women's Button Up Flannel Shirt – $26.97
Men's Button Up Flannel Shirt – $39.95
Women's Quilted Vest – $49.99
Men's Quilted Vest – $54.50
Women's Jean Jacket – $36.94
Men's Full Zip Hoodie – $44.95
Winter
Let's start with the basics. Even in Texas, you still need to invest in a thicker jacket for the winter. Long, short, wool, fur – whatever style you prefer as long as it will keep you warm and allow for layers underneath. A trendy option for a winter jacket is the puffer jacket. Best part is, they are water resistant for the gloomy, cold days.
Always wear closed toed shoes. What is worse than cold big toes in the freezing weather? Nothing! Boots are easy to throw on over thicker socks (or two pairs!) to keep your feet from turning into icicles.
Accessories are the best add-ons during the winter, especially when it feels like you are always covered up. A beanie, gloves and a scarf are easy to throw in your backpack or purse, but will ensure warmth for your ears, neck and hands. Tech-friendly leather gloves are a great option for commuters while riding the A-train or bus so you never have to take them off to text or scroll on your smartphone or iPad.
TOP PICKS:
Women's Wool-Blend Coat – $79.99
Men's Puffer Jacket – $99.99
Women's Over the Knee Boots – $69.95
Men's Boots – $85
Women's Blanket Scarf – $39.95
Men's Wool Beanie – $35
Men's Tech-Savvy Gloves – $45
Spring
The saying, "April showers brings May flowers" is true in North Texas. Many spring days include on and off rain showers. Prepare early with a light wind and water resistant jacket. The jacket can also be used to keep warm on an early morning A-train or bus ride when the sun is still warming up.
It may not be tank top season yet, but a light long sleeve is ideal for a breezy spring day. Men can look sharp at work with a linen button-up shirt and women have many options for silk or chiffon style long sleeve tops. These options are also easy to transition from a day to night look, especially when you use ride DCTA to get to your many destinations throughout the day.
Socks are not as necessary for the spring like they are in the winter, but it's a good idea to have a pair of slip on closed toe shoes you can throw on if sandals aren't an option. Depending on your style, tennis shoes, loafers or pointed toe flats are all staples for the spring.
TOP PICKS:
Women's Wind Jacket – $55
Men's Wind Jacket – $24
Women's Light Long Sleeve – $34.99
Men's Linen Button Up Long Sleeve – $54.95
Women's Loafer Flats – $25
Men's Casual Tennis Shoes – $49.99
Needless to say, these go-to items throughout the year will help make your traveling and commuting a great experience. While we cannot guarantee the weather will follow a normal four season year, we hope these items prepare you for any occasion!
Summer
June through August can be some of the toughest times to venture out of your house. There is no worse feeling than when you walk out of your front door, the stagnant heat hits your face and you immediately begin to sweat.
To keep cool in the summer months, find tops that are sweat-resistance or sleeveless. Avoid tight fitting shirts to keep away sweat marks. For men, golf polos are a great substitution for a nicer look. They are designed with stretch fabric, keeping it breathable. Women are able to mix up tank top options with fashionable looks to easy, simple workout tops.
Shorts, shorts and shorts! Whether it is a pair of athletic shorts or cutoffs, stray away from pants of all types. Unfortunately, if you are commuting to and from work, men are likely to have to wear pants. Shop for lightweight or darker colors so they are less likely to stick to your body in the warm weather making it uncomfortable to sit through any A-train or bus commute. Dark colors will also deflect from any sweat marks.
One word – sandals. Men and women both can rock sandals in the summer and no one will judge you. Find some comfortable, but stylish sandals you can slip on when you are heading out the door. For commuters, if you're work dress code doesn't allow sandals, throw your work shoes in a backpack and change before walking into the office. Nothing is worse than sweaty feet!
TOP PICKS:
Women's Swing Tank – $19.94
Men's Golf Polo Shirt – $32.99
Women's Printed Soft Shorts – $26.94
Men's Dri-FIT Shorts – $27.99
Women's Fashionable Sandals – $15
Men's Leather Sandals – $45
Did we miss a fashion tip? Tell us in the comment section below and share your best recommendations for men and women's fashion when riding DCTA!
---
Sign up for Updates
"*" indicates required fields