Fun Things To Do
Fun Things To Do in October!
October 1, 2015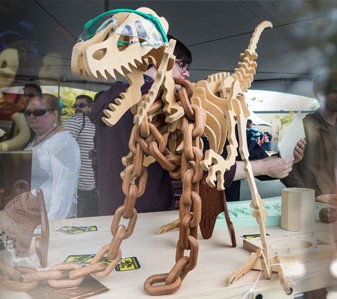 Need something fun to do in October? We've got you covered and can get you to all the fun festivals, musicals and community markets throughout Denton County:
EVENTS & ACTIVITIES
Oktoberfest on Walnut (October 2) – Come out to the ultimate block party on Friday, October 2, from 5 to 11 pm and check out local business favorites off Walnut and Mulberry Street offering their best food, games, clothing, etc. Walnut off the Square is accessible by the A-train (short walk from the DDTC).
35 Denton's Second Chance Prom (October 10) – Did you miss or prom or would you like a redo of your first one? Join the folks at 35 Denton for their Second Chance Prom event on Saturday, October 10 at 7 p.m at the Rubber Gloves Rehearsal Studio in Denton. Take a picture in the photo booth and dance the night away to Beaumont party rockers Purple, along with former 35 Denton artists. The Rubber Gloves Rehearsal Studio is accessible by the A-train (short walk from the DDTC).
Denton Mini Maker Faire (October 17) – The Denton Civic Center SCRAP, UNT Libraries, Denton Public Library and other local organizations are working to produce Denton's first ever Mini Maker Faire on Saturday, October 17 from 10 a.m. to 5 p.m. at the Denton Civic Center. Maker Faire is the Greatest Show (and Tell) on Earth and showcases invention, creativity and resourcefulness, and a celebration of the Maker movement. The Denton Civic Center is accessible by Denton Connect Routes 4, 5 and 6.
Evita (October 17 and 18 at the Greater Lewisville Community Theatre) – this is the last weekend to catch the showing of one of Andrew Lloyd Webber's most well-known musicals – the story of Eva Peron from poverty to First Lady of Argentina. The Greater Lewisville Community Theatre is accessible by Lewisville Connect Route 23.
Denton Day of the Dead Festival (October 24) – Don't miss your chance to celebrate the fall season by paying homage to the goodness of the harvest, Dia de los Muertos and all things Halloween at Denton's Day of the Dead festival! This free, family-friendly event will be held outside on East Hickory and Industrial Street on Saturday, October 24 from 11 a.m. to 9 p.m. Festival goers can ride the A-train to the DDTC and take Denton Connect Routes 7, 8 and 9 to get all the Halloween fun!
Denton Community Market (Saturdays at the Denton County Historical Park from 9 a.m. to 1 p.m.) – enjoy local eats and good music every Saturday morning. The Denton County Historical Park is accessible by Denton Connect Routes 7 and 8.
---
Sign up for Updates
"*" indicates required fields