Rider Tips
Happy Birthday: Our A-train Rail Line Turns 8
June 17, 2019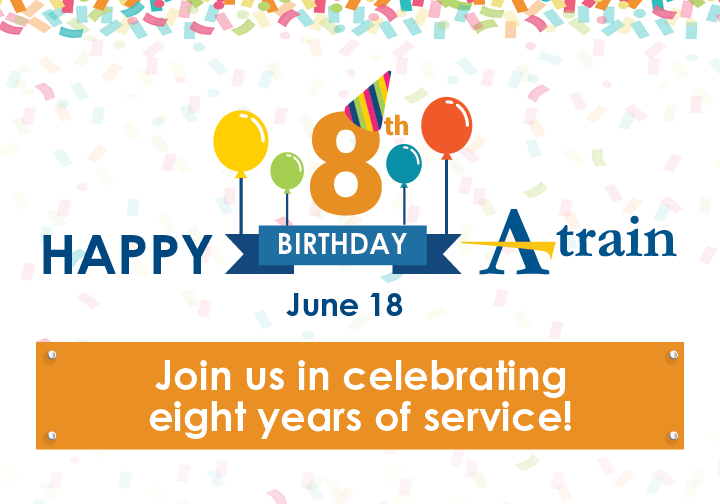 It's our party and we'll throw a birthday contest if we want to! We can't believe it's been eight years since the launch of our A-train, and to celebrate our train turning one year older, we want you to join us in the celebration by participating in our online scavenger hunt contest!
On our birthday (Tuesday, June 18) you'll have three chances to enter our contest where we'll ask three questions on our Facebook page and every person who answers the question correctly will be entered in a random drawing to win of our three prize packages ($25 Amazon gift card and a 10 pack of regional day passes valid on DCTA, Dallas Area Rapid Transit and Trinity Metro).
Read more about our A-train below to find the answers and learn about our A-train and how it's greatly benefitted the North Texas community over the years:
Key facts to know about our A-train
There are so many great things to know about our train, and we've gathered some of the highlights you can view here (HINT: some of these facts contain the answers for our online scavenger hunt!):
Our A-train is 21 miles in length
Official service launched on June 18, 2011
We have five total A-train stations (two in Denton, one in Highland Village and two in Lewisville)
You can ride the A-train free at not cost between the Downtown Denton Transit Center (DDTC) and MedPark stations and between Hebron and Trinity Mills stations
How our A-train benefits the communities we serve
In addition to milestones achieved, our A-train has provided great benefits to the many communities we service such as attracting new professionals and businesses, spurring new market investment and expanding the countywide tax base while providing an alternative form of transportation to address air quality and cost-of-living. According to the Antero Group study conducted in 2018, the A-train has contributed the following to its member cities:
Added new private investment of $345 million, nearly equal to the $347 million construction cost of A-train
Estimated yearly property and sales tax return of 44 percent of the $26.6 million sales tax contributions from member cities in 2018
$11.8 million in new property and sales tax revenue for DCTA member cities
What the future holds for our A-train
It's been thrilling ride so far (no pun intended) and we're ready to go full-speed ahead with many new potential initiatives such as expanding our A-train south to the Dallas Area Rapid Transit (DART) Cotton Belt Line and north to Texas Woman's University (TWU) and Highway 380. Currently, our A-train goes 21-mile commuter rail line runs from Downtown Denton to Lewisville before connecting to Dallas Area Rapid Transit's (DART) Green line.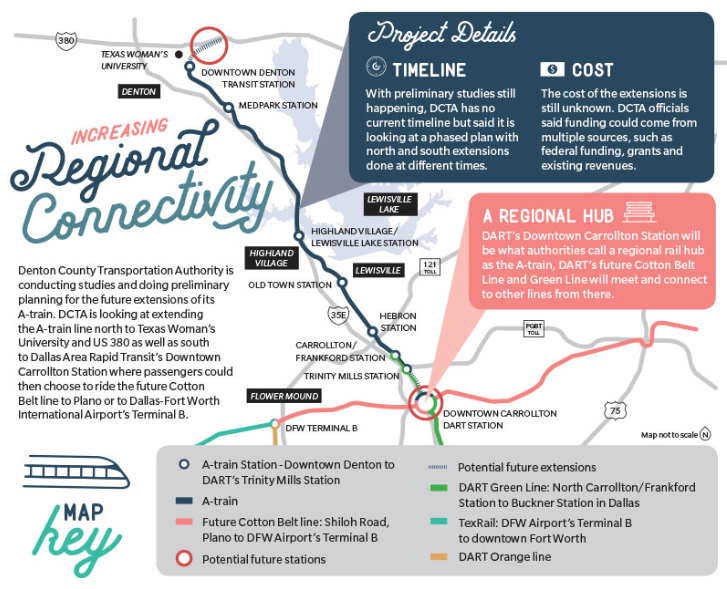 As the North Texas region continues to grow, the extension of our A-train will complete a crucial element of the regional metropolitan transportation plan. Our A-train expansion is key to enhancing regional connectivity and mobility, improving air quality, increasing economic development opportunities along the corridor and livability in the many communities we serve. Read about it more in Community Impact's recent article here.
For more information about our A-train and how it has benefited your community, visit our website RideDCTA.net. What do you like the most about our A-train? Leave your comment below. We'd love to hear from you!
---
---
Sign up for Updates
"*" indicates required fields