Rider Tips
Holiday Gifts to Buy for the Commuter in Your Life
December 9, 2019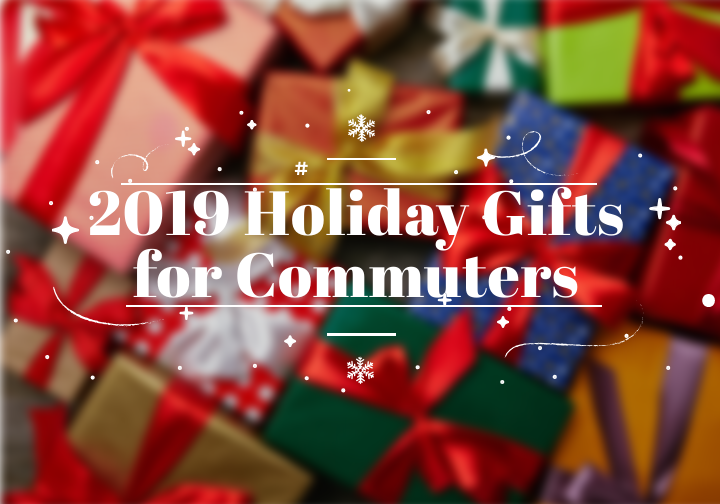 It's the most wonderful time of the year! With Christmas around the corner, buying gifts can become overwhelming. To help you ease into the gifting process, we've put together a list of items that will guarantee the person in your life with a commuter lifestyle will have a holly, jolly Christmas! The list ranges from low to high price items so you're sure to find something they'll love within your budget.
Gift Necessities:
Touchscreen texting mittens – The dreadful mitten removal. You know what I'm talking about. Your hands finally get warm when suddenly you need to respond to a text message or make a phone call. Well enough is enough! These touchscreen texting mittens allow you to send all the messages and conduct as many phone calls as you need on your way home or to the office. Even though your nose might be red from the cold like Rudolph the red-nosed reindeer, your hands will remain toasty warm when you #RideDCTA.
Umbrella – Although it's beginning to look a lot like Christmas, Texas weather is known to be unpredictable. You could leave for your commute experiencing a beautiful, sunny day, and a few moments later a thunderstorm could roll in. Rain or shine, this compact umbrella is easy to carry around and can protect commuters from whatever element is thrown their way.
Travel mug – A hot beverage cooling off or a cold beverage warming up is always disappointing to experience during a commute. This travel mug will keep your beverage at whatever temperature you prefer for 24 hours! Whether you are staying hydrated on a warm day or walking in a winter wonderland in need of a hot beverage, this travel mug will not disappoint. Remember, food is not allowed on DCTA vehicles (beyond medical needs) but drinks with sealable lids are!
Splurge-Worthy Gifts:
Noise-canceling headphones – It's difficult to relax through all the hustle and bustle of commuting, which makes these noise-canceling headphones the perfect gift for the avid transit traveler. These headphones allow you to watch movies, listen to a podcast, jam out to some tunes – really anything a commuter could want to do while traveling. On top of that, these headphones also come with a built-in microphone, allowing you to make phone calls and actually hear the person on the other end of the line! "Do you hear what I hear?" is a question any commuter with these noise-canceling headphones will never have to ask again.
Hub mini – You never truly understand the importance of electronic battery life until you've had to face a commute with less than 10% remaining, but don't worry, Santa Claus is comin' to town! With the hub mini, you can pass the time by using your electronic without having to worry about whether your battery will last. The hub mini is small and provides a quick charge, making it a must-have for all commuters.
Tile (Bluetooth Tracking) – We have all been there. You go to find an item in the last place you remember it being but it's not there. You try not to panic, and you attempt at locating the item. With no luck, the panic sets in. This kind of panic is all the more reason to splurge on this gift. Tiles can be used to keep track of wallets, laptops, keys, bags, and much more. So, if you see mommy kissing Santa just slip a tile into his black boots and you'll be able to track him down.
Stocking Stuffer:
DCTA Annual Pass – Perhaps the best gift a commuter can receive is a DCTA pass. We have a variety of different passes that will make sure any commuter you are looking to buy for will be able to "jingle all the way home" (or to the office).
We hope these gift ideas help you with your holiday shopping and leave time for you to rock around the Christmas tree with family and friends. Let us know in the comment section below which commuter gift(s) you plan to buy this holiday season!
---
Sign up for Updates
"*" indicates required fields