Fun Things To Do
May You Have a Great Time: Fun Things to Do in May
April 30, 2019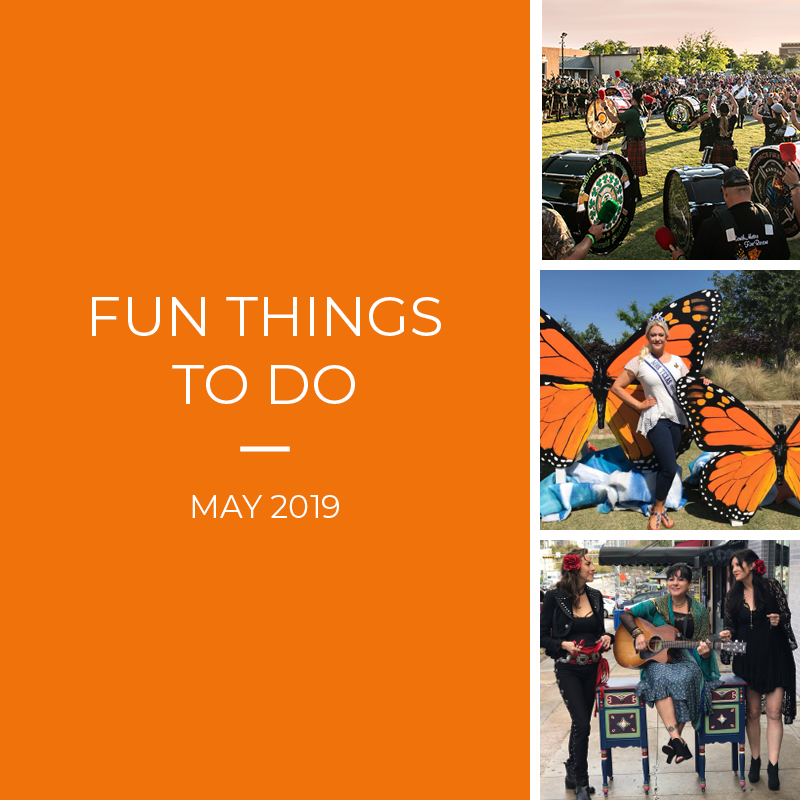 Hang tight, summer is almost here! School is ending soon, and the fun of summer is fast approaching, which means there are plenty of events to attend in Denton County to kick off your summer adventure. From concerts showcasing various genres of music, free festivals and celebrations, there is something for everyone to attend and enjoy with our help.
Denton Twilight Tunes
Take a break from studying for finals and head over to the downtown Denton Square on Thursday nights from 6:30 p.m. to 8 p.m. for Twilight Tunes! This FREE weekly concert series hosted by the Denton Main Street Association offers a wide variety of music from pop, rockabilly, soul and more! Grab a blanket, lawn chairs and a snack before claiming your spot on the courthouse lawn. Ride our Denton Connect Routes 7 and 8 to get to the Denton Square. For the 2019 artist lineup, visit discoverdenton.com/original-event/twilight-tunes-concert-series/.
Denton Community Market
Saturday's are for the Denton Community Market! From handmade art, unique knick-knacks, yummy treats and fresh produce, the Denton Community Market is a one-stop-shop for local goods. With new vendors every week, North Texas residents can come together for FREE from 9 a.m. to 1 p.m. every Saturday to buy locally. Ride our Denton Connect Routes 7 and 8 for a Saturday filled with shopping, selling and socializing! For more information, visit dentoncommunitymarket.com/.
Keeping Tradition Alive Jam Session in Lewisville
Don't miss an evening filled with bagpipers, drummers and honor guard members celebrating alongside hardworking firefighters from all over the world. On Friday, May 3 from 6 p.m. to 9 p.m., this FREE event will showcase firefighters as they make their way to Lewisville to receive instruction on honor corps activities before they perform a concert. Because this event runs late, make sure to ride our A-train to our Old Town station to get to Wayne Ferguson Plaza. For more information, visit cityoflewisville.com/Home/Components/Calendar/Event/30304/485.
Denton Cinco de Mayo Festival
Immerse yourself in Mexican culture at Denton's annual Cinco de Mayo Festival, hosted on Saturday, May 4, at Quakertown Park. From 10 a.m. to 10 p.m., you can enjoy this FREE festival that will feature authentic foods, unique jewelry and an exciting parade with your friends and family. Ride our A-train to the Downtown Denton Transit Center or Denton Connect Routes 5 and 6 and get to celebrating! Make sure to check our schedule and plan your trip home in advance.  For more information, visit dentoncinco.org/?fbclid=IwAR2TvC4Txm3aUQFFmPCijjF34SEuWRGj7oHyUINAoki0kebxLJkYLrRd4AI.
Mariposa Butterfly Celebration in Lewisville
What better way to celebrate the approaching season of summer than with a butterfly celebration? Join the city of Lewisville on Saturday, May 4, for a FREE outdoor celebration of conservation with treats and crafts for the whole family. From 10 a.m. to 2 p.m. you can explore how Lewisville is working hard to help the butterflies during their yearly migrations, make a butterfly kite and more! Ride our A-train to the Old Town station or our Lewisville Connect Routes 21 and 22 to get to Wayne Ferguson Plaza. For more information, visit llela.org/Home/Components/Calendar/Event/33024/1507?curm=5&cury=2019.
Lewisville Texas Tunes: Texicana Mamas
Three phenomenal singer-songwriters will share the MCL Grand Theatre stage on Saturday, May 18, to sing music that uniquely blends their Hispanic heritage with American country, folk, and rock. The Texicana Mamas will perform at 8 p.m. and will sing a variety of songs that showcases each of their award-winning music styles and sounds. Tier 1 seats are $30 and Tier 2 seats are $20. Lewisville residents can purchase tickets for a special day-of rate of $15 (based on availability). To catch the second to last show for Texas Tunes, ride our A-train to the Old Town station. For more information about Texas Tunes, visit mclgrand.com/performances/mcl-grand-presents/texas-tunes.
---
Sign up for Updates
"*" indicates required fields