Fun Things To Do
Mid-Summer Festivities: Fun Things to Do in July
July 2, 2018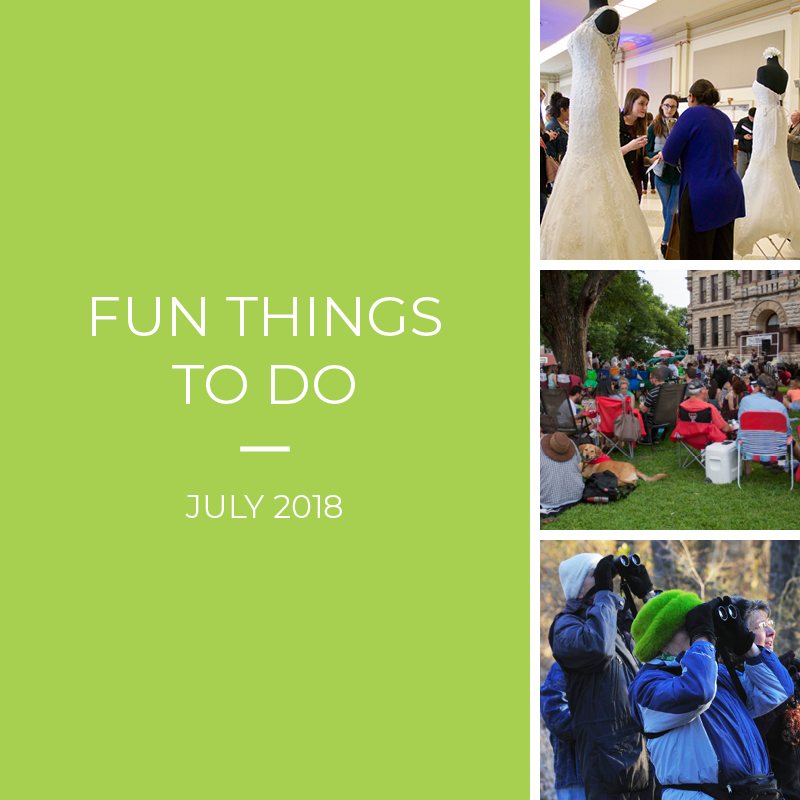 The year may be halfway over, but the fun events around Denton County continue! Whether you want to go to an event that happens every day, every week or one that only happens every so often, July is full of events we can get you to! Look at some of the exciting events going on this month accessible via our system.
TWU Gallery: Wish You Were Here
Tired of the all-too-familiar landmarks you see on postcards in every city? Texas Woman's University (TWU) has the perfect exhibit for you! TWU is giving artists the opportunity to participate in its annual postcard exhibition where you can create original art, share a story or express yourself on the front of a postcard. From now until Saturday, July 28, at the TWU East/West Galleries, stop by between 9 a.m. to 4 p.m. to create a completely unique postcard. Ride Denton Connect Routes 5 and 6 to get to this FREE exhibit. For more information and to print off a postcard, visit twu.edu/visual-arts/galleries/exhibitions-and-programming/.
Sounds of Lewisville
The City of Lewisville doesn't want you to miss out and plans to rock out this summer with its Sounds of Lewisville concert series. On Tuesdays throughout July, this FREE family-friendly concert series will take place at Wayne Ferguson Plaza from 7 to 9:30 p.m. Whether it's a Pink tribute artist, a Beatles tribute band or some good ol' country tunes, this weekly concert series is a great event to ride the A-train down to Old Town Station to. For more information, visit soundsoflewisville.com/.
Denton Community Market
What do vegan cinnamon rolls, handmade soap and free caricatures have in common? You can find them all at the Denton Community Market! North Texas residents can come together for FREE every Saturday in July from 9 a.m. to 1 p.m. to shop, sell and socialize. With different vendors every week and dozens of opportunities to shop small and buy local, the market always has something new. Ride Denton Connect Routes 7 and 8 to get to all the fun shopping! For more information, visit dentoncommunitymarket.com/.
Nature Walk with LLELA
Take advantage of the warm summer mornings and join the Lake Lewisville Environmental Learning Area (LLELA) on their monthly Nature Walk! Join LLELA for a fun and educational adventure throughout their trails – from animal tracks to beautiful flowers, you never know what you'll come across! Stroll along our A-train Rail Trail (and skip the $5 per vehicle fee) to get to 201 E. Jones Street on Saturday, July 7, to adventure through the trails from 10 a.m. to noon. For more information, visit llela.org/Home/Components/Calendar/Event/24185/1500?curm=7&cury=2018.
Denton Bridal Show
Love is in the air as wedding season approaches, and the Denton Bridal Show is coming to fill all the gaps in the wedding planning process! With dozens of vendors, food samples, photography displays and more, the Denton Bridal show has exactly what you are missing. Join fellow brides and wedding pros for only $10 at 421 E. Oak Street in Denton on Saturday, July 21, from 9 a.m. to 2 p.m. Ride Denton Connect Routes 7 and 8 to get to planning! For more information, visit dentonbridalshow.com/.
What event will you ride DCTA to get to? Let us know in the comment section below!
---
Sign up for Updates
"*" indicates required fields