Features and Profiles
#WhyIRideDCTA – Stefany Meade
June 27, 2018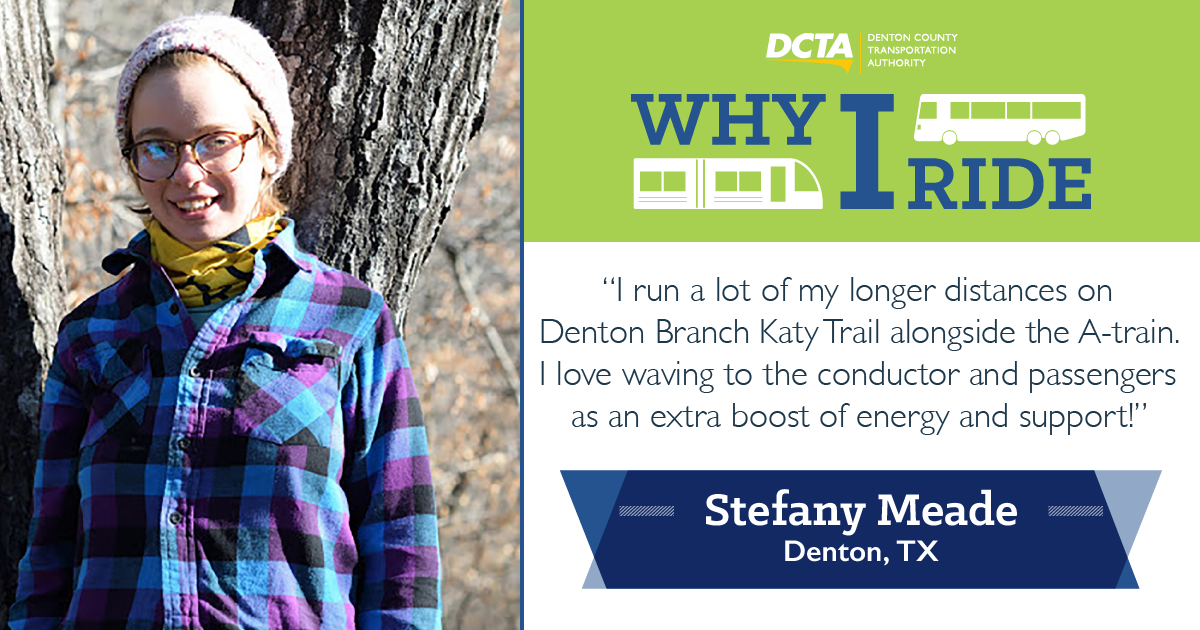 At DCTA, we offer a variety of different ways to get you to where you need to go – and Denton resident Stefany Meade utilizes them! Whether it's our A-train, Denton Connect bus or A-train Rail Trail, Stefany makes sure she tries everything we have to offer. Here are just a few reasons why Stefany uses DCTA in her everyday life.
Q: Do you have any advice to offer about riding DCTA to passengers and non-passengers?
A: The Downtown Denton Transit Center (DDTC) is incredibly helpful with clarifying scheduled times, and the customer service staff is always cheerful. I'm glad I reached out to them when first using DCTA as my main mode of transportation. I would also recommend getting to the DDTC with enough time to purchase a ticket and find a comfortable seat – be kind with no food or drinks!
Q: What are some of your favorite things to do while riding DCTA?
A: During the quick, effortless ride to the next destination, the commute allows me to catch up on reading and enjoying conversation with fellow passengers.
Q: What do you enjoy the most about riding DCTA?
A: DCTA is there for me when it comes to my work commute. I bike and run to work, so having
DCTA as a resource allows me to get to my destination quicker. It can be daunting and scary when navigating with street traffic, so I thank DCTA for making my life easier and safe!
Q: Is there anything you'd like to share about yourself?
A: I love to be active, and I am regularly training for half and full marathons. I run a lot of my longer distances on Denton Branch Katy Trail alongside the A-train.. I love waving to the conductor and passengers as an extra boost of energy and support!
Thanks for sharing with us, Stefany!
Make sure to tell us why you #RideDCTA here for a chance to win a 10-pack of regional day passes!
---
Sign up for Updates
"*" indicates required fields