Rider Tips
Mind Your Social Distance During Tax-Free Weekend
August 4, 2020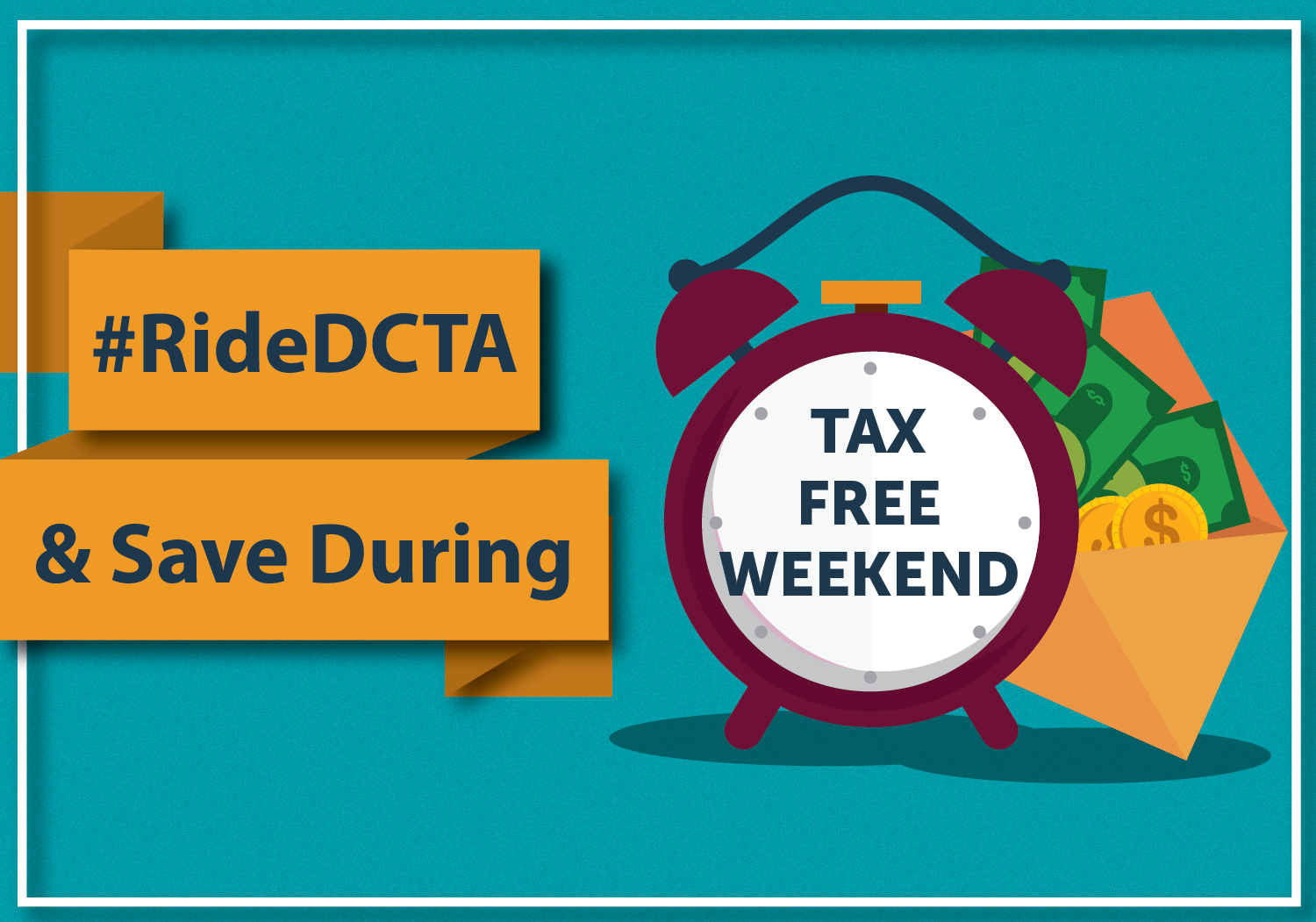 During the coronavirus (COVID-19) pandemic, the Texas Comptroller encourages all Texans to continue practicing social distancing while saving money on tax-free purchases during the annual Tax-Free Weekend.  Qualifying items can be purchased tax-free from a store in Texas or from an online or catalog seller doing business in Texas such as most clothing, footwear, school supplies and backpacks (sold for less than $100).
Get ready, because this year's sales tax holiday begins Friday, Aug. 7, and goes through midnight Sunday, Aug. 9. Let's do tax-free weekend this year, COVID style! Students, parents and teachers, grab your favorite face covering and hand sanitizer, practice your six-foot distancing and get ready to shop for great savings for the 2020-2021 school year. The purchase of new crayons, a backpack, new jeans and tennis shoes are all hallmarks of back to school preparation!
The deals you get aren't the only way to save time and money during Tax-Free Weekend. The last thing you need to stress about is how you're going to get to and from all the best deals around the county, so #RideDCTA and let us alleviate that worry and help you get to where you need to go!
We're taking the necessary precautions to make sure our vehicles are safe and clean for passengers so that when you're ready, you can ride safely.
All buses and trains are receiving additional cleanings using a medical-grade disinfecting cleaner as well as a daily spray down using a broad-spectrum disinfectant that is effective against a range of microorganisms for an extended period of time.
Additional cleaning (using medical-grade disinfectant) is being placed on high-touch areas such as door handles, crew rooms, countertops, driver consoles and steering wheels.

Clear vinyl protection barriers are installed on each bus to provide separation between the operator and boarding passengers/fare box. 
Now that you know you have your ride covered, where are you going to go? Here are the top shopping spots to splurge during Tax-Free Weekend. Keep in mind, DCTA only operates Monday through Saturday so plan your weekend in advance!
Denton (Friday and Saturday only)
Golden Triangle Mall (Denton Connect Route 2)
The Golden Triangle Mall has everything you need and more! Whether you favor a big department store or love exploring small mom-and-pop boutiques, Golden Triangle has an array of options to shop at during Tax-Free Weekend. Please note, Denton Connect Route 2 only operates Friday and Saturday of Tax-Free Weekend.
Downtown Denton (Denton Connect Routes 7)
If you're wanting something a little more unique or homemade, downtown Denton has a variety of small shops with a plethora of affordable and fun finds! Keep in mind, Denton Connect Route 7 only operates Friday and Saturday on Tax-Free Weekend. 
Rayzor Ranch Town Center (Denton Connects 4 and 7)
If you're looking to spend the whole day shopping, Rayzor Ranch Town Center is perfect to keep the adrenaline pumping and the kids excited! Between shopping and scoring deals, you can stop by one of the many new restaurants in the area to kick your feet up! Don't forget, Denton Connect Routes 4 and 7 only operate Friday and Saturday of Tax-Free Weekend.
Highland Village (Friday and Saturday only)
Shops at Highland Village (Lyft Discount Program)
Use the Highland Village Lyft Discount program to shop 'til you drop! DCTA has a partnership with Lyft where we provide a sponsored discount up to $13 for each trip taken within the designated Highland Village Lyft Zone. Stop by the Shops at Highland Village and take in the summer air as you shop at the outdoor mall (you can even cool off in the splash pad area between stores.)
Lewisville (Friday and Saturday only)
Music City Mall (Lewisville Connect Route 22)
Do you have a few more items to grab you couldn't find at the big box stores? Music City Mall has dozens of stores and shopping opportunities for you to discover all your last-minute finds. Remember our Lewisville Connect Route 22 only operates Friday and Saturday of Tax-Free Weekend.
Old Town Lewisville (Lewisville Connect Route 22)
If you're on the hunt for something no one else is going to have on the first day of school, make sure you stop by Old Town Lewisville! From unique knick-knacks for your teachers on the first day of school to delicious snacks to pack in your lunchbox, there is no shortage of unique finds in store! Don't forget, our Lewisville Connect Route 22 only operates Friday and Saturday of Tax-Free Weekend.
Before your board DCTA, here are some helpful tips and tricks to make the most of your ride!
Plan Out Your Trip in advance to make sure you beat the crowds! Take a look at our maps and schedules prior to boarding a DCTA vehicle to see which ride fits your schedule the best. Keep track of vehicles by downloading the Transit Tracker app which provides real-time updates and information on our A-train, buses and shuttles so you don't miss your next shopping stop! If you have any questions while out and about, feel free to call Customer Service at 940.243.0077 on Friday (5 a.m. to 7 p.m.) or Saturday (8 a.m. to 4 p.m.).
Just like you need to be safe when shopping during Tax-Free Weekend, there are some important safety rules to keep in mind when you #RideDCTA!
Face coverings are required on all DCTA vehicles. Practice all CDC recommended safety tips while out shopping including keeping a distance of at least six feet, washing your hands often and wearing a face covering that covers both your mouth and nose. Check out another one of our blogs to learn how to ride transit safely during COVID-19.
Even though you might make a pit stop for food during your day of shopping, no food or drink is allowed onboard DCTA vehicles unless in a closed, spill-proof container.

You might be excited about some of the deals you scored, but please make sure all bags are out of the aisles. If you don't have a folding cart to pack all your shopping bags in, please keep a minimum of one to two bags onboard.
Keep DCTA Fares in Mind – take a look at our fare structure. A local day pass is only going to cost you $3 to shop the day away! You can also consider using one of our contactless payments such as the GOPass app℠.
Our A-train free fare zones also allow you to ride for free between the Downtown Denton Transit Center (DDTC) and MedPark station, as well as the Hebron station to Trinity Mills station. Now the money you save can go towards more shopping!
Did you buy new crayons, some cool shoes or maybe a laptop for online learning? We're excited to hear about your shopping finds and bargains during Tax-Free Weekend! Where do you plan to #RideDCTA for some of the best deals of the year? Let us know in the comment section below!
---
Sign up for Updates
"*" indicates required fields