Rider Tips
Prepared, Not Scared — Your Guide for National Preparedness Month
September 12, 2019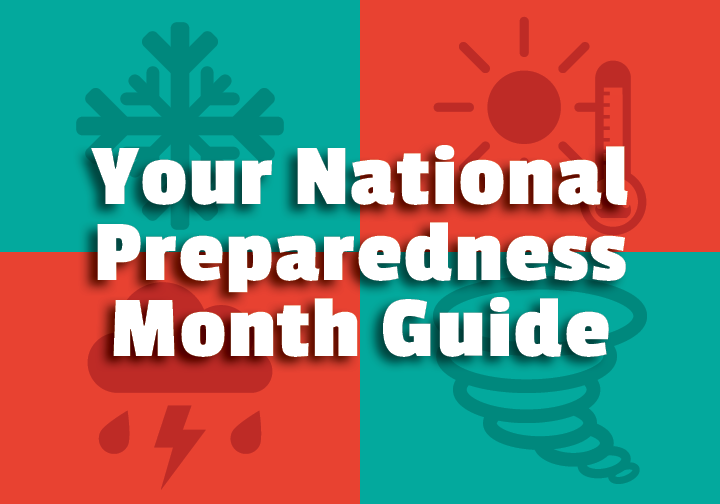 September is National Preparedness Month, and we're here to guide you on how to prepare for potential disasters to mitigate potential damage to you, your family and your property. This year's theme is "Prepared, Not Scared," and by following our tips below, you can take some of the fear out of preparing for disasters!
What is National Preparedness Month?
National Preparedness Month was created in 2004 and is overseen by the Federal Emergency Management Agency (FEMA). Each year, the agency chooses a new theme to highlight ways in which we can better prepare ourselves for a variety of potential disasters and hazards. Every week of the month highlights a subtheme that works collaboratively across the month to paint a fuller picture of the theme as a whole. DCTA has several initiatives that can help you achieve each week's goals and better equip yourself to handle disaster!
Tip for Week One: Save Early and Often
Week one of this year's National Preparedness Month encourages you to "Save Early for Disaster." When disaster strikes, many of the resources that you typically rely on in your day-to-day life will be inaccessible for an indefinite period. Make sure to keep cash on-hand during disaster season, as electronic payment methods will likely be down. Keep physical copies of your insurance information in a safe location to quickly have them available if you need them. This includes auto, homeowners, flood and health insurance. FEMA has compiled an Emergency Financial First Aid Kit for your planning convenience.
To help you save money throughout the year that can be used for your emergency needs, DCTA has several Discount Pass Programs you can take advantage of to keep more cash in your pocket! For students, our University Pass Program provides the perfect bargain for students traveling around the metroplex, providing steep discounts on semesterly or annual local and regional passes. The University of North Texas (UNT) and North Central Texas College (NCTC) students also always ride our buses for free, including the Denton, Lewisville and Highland Village bus service. For commuters, our Employee Pass Program works alongside local businesses to provide scaling-value discounts for employees. Whether it is utilized by one employee or 101, there are savings available for everyone.
There are also a lot of ways passengers can #RideDCTA for free! Check out our recent blog post to learn how!
Tip for Week Two: Hope for the Best and Plan for the Worst
Week two encourages you to "Make a Plan". The most important part of this week is to make sure that your family has a personal emergency preparedness plan which should include what you should do in a wide variety of potential disasters as well as your exact procedures for both sheltering and evacuating. Make sure your family understands the details of the plan and revisit the details regularly. You should also create a written emergency communication plan that lists all the important phone numbers and contacts you may need. FEMA created a convenient Emergency Communication Plan Template that can be used to make the process as easy as possible.
To help you plan to make your transit experience as smooth and possible as possible, DCTA has several tools at your disposal. We recommend all riders sign up for our Rider Alerts for any routes that they utilize regularly. Rider Alerts provide expedient email updates for any vehicle delays, cancellations or general service interruptions on any selected routes. Any issues with our vehicles caused by severe weather will be announced quickly via email utilizing the Rider Alert system. When there is severe weather, it is always recommended to check for Rider Alerts to confirm that your bus, train or shuttle is operating on schedule.
Tip for Week Three: Educate the Children
Week three focuses on youth preparedness. To kick this week off, you should have a direct conversation with your kids on what they need to know for emergency preparedness. Teach them your emergency plan and hold regular drills so that they will be able to practice and retain what they need to do. Great topics to discuss this week include helping your children memorize emergency contact numbers, proper reasons for calling 9-1-1 and what your child's role will be if disaster strikes. FEMA has several Disaster Preparedness Games available for your child to learn important safety tips in a fun, engaging manner.
At DCTA, we are in the process of establishing a Rail Ready program for children, which focuses on safety around trains and tracks. This program is overseen by Operation Lifesaver, a national organization focused on reducing injuries and fatalities related to individuals crossing rail systems. Check back at our website soon to find updates on this program!
Tip for Final Week: Help Your Community Get Ready
The final week of this year's National Preparedness Month emphasizes the need to get involved in your community's disaster preparation. By working closely with your community, you can help to build solid, valuable relationships and discover resources that you would have never known existed. For local opportunities, Community Emergency Response Teams (CERTs) are an invaluable resource. With federal guidelines for these teams being established in 1993, these local programs are one of the most successful disaster preparation initiatives across the nation.
There are over 2,700 CERT programs nationwide, and over 600,000 individuals have completed this training. In Denton County, the program is overseen by the county itself, rather than the individual municipalities. By unifying the county's efforts, the Denton County CERT Program provides a cohesive education experience for all of our regional citizens. If you live outside of Denton County, you can utilize FEMA's CERT Search Tool to locate information on your local program.
If you want to get involved and lend your thoughts to our safety planning and strategy, our Citizens' Advisory Team is the perfect opportunity to make your voice heard. The team meets quarterly, and upcoming meetings this year will be focusing on revamping and restructuring the team in order to better represent our riders.
National Preparedness Month is a great reminder to make the preparations that we should be making year-round. Protecting the safety of your family and yourself is of the utmost importance, and FEMA's September guidance is important advice to help reach this goal. Comment below and let us know how you are preparing for this year's National Preparedness Month!
---
Sign up for Updates
"*" indicates required fields