Rider Tips
The Ultimate Back-to-School Check List
August 13, 2018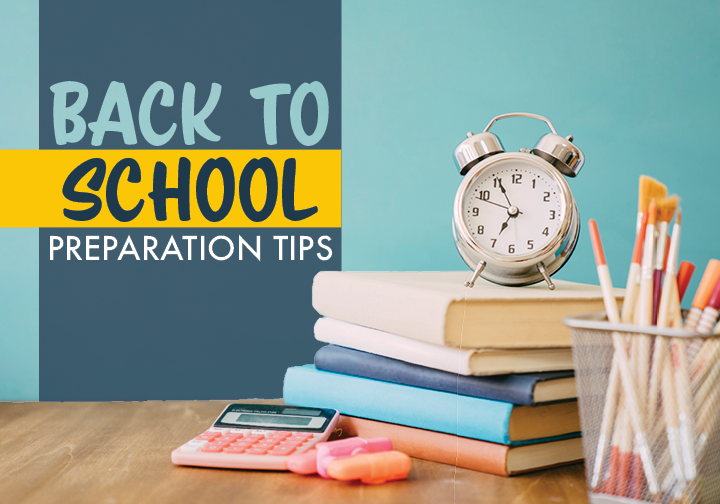 It's that time of year again. Summer is ending quickly and it's time to go back to school! As with any big schedule change (say goodbye to sleeping in!) it's important to prepare as much as possible. Here are the top ways to best prepare for the inevitable farewell to summer!
Collect Supplies
If you're like me, you can't wait to hit the stores with a new school supply list. There's something about school supplies and organization tools that just float my boat. I recommend hitting the stores as early as possible to take advantage of the new inventory and the shorter lines. If you're looking to pinch a penny, try to use leftover school supplies from the prior year and then hit up the post-school sales on school supplies. There may not be as many options with the limited inventory, but you can't beat the sales!
Learn more about cost-saving techniques when buying school supplies at https://www.parenting.com/article/10-back-to-school-shopping-tips-that-save-money.
Get Organized
Organization makes the world go around. Well, at least in my world it does. Organization is the only way that I can keep track of everything needed on a school day – from school clothes, to a backpack, to homework (don't forget the diorama), to lunch, to extracurricular supplies, etc. The list goes on and on! Invest in cubbies and labels so that you can keep track of all your important items and ensure that you'll leave home with everything you need. I also recommend a white board or calendar where you can track all your activities for the week.
Find great organizational tips to prep for the school year at http://organizedhome.com/seasonal-spin/back-to-school-tips-get-organized.
Coordinate Transportation
Getting to and from school is just as important as having the right supplies and being organized. There are so many different options when it comes to transportation, so if one option falls through you can always consider an alternative. Whether you're walking, jumping in a carpool or using the bus, having reliable transportation to and from school is critical to a successful day.
Learn more about how we can get you where you need to go at RideDCTA.net.
Last Hurrah
Throwing a little at-home shindig prior to the start of school can get the school year off to the right start. It's also a great way to get everyone ready for the shift in schedule – whether you're looking forward to it or not. Sometimes change isn't the easiest, but there's nothing like a good party to lift everyone's spirits.
Check out some great back-to-school party ideas at https://www.thespruce.com/back-to-school-party-2104330.
Regardless of what your back-to-school plans might be, being prepared is half the battle. So whether you're a list maker or risk taker, start the school year off with a bang… or a party. What are your recommendations for preparing for the school year?
---
Sign up for Updates
"*" indicates required fields