Rider Tips
Top Five Ways to Decompress on your Ride to Work
September 6, 2017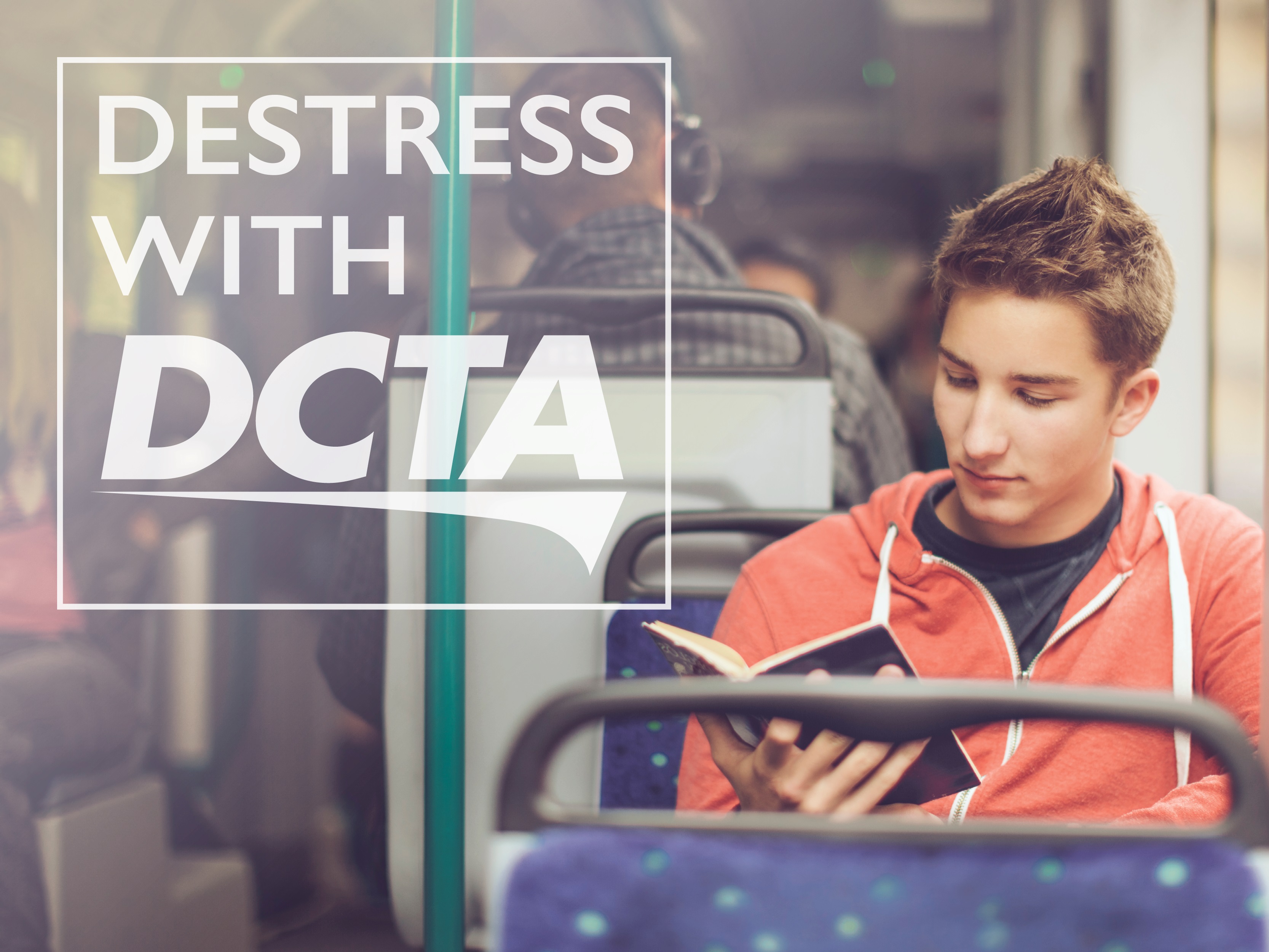 Let's be honest – the commute to work every day can be dreadful. The fact that you know you have an eight-hour work day ahead of you or you didn't wake up in time to grab breakfast before jetting out the door isn't the most exciting start to the day. You're in a rush to get to work, anticipating the day ahead – it just never seems to get easier. Trust us, we've all been there!
We're here to tell you that your morning commute doesn't always have to be a stressful experience. Also, did you know train commuters are less stressed than those who drive to work? That's a win for you!
Below are a few tips to help decompress on the A-train or bus while commuting to work to get your mind right for the day ahead which, in turn, can lead to many health benefits.
Start your day with some upbeat music.
Find a good playlist that will instantly get your day started on the right track. Whether it be pop, country or jazz – begin your day with some tunes that will instantly put you in a good mood. Classical music can also give you a peaceful start to the day. When you have a stressful morning, music can really help calm and relax you. Music-goers, don't forget to wear your headphones per the DCTA Rider Code of Conduct.
Close your eyes and take deep breaths.
Music isn't your thing? Try meditating. We know what you're thinking, and no, this isn't something just hippies or yoga lovers do — meditating can be helpful for anyone! On your way to work, you may be preparing your mental to do list and instantly become overwhelmed. Start with clearing your mind and embracing the only stillness and quiet time you might get all day. This time of reflecting and relaxing on the A-train and bus can reduce stress and create a calm space before conquering the day. Need other stress reduction tips? Check out this blog post on how public transportation can be your new stress buster: http://hoponboardblog.com/2016/09/public-transportation-your-new-stress-buster/
Who has time for reading? You do!
Another great way to decompress on your commute is to grab the paper, a magazine or even the next book on your summer reading list for the ride. Not only will the commute fly by, but you'll be caught up on what's going on in the world or sneaking in a few more pages of the book you've been reading. If you're like us, this may be the only chance you get to sit still and focus for longer than ten minutes.
You can even grab a crossword puzzle or Sudoku book to work on along the way. There's no better way to get your wheels turning to prepare for the work day than playing a few brain exercising games. At DCTA, we are here to help you read, play puzzles and many more brain stimulating exercises to decompress!
Unplug yourself.
With the technology obsessed world we live in, sometimes you just need to unplug yourself from it all. Our lives are so overrun by technology, it's nice to take a second to slow down, disconnect and take a minute for yourself. Not to mention you will likely be staring at your computer screen all day. Why start early with your phone screen?
Refrain from checking your emails, Facebook or Instagram and allow yourself to sit in your own thoughts. You can even people watch, look out the window and admire the scenery while riding the A-train or bus — just enjoy the ride! Spend your commute tech-free and mentally recharge. This will work wonders for your mental and physical health.
Chat with a buddy.
Try to coordinate with a friend taking the same route as you to work so you have company on your ride. You can even call someone else on their way to work.  There are always those friends or family members you've been meaning to catch up with, but you can never seem to find the time. Most of them are in the same boat as you; on the way to work, tired or dreading the start of the day. With such a busy and fast-paced life that we seem to get wrapped up in, it's nice to check in with people more often.  There's no better way to brighten someone else's morning, and your own, than surprising them with a quick call!
All of these tips are things you can practice to help decompress before work or even on the way home from work. The world continues to move at a rapid pace and we forget that taking time for ourselves can be the most important factor of a successful day. Even if it's waking up fifteen minutes early to enjoy your coffee in peace, listening to your favorite song to get your mind right, or calling your grandma just to chat.
DCTA is here to help you take time to focus on yourself before concentrating on work to help put a smile on your face and set you up to get the most out of your day. How do you prepare for a stress-free work day on your commute? Tell us in the comment section below and share your best decompressing tips when riding DCTA!
---
Sign up for Updates
"*" indicates required fields