Features and Profiles
Why I Ride DCTA – Aditya Ayyagari
February 25, 2015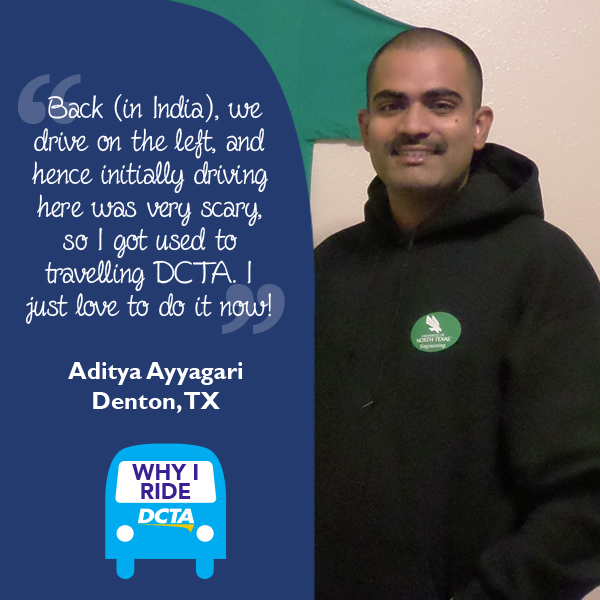 Aditya Ayyagari of Denton takes the Denton Connect and UNT Shuttles as he pursues his degree as an international student from India. Here's what he had to say about DCTA:
Q: What do you enjoy most about riding DCTA?

A: DCTA has very friendly bus operators, hassle-free transportation, especially when it's free with UNT ID card! Something I really enjoy is to just sit in the bus and go around beautiful Denton without bothering to drive myself! 

Q: Do you have any advice to passengers and non-passengers?

A: Passengers should spread the good word around, non-passengers should give it a try, especially to commute locally and to places that are connected by bus.

Q: What are some of your favorite things to do while riding DCTA?

A: I talk to the bus operator – they know a lot about the city and news! 

Q: Is there anything you'd like to share about yourself?

A: I am from India, an international student at UNT. Back there we drive on the .eft, and hence initially driving here was very scary, so I got used to travelling DCTA. I just love to do it now! I enjoy travelling and have set foot on three continents. DCTA's buses are much cleaner than the ones in NYC, and are little bit like the ones in London, except that these are green. 
Thanks for sharing with us Aditya! Why do you ride DCTA? Tell us here for a chance to win a 10-pack of regional day passes!
---
Sign up for Updates
"*" indicates required fields