Features and Profiles
Why I Ride DCTA – Brenda Richardson
December 16, 2014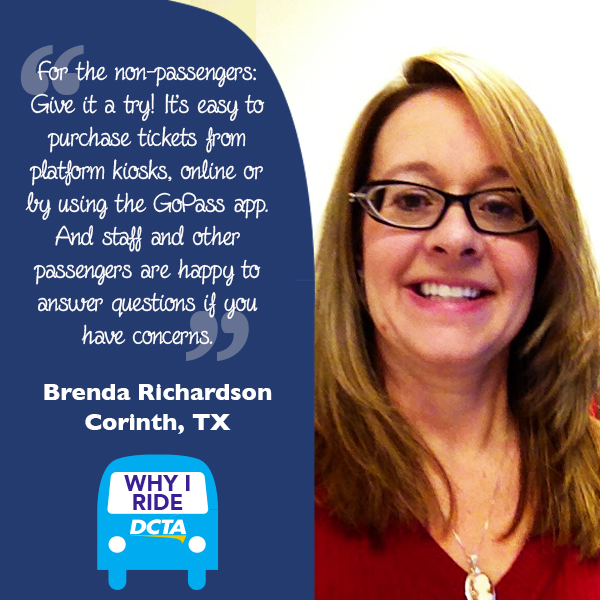 Brenda Richardson of Corinth was selected as our Why I Ride DCTA winner for the month of December. Here is the rest of her Q&A:
Q: What would you like to share about riding DCTA?

A: I enjoy the path along the train route and appreciate Denton maintaining and growing this trail.  Keep blowing the train whistles as you pass by the runners, walkers and cyclists. It's nice encouragement!

Q: What do you enjoy most about riding DCTA?

A: I enjoy riding to work with DCTA.  They keep me on time and allow me to commute stress-free.  I can enjoy my coffee and chat with other passengers and my trip home allows me to unwind from the day while I read or listen to music. The staff makes it enjoyable too as they are always friendly and helpful.

Q: Do you have any advice to offer about riding DCTA to passengers?

A: We rarely see delays in the schedule, however on occasion weather, traffic or construction can slow things down.  Be kind and enjoy a break during these rare times. DCTA always gets us to our destination.
Why do you ride DCTA? Tell us here for a chance to win a 10-pack of regional day passes!
---
Sign up for Updates
"*" indicates required fields