Features and Profiles
Why I Ride DCTA – E.A. "Rex" King III
May 27, 2015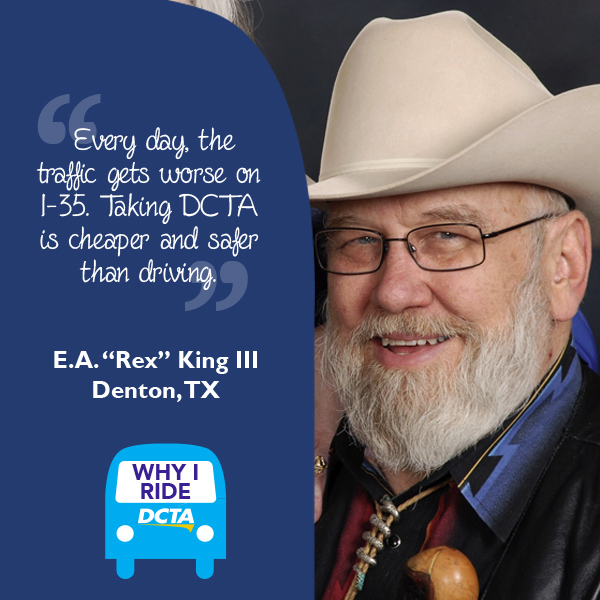 Rex of Denton has found many benefits to riding the DCTA A-train. Here's what else he had to say about DCTA:
Q: What do you enjoy most about riding DCTA?

A: I am a combat-disabled Vietnam Veteran. I have appointments 2-3 times a week at the VA Hospital in Oakcliff. Driving was too hard on my finances, me and my vehicle. Having handicapped-accessible buses and trains is great! I have been sharing this knowledge with my fellow veterans who are excited to learn about about this great alternative to driving.

Q: Do you have any advice about riding DCTA to passengers and non-passengers?

A: Every day, the traffic gets worse on I-35. Taking the DCTA is cheaper and safer than driving. I also got a big reduction in my car insurance because I am driving less miles a year.

Q: What is your favorite thing about DCTA?

A: The great people working on DCTA.
Thanks for sharing with us! Why do you ride DCTA? Tell us here for a chance to win a 10-pack of regional day passes!
---
Sign up for Updates
"*" indicates required fields