Features and Profiles
#WhyIRideDCTA: Beth Holen
March 25, 2020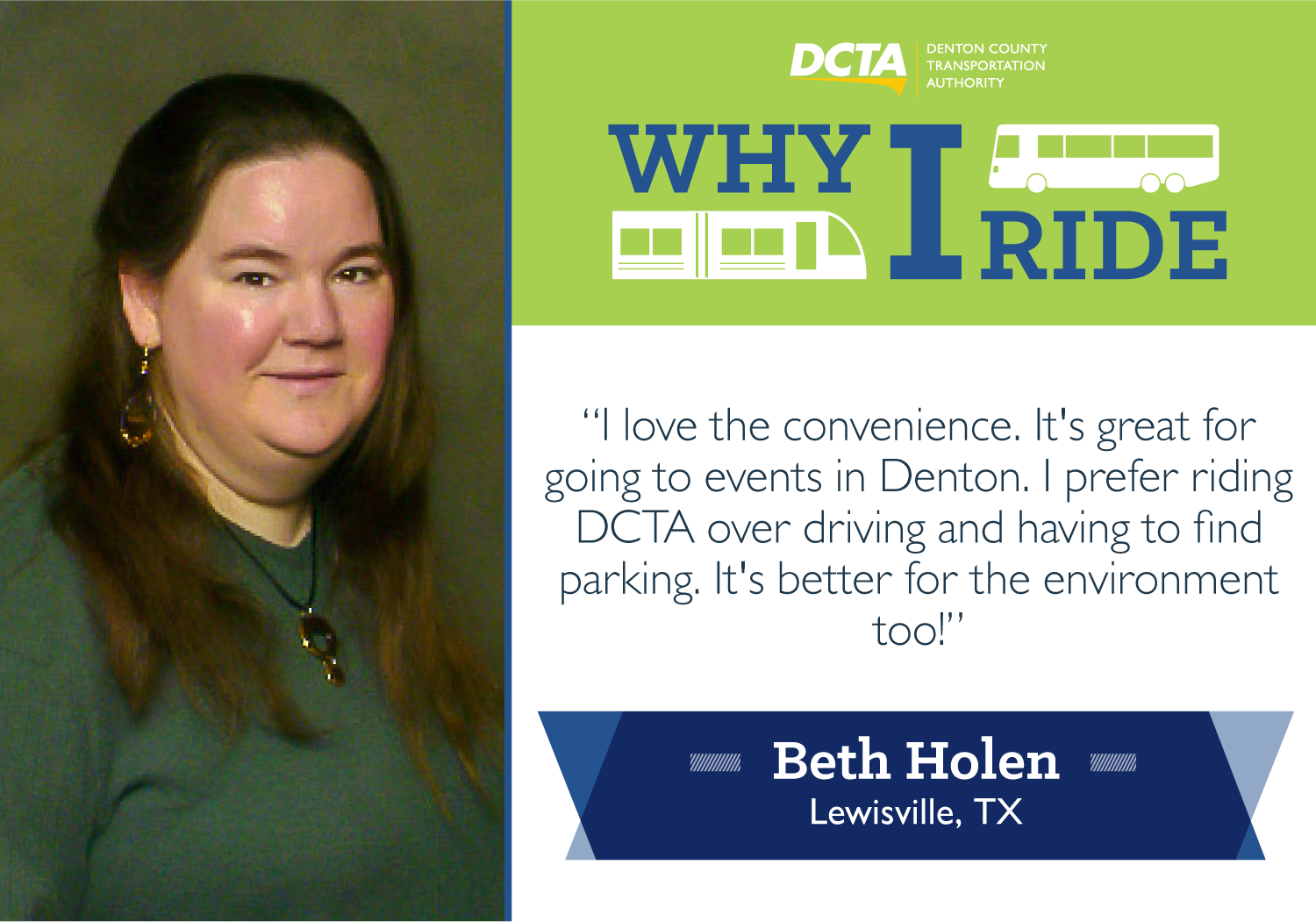 We love hearing from our riders about why they #RideDCTA. This month's winner, Beth Holen, rides the A-train to skip the traffic on I-35E! Read below to learn some other reasons why she likes to #RideDCTA:
Q: What do you enjoy the most about riding DCTA?
A: I love the convenience! It's great for going to events in Denton. I prefer riding DCTA over driving and having to find parking. It's better for the environment too!
Q: What are some of your favorite things to do while riding DCTA?
A: I like to read and look out the windows. It's so much nicer than sitting in traffic. I only wish I could use the train more often, so I didn't have to deal with I-35E traffic.
Q: What DCTA service(s) do you use most often?
A: I ride the A-train.
Q: Do you have any advice to offer about riding DCTA to passengers and non-passengers?
A: My advice is: Be kind to your neighbors, clean up after yourself and don't blast your music. Riding DCTA is easy and convenient — you can use it to travel to more places if you connect to Dallas Area Rapid Transit (DART). Try it — I think you'll like it!
Q: Is there anything you'd like to share about yourself?
A: I work in customer service in Lewisville and enjoy attending the cultural events around town.
Thanks for sharing with us!
Make sure to tell us why you #RideDCTA here for a chance to win 10-pack of regional day passes (valued at $84 and valid on DCTA, Dallas Area Rapid Transit (DART) and Trinity Metro! Click here to submit your story.
---
Sign up for Updates
"*" indicates required fields