Features and Profiles
#WhyIRideDCTA: Edison Cook
June 26, 2019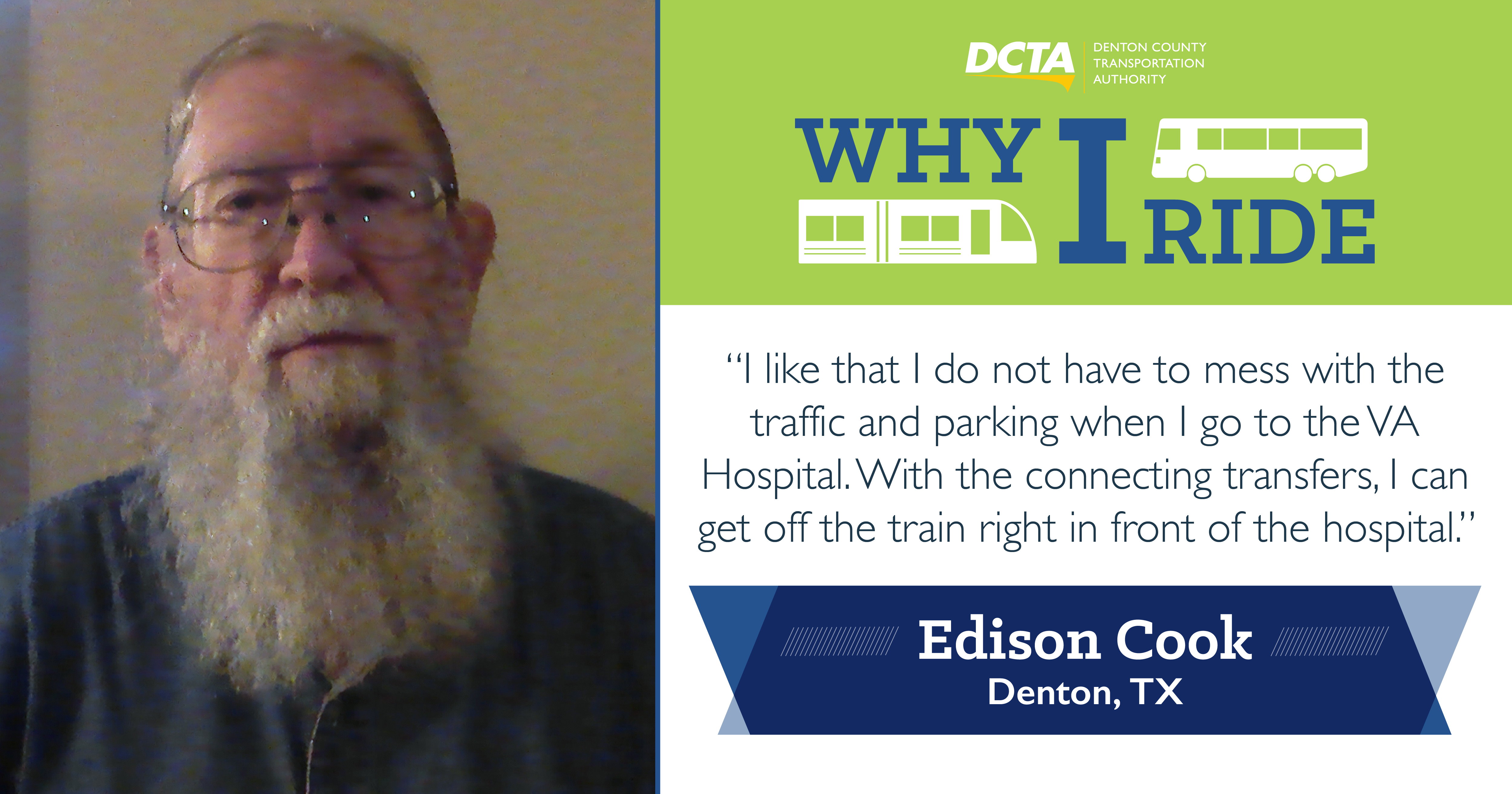 We love hearing from our riders about why they #RideDCTA! Denton resident Edison Cook rides our A-train to Dallas to go to the Veteran's Affairs (VA) office in Dallas and likes to watch the sunset over Lewisville Lake. Here are some other reasons why Edison likes to #RideDCTA:
Q: What do you enjoy the most about riding DCTA?
A: I enjoy watching the sunrise while going over Lewisville Lake and the fact that I do not have to walk everywhere I have to go. I do not have to mess with the traffic and parking when I go to the Dallas VA Hospital. With connecting transfers, I can get off the train right in front of the hospital.
Q: What are some of your favorite things to do while riding DCTA?
A: I rest up and enjoy that I am not out walking across town in the heat or cold. Rain can be problematic, but the shelters help, and it is always dry on the buses and trains.
Q: What DCTA service(s) do you use most often?
A: I ride the A-train and Denton Connect bus routes.
Q: Is there anything you'd like to share about yourself?
A: I am starting up my own YouTube channel, where I share scale modeling tips as well as some of the things I do around the house. Also, I enjoy working on my motorcycle and just having fun!
Q: Do you have any advice for other passengers and non-passengers?
A: Schedule your trips around the gaps in the A-train schedule. Remember there is no Sunday service, and they do not run after 11 P.M on weekdays. There are convenient bike racks and wheelchair ramps and tie downs. Do remember that except for the Downtown Denton Transit Center (DDTC), there is no access to restrooms.
Thanks for sharing with us, Edison!
Make sure to tell us why you #RideDCTA here for a chance to win 10-pack of regional day passes (valued at $84 and valid on DCTA, Dallas Area Rapid Transit (DART) and Trinity Metro! Click here to submit your story.
---
Sign up for Updates
"*" indicates required fields