Features and Profiles
#WhyIRideDCTA: Garrett Stringfellow
February 26, 2020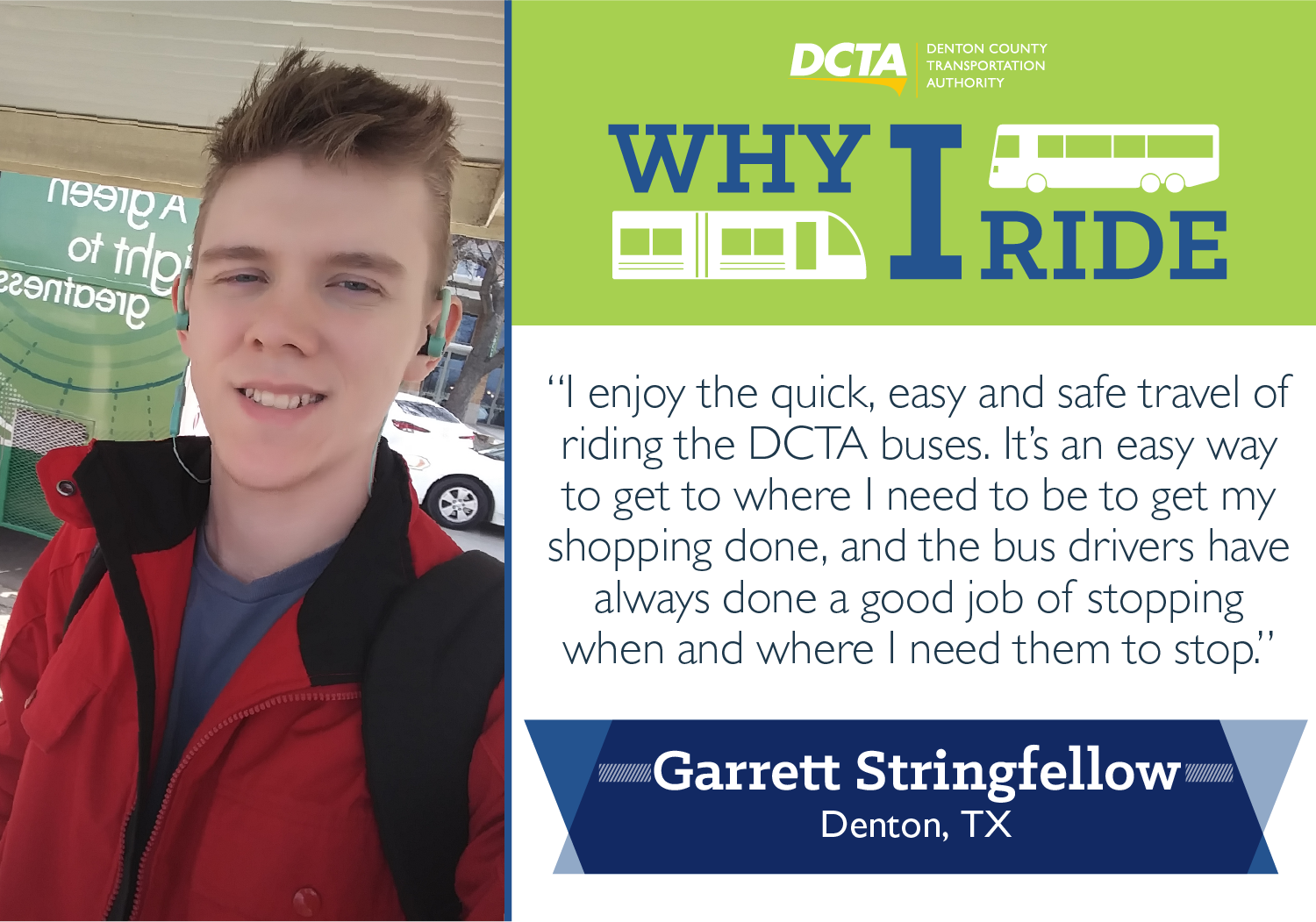 We love hearing from our riders about why they #RideDCTA. This month's winner, Garrett Stringfellow, listens to podcasts while he rides the University of North Texas (UNT) Colorado Express campus shuttle in Denton! Read below to learn some other reasons why he likes to #RideDCTA:
Q: What do you enjoy the most about riding DCTA?
A: I enjoy the quick, easy and safe travel of riding the DCTA buses. I specifically enjoy riding the UNT Colorado Express campus shuttle to the shopping center. It's a quick and easy way to get to where I need to be to get my shopping done, and the bus drivers have always done a good job of stopping when and where I need them to stop.
Q: What are some of your favorite things to do while riding DCTA?
A: I usually just sit and use my phone. Sometimes if my phone is dead, I will stare out the window, but I typically prefer to be using my phone and listening to a podcast or music.
Q: What DCTA service(s) do you use most often?
A: I ride the UNT Campus Shuttles.
Q: Do you have any advice to offer about riding DCTA to passengers and non-passengers?
A: The advice I would offer is to know the route you're taking and know when you need to get off. Also, if you're requesting a stop at a very specific point, I would encourage people to go up to the bus driver and verbally ask them to stop where you need to stop.
Q: Is there anything you'd like to share about yourself?
A: I am a broadcast journalism student in the Mayborn program at UNT, and I live on campus. The DCTA buses are pretty much the only way I get around outside of campus, so I'm very grateful to have them!
Thanks for sharing with us!
Make sure to tell us why you #RideDCTA here for a chance to win 10-pack of regional day passes (valued at $84 and valid on DCTA, Dallas Area Rapid Transit (DART) and Trinity Metro! Click here to submit your story.
---
Sign up for Updates
"*" indicates required fields