Features and Profiles
#WhyIRideDCTA: Hitesh Adhikari
July 31, 2019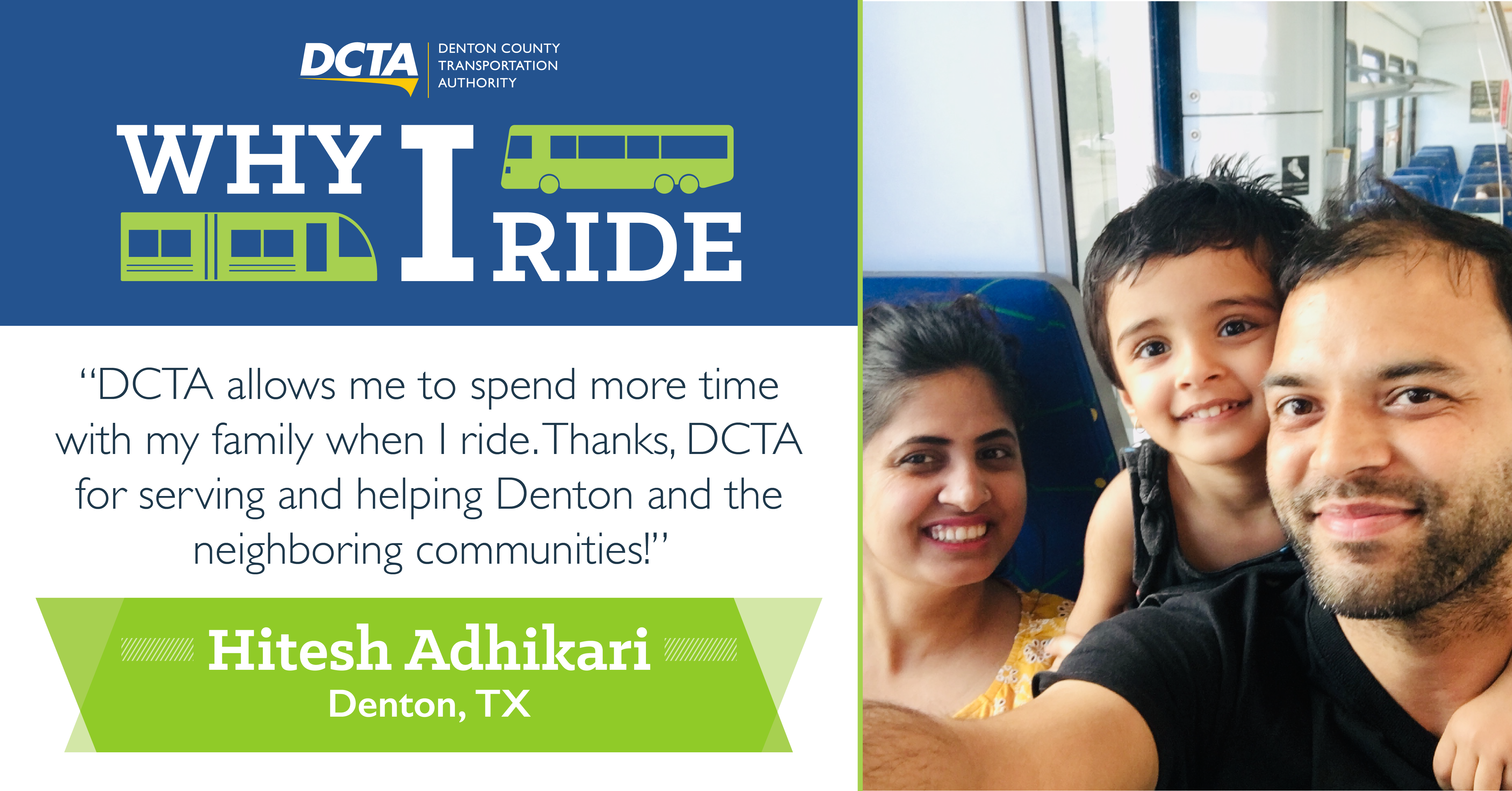 We love hearing from our riders about why they #RideDCTA! Denton resident Hitesh Adhikari likes spending time with his family when he rides. Here are some other reasons why Hitesh likes to #RideDCTA:
Q: What do you enjoy the most about riding DCTA?
A: I like to take advantage of my free time and ride the A-train to downtown Dallas and back to visit Lewisville — one of my favorite restaurants is there. I also enjoy talking to the people around me and seeing the sights along the way!
Q: What are some of your favorite things to do while riding DCTA?
A: The DCTA bus and A-train allow me to relax, rest or catch up on emails rather than having to drive, focus and deal with busy traffic on streets and freeways. I am able to make lots of new friends while riding and it makes me happy to see the smiles and appreciation from bus riders and staff. It also saves me time and money.
Q: What DCTA service(s) do you use most often?
A: I ride the A-train, Denton Connect, Lewisville Connect and the UNT Campus Shuttles.
Q: Is there anything you'd like to share about yourself?
A: DCTA allows me to spend more time with my family when I ride. Thanks, DCTA for serving and helping Denton and the neighboring communities!
Q: Do you have any advice for other passengers and non-passengers?
A: Ride the friendly DCTA services often!
Thanks for sharing with us, Hitesh!
Make sure to tell us why you #RideDCTA here for a chance to win 10-pack of regional day passes (valued at $84 and valid on DCTA, Dallas Area Rapid Transit (DART) and Trinity Metro! Click here to submit your story.
---
Sign up for Updates
"*" indicates required fields