Rider Tips
Your Must-Have Back to School Guide
July 31, 2019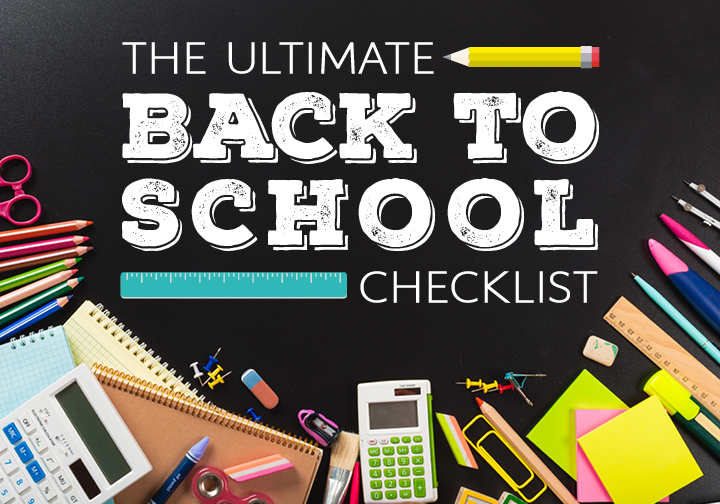 The summer days are drifting away, and it's almost time to go back to school! Preparation is key as you get back into the daily school routine. Make sure you're ready for all the upcoming school year can bring with our handy tips. Here are the top ways to best prepare for the inevitable farewell to summer!
Collect Supplies Sooner Rather than Later
There's something amazing about new school supplies — the smells, the shine, the pointy ends of fresh pencils. If you want the latest in organization and first pick of supplies, make sure to hit the stores as early as possible! Waiting until the week of classes starts will mean picked-over aisles and limited choices.
If you're looking to pinch a penny and make your dollar stretch further, try to use leftover school supplies from the prior year and then hit up the post-school sales on school supplies. There may not be as many options with the limited inventory, but you can't beat the sales!
Learn more about cost-saving techniques when buying school supplies at thekrazycouponlady.com/tips/money/back-to-school-shopping-hacks.
Get Organized for Success
Organization is key to a successful school year. I like to color coordinate my folders with my notebooks for each class. Another organizational must-have is a planner. Investing in a planner you love is key so you can keep track of all your important to-do list items. I personally love the customization The Happy Planner offers! Don't want to carry around anything extra? Use your phone! Whether you use a paper or digital calendar, making sure to write down every assignment leaves no room for forgotten homework and projects!
Find great organizational tips to prep for the school year at organizedhome.com/seasonal-spin/back-to-school-tips-get-organized.
Coordinate your Transportation Options
Getting to and from school is just as important as having the right supplies and being organized. There are so many options when it comes to transportation. Whether you're walking, jumping in a carpool or using the bus, having reliable transportation to and from school is critical to a successful day. University of North Texas (UNT) and North Central Texas College (NCTC) students, faculty and staff can ride the UNT and NCTC shuttles and Connect Bus Services free with a valid student ID.
Wanting to ride the A-train too and skip the traffic on I-35? Check out our updated University Pass Program! Our Connect Bus Services are also a great way to get to and from school. Check out the Lewisville and Denton Connect schedules here.
Your downtime during the school year is just as important as your study time. Make sure you make time to have fun with friends! Our A-train connects to Dallas Area Rapid Transit (DART), getting you to DFW and beyond. Check out all the fun things we can connect you to here.
Learn more about how we can get you where you need to go at RideDCTA.net.
Throw a Last Hurrah
Going back to school doesn't have to be a bummer. You get to see all the friends you didn't see all summer! Throwing a little at-home shindig prior to the start of school can get the school year off to the right start. It's also a great way to get everyone ready for the shift in schedule – whether you're looking forward to it or not. Sometimes change isn't the easiest, but there's nothing like a good party to lift everyone's spirits.
Check out some great back-to-school party ideas at thespruce.com/back-to-school-party-2104330.
Regardless of what your back-to-school plans might be, being prepared is half the battle. So, whether you're a list maker or risk-taker, start the school year off with a bang… or a party. What are your recommendations for preparing for the upcoming school year?
---
Sign up for Updates
"*" indicates required fields